Microsoft Corporation. (NASDAQ:MSFT) has finally won some admirers with its latest Surface Pro 3 tablet, which was officially unveiled on May 20, 2014. The Redmond giant had previously struggled with the Microsoft Surface RT devices and earlier Surface Pro models, but there are signs of  steady improvement in future. Like all the earlier models, the new Surface tablet is advertised as a device meant for replacing laptops, and with the  improved features it certainly could give most laptops a run for their money.
The first Surface tablet was released alongside the Windows 8 OS in October 2012. Almost two years later the Microsoft Surface RT is still the most popular device to run Windows store apps, according to AdDuplex. Data was collected from 800 apps in the Windows Store to present a clear overview of the Windows 8 device ecosystem. Most of these apps are used more on tablets such as Windows RT and touchscreen PC's, hence the data is skewed against traditional PC's and laptops.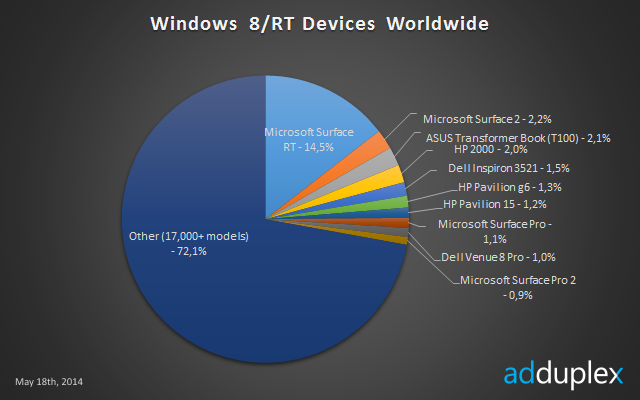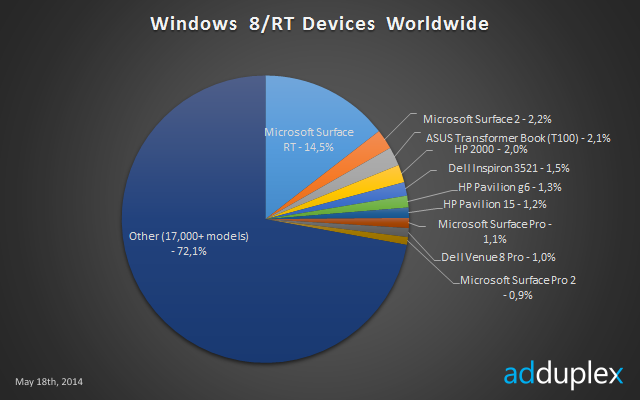 Surface RT is Most Popular Device But Surface Pro Is Moving Up Fast
The first Surface RT tablet is the most popular device to run Windows Store apps with a 14.5% share of Laptop and Tablet market, combined, running on Windows 8 and Windows RT OS. Powered by Windows RT OS, the device received a poor reaction from industry and users alike. Microsoft made a wise decision to abandon the RT OS after the launch of the first Surface Pro model. The lack of apps available for the RT OS is one of  the main reasons behind the high prevalence of Windows Store apps among Surface RT models.
The second most popular usage of Windows store apps was found on the Surface 2 tablet, also powered by RT OS, which has a share of 2.2% and moved up from forth to second place in less than two months. Microsoft Surface Pro 2 was the first surface tablet powered by Windows 8 OS, and entered the top 10 category for the first time in May 2014. The other 17,000 models powered by Windows 8 OS have almost three-fourth of the market share. Among Microsoft's own devices the Surface RT has a share of 76.5%, while Surface 2 has 11.85%.
Interestingly, the data also revealed that Microsoft was the largest manufacturer of its own products. All of the company's OEM partners pay a licensing fee to use the Windows OS in laptops, PC's and tablets. Microsoft is the sole producer of its RT range of devices after it was rejected by several OEM's citing lack of prospects. The market share of Microsoft was 18.8%, closely followed by Hewlett-Packard Company. (NYSE:HPQ) at 18.2%. ASUSTEK Computer Inc. (TPE:2357) and Dell are among the other main manufacturers of Windows 8 devices.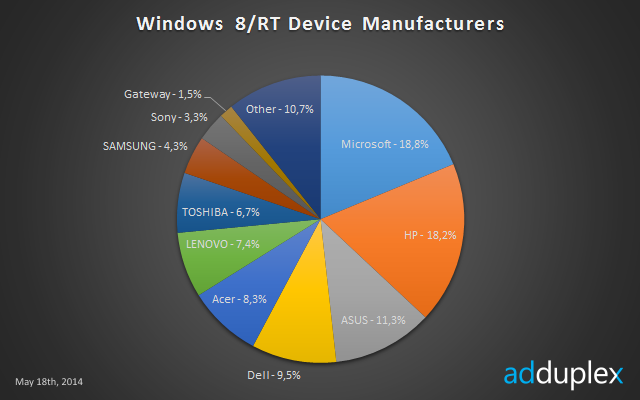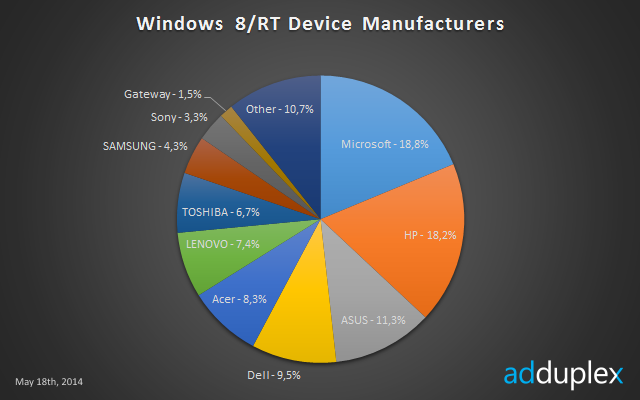 Microsoft Has Finally Got It Right With Surface Pro 3
Microsoft has carefully studied all the pros and cons of the earlier Surface versions before designing a new model. The Surface 3 Pro has a larger screen size of 12 inches but is still lighter than it's predecessor by weighing just 800 grams, and also supports a stylus for easy usage. The device is available in three different models powered by Intel processors – the Core i3, i5 and i7. The starting price of the Surface pro 3 is US$799 for the basic i3 model, and the keyboard is available as an ad-on accessory which is sold separately at US$130.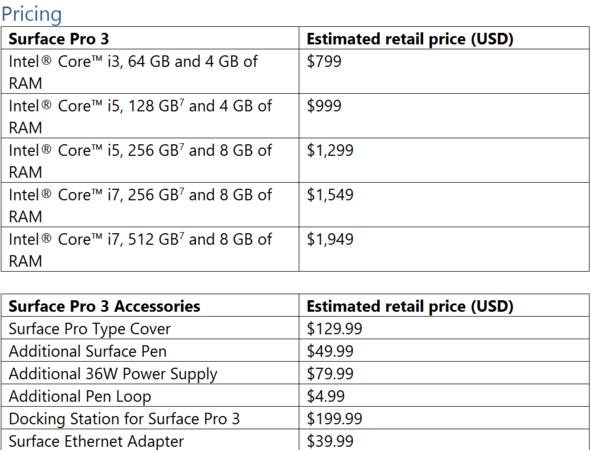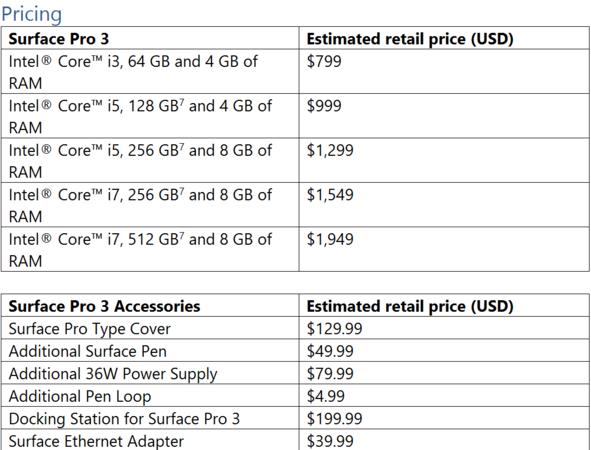 Throughout 2013, Microsoft reportedly sold a total of just 4 million surface tablets.  This figure pales in comparison to Apple which shipped a massive 70.4 million iPads during the same period. Microsoft's fiscal Q3 2014 results revealed that revenue from the surface tablet reportedly grew by 50% to an estimated US$500 million. Yet the company is still losing money on surface tablets as sales have been far below expectations.
The Surface Pro 3 is undoubtedly the best among all the current surface tablets. Microsoft has finally sidelined the faulty RT OS and focused its efforts on the enterprise segment, which is currently dominated by Apple iPad with a 92% market share. A Surface Mini tablet launch was dropped  for obvious reason as Microsoft has already lost the tablet consumer market to Android and Apple.
The range of Surface Pro tablets were designed as a niche devices mainly for enhancing the productivity of a user. Microsoft is aiming to target PC and laptop users exclusively and getting them to replace their bulky laptops with easy-to-use and carry tablets. During the presentation of the Surface Pro 3, Microsoft listed some interesting comparisons between Surface Pro 3 and Apple's Macbook Air.
Will Surface Pro 3 Change Attitudes Towards Tablets?
Laptops and PC's are still the main gadgets of modern-day enterprise, and despite a steady decline the laptop market is still alive and healthy. Excluding the iPad, most of the current tablets are largely viewed as entertainment devices. With the Surface Pro 3, Microsoft hopes to finally break this trend. The device is, however, likely to aggravate its OEM partners for Windows OS through its aggressive hardware promotion. This behavior has already forced some companies to manufacture laptops powered by Google Inc. (NASDAQ:GOOG) owned Chrome OS and Android OS. By restricting itself to a high-end tablet users Microsoft is charging a high price for the Surface Pro 3 device. The company, though, is presenting the high-end variants of the new device as an alternate to Apple's Macbook Air, the price difference is making the farther one lose grounds. The i5 128 GB variant of Surface Pro 3 is available for almost US$1000 while the price of Apple MacBook Air was recently slashed to US$899. The high price will deter most users and could be Microsoft's undoing.
It's becoming increasingly clear that Microsoft is following Apple's strategy of designing products and providing services to attract more users. Apple is rumored to be launching an iPad Pro model later this year to gain more enterprise users. This will place it in direct competition with the Surface Pro 3 and is likely to trigger the real war for the enterprise segment.