Apple Inc. (NASDAQ:AAPL) would never have imagined such massive popularity of its devices among all major employers. The decline of traditional desktop computers, along with the collapse of BlackBerry Ltd. (NASDAQ:BBRY) handheld device market has ushered in Apple's new domination of enterprise. The Good Technology Mobility Index Report  for Q1 2014, is based on analysis from device activations by month among several  global employers. The report has drawn conclusions about current overall trends in enterprise and declares that various organizations across all industries are increasingly using secure mobility to work and share information.
The modern powerful smartphone devices, along with the app explosion, are changing traditional communication between employees, clients and customers. It is estimated that by 2017, nearly half of all companies may ask staff to bring their own devices to work. The figures in the report show a clear dominance for Apple in the enterprise market.
Good Technology also mentioned a report by Ponemon institute, in which IT practitioners were surveyed. 60% of them were concerned of the growing number of employees and others using more than one mobile device in the workplace, and the increase of personal devices being connected to the network.
The Highlights Of The Report:
Enterprise application activations grew by 57% Q-O-Q, up from 54% in the last quarter.
Custom app development grew by 77% Q-O-Q, a big increase from the 55% growth between Q3 2013 and Q4 2013.
During the quarter, mobile unified communications, documentation apps and custom apps were the top three app categories activated across smartphones.
iOS enterprise app activations recorded 93% of the total app activations in Q1 2014.
Financial services accounted for the highest number of device activations in Q1 2014, followed by business and professional services. New sectors such as insurance, wholesale and retail are also registering device activations.
iOS Activations Are Almost 3X Times More Than Android Activations
Apple iOS activations made up 72% of the total device applications this quarter, a slight decline of 1% from Q4 2013. The 1% decline can be attributed to the weak sales period after Q4 2013. However, Android device activations increased by 1% from the last quarter to make up 27% of device applications. Android's laggard is due to the fact that its devices are far less secure than those powered by iOS.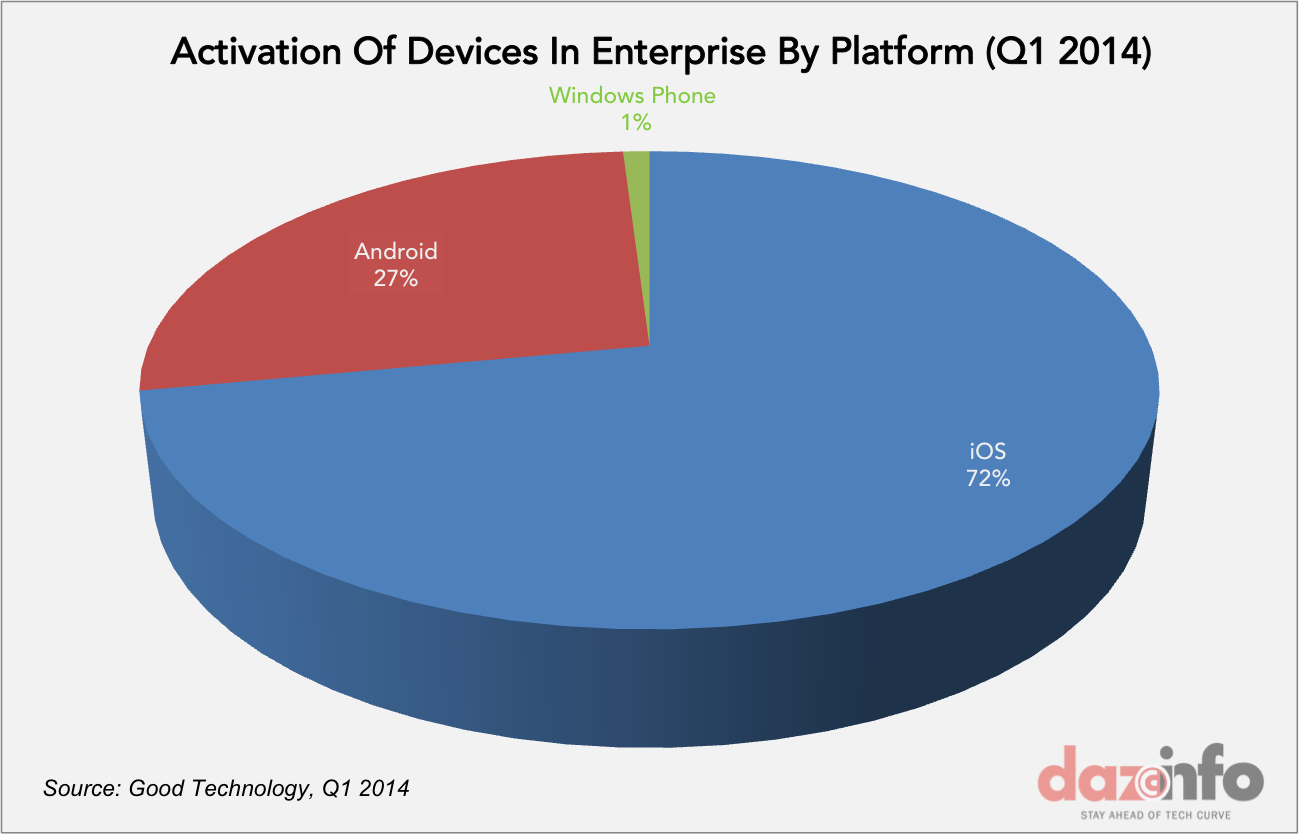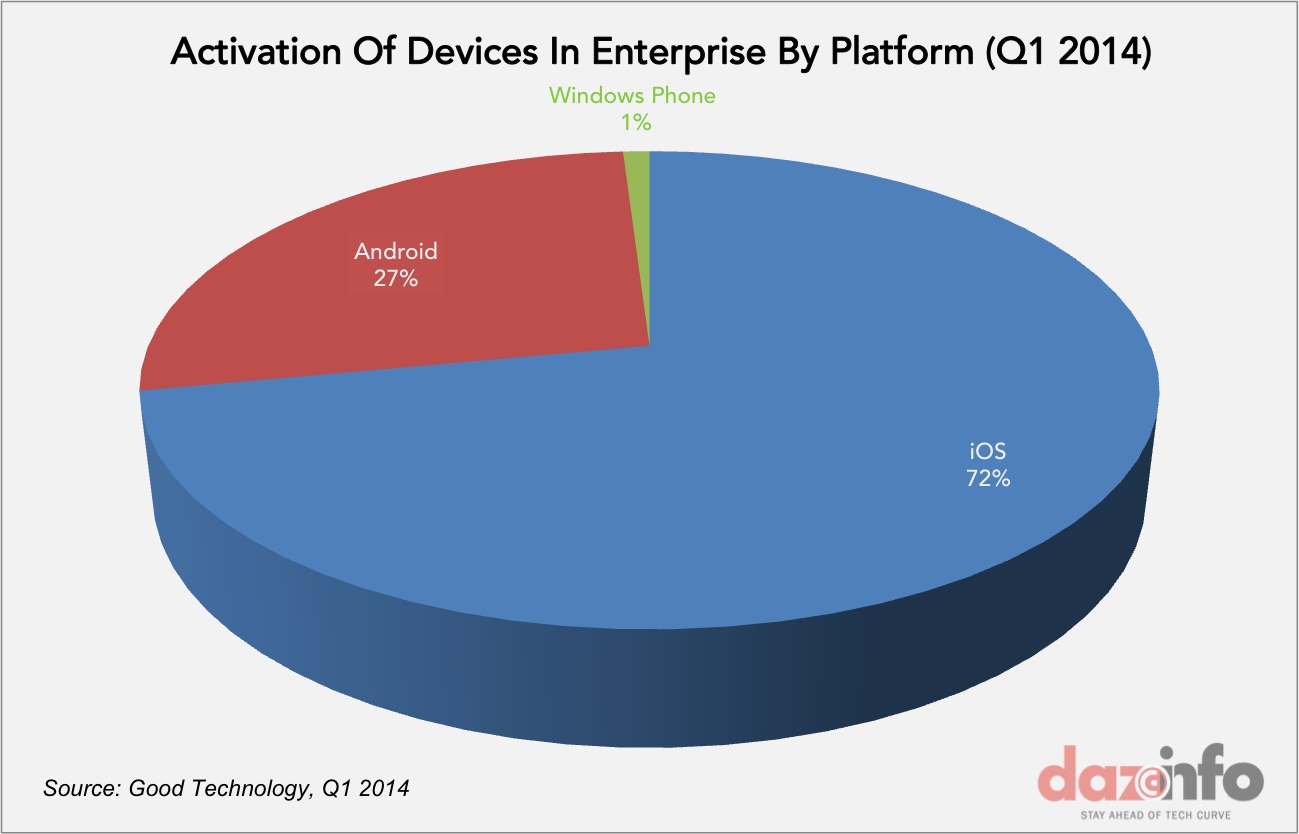 Windows Phone device activations are still just 1%, and have remained consistent since the last four quarters. Microsoft Corporation (NASDAQ:MSFT) faces a stiff challenge, if it aims to reclaim the mobile enterprise device market from Apple. The launch of the Microsoft Office app for tablets was carried out on the iPad first, given its massive control of the enterprise market. At the time of Microsoft's Fiscal Q3 2014 report, the Office 365 had 4.4 million subscribers, adding 1 million in just three months. This allowed revenue from Office 365 to grow by 100%.
Apple iPhone Accounted For Half Of All Device Activations In Q1 2014
Apple iPhone is undoubtedly the most popular among all devices in enterprise. The iPhone accounted for 51% of all device activations between Q4 2013 and Q1 2014, despite declining by 3% since last quarter. Android smartphone activations stood at just 26%, a 1% increase from Q4 2013. The iPhone 5S is one of the most used devices ever and is 25 times more popular than the  Samsung Electronics Co.Ltd. (KRX:005930) Galaxy S4 in the workplace.
Sales of  the iPad are reportedly in steady decline, since the market share of the iPad slipped to 36% in 2013, compared to Android's 62%. Most of the current Android tablets are seen as mere entertainment devices and sales of Microsoft Surface tablet have been anemic at best. That left businesses with the only option –  using the iPad. The enterprise association with iPad shows no signs of fading, as iPad activations increased by 1% in the last quarter to reach 21%. Even in the tablet segment alone, iOS recorded a massive 92% tablet activations in Q1 2014. Android accounted for the last 8%, signaling its poor reputation among employers.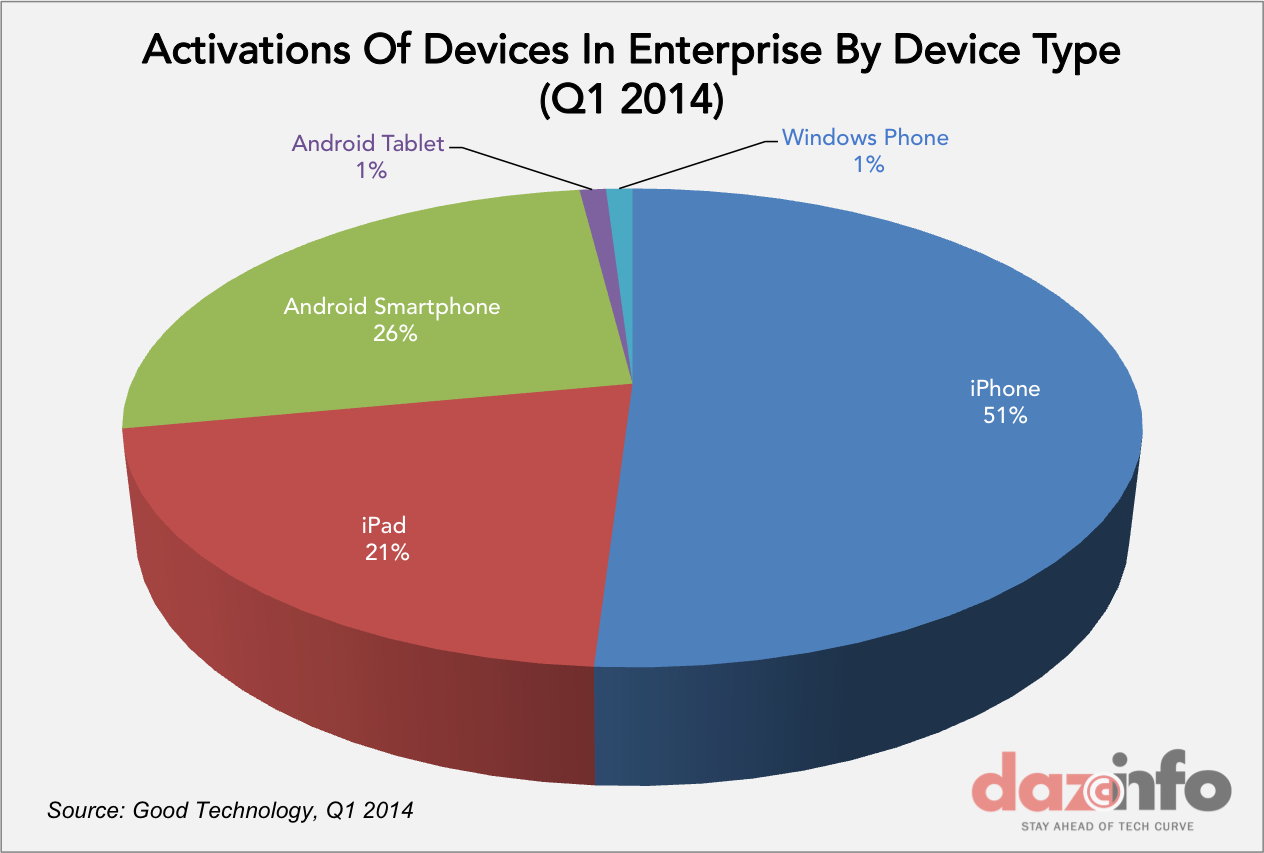 Will Apple Launch An iPad Notebook Device?
Tech companies are slowly realizing the potential of BYOD, in a world where wireless technology and personal devices dominate. The next few years could see the development of a number of new devices being developed specifically for businesses purposes alone. One such example is the rumored  Apple 12 inch hybrid iPad Pro, which could prove tremendously appealing to business customers. Apple will continue to dominate the sector for its high quality products, and both OEMs Android  and Microsoft will be left struggling, trying to keep up.
The Rise of BYOD is no longer in doubt. According to Good technologies, IT security experts are not daunted by the security issues arising from BYOD. Instead, the data from the report showed that steps are being taken to mitigate them. More priority is increasingly being given, to offer VPN-less access to data from enterprises. This is being done all the while maintaining high levels of security around data, through secure browsing apps.