Apple Inc. (NASDAQ:AAPL) is aggressively targeting the Chinese smartphone market, while Nokia Corporation (ADR) (NYSE:NOK) is selling low-priced Lumia handsets worldwide. Chinese technology giant Huawei Technology Co Ltd. (SHE:002502) is targeting the African market to sell low-cost Android handsets, while Facebook Inc. (NASDAQ:FB) and Google Inc. (NASDAQ:GOOG) are using new ideas to bring the internet to more users. In different ways, all technology companies are trying to leverage the increased internet penetration worldwide. Twenty-five years after the internet went global through the World Wide Web, just 40% of the population is now online. In 2015, the three-billionth person will officially connect to the internet, and he or she will be mostly using mobile broadband, and will be from a developing country. According to statistics from the International Telecommunications Union (ITU), 66% of these three billion users will be from developing countries. In this report, the term developing and developed countries are not clearly defined. It's also important to remember that Asia-Pacific has the largest population with both China and India combined, hence growth is mostly higher than in other regions.
The Key Highlights Of The Report:
The number of mobile-cellular subscriptions will cross the 7 billion mark, towards the end of 2014. Asia-Pacific alone will have 3.6 billion mobile subscribers.
There are 2.3 billion mobile broadband subscriptions, of which 55% are in the developing nations. Mobile broadband penetration stands at just 32% globally.
Mobile broadband penetration is growing by 40% in Africa, which is the fastest globally and twice the world average.
Global internet penetration stands at 40%, same figures result in 78% penetration in developed countries and 32% in developing countries.
Fixed broadband penetration growth is slowing down in developing countries with just 3.5% growth in 2014 compared to 4.8% in 2011.
44% of households worldwide have access to internet at home. By the end of 2014, only 31% of households in developing countries will have internet access, compared to 78% in developed countries.
South Korea, France and Iceland are the three countries with the fastest broadband speeds.
Mobile-Cellular Subscriptions Have Reached Almost 7 Billion
Mobile-Cellular subscriptions are at their peak. Although the total number of mobile users stood at 4.33 billion for 2013, the number of mobile-cellular subscriptions will be soon be equal to the total human population. By the end of 2014, the penetration will reach 96%, with almost 7 billion subscribers. The Asia-Pacific region will host a whopping 3.6 billion mobile subscribers, which is almost half of all mobile subscribers worldwide. In developing countries, mobile penetration will hit 90% by the end of 2014, with 3% growth throughout the year.
In developed counties, mobile penetration stands at 121%, with just 1.5% growth in 2014. Mobile cellular penetration remains the lowest in Africa, at 70%. However, when combined with the Asia-Pacific region, these locations depict the strongest mobile-cellular growth.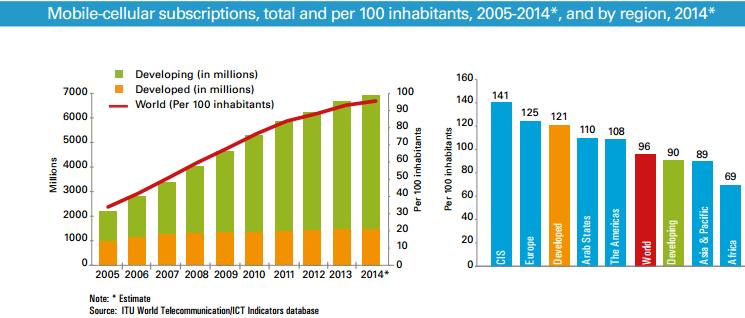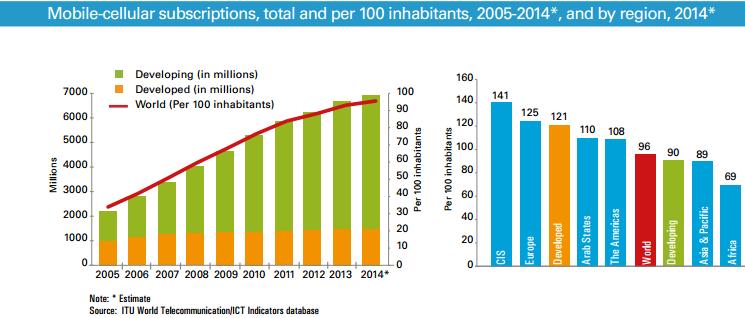 In the developed world, mobile-cellular penetration has an average rate of 121%. This explains why mobile cellular growth has reached its lowest point, at 2.6% globally. In 2014 all other countries including the Americas and Europe, are expecting less than 2% growth in mobile cellular penetration, in 2014. In developing countries, the market share of mobile cellular penetration has increased rapidly from 35% in 2000 to 78% in 2014.
Mobile-Broadband Growth Is In Double Digits, Owing To Smartphone Penetration
The rapid increase in the number of smartphones being sold globally, has allowed mobile broadband penetration to grow to 32%. This is double the penetration rate from 2011, and has quadrupled since 2009. Developed countries have high mobile-broadband penetration rates of 84%, owing to superior infrastructure and high quality 3G and 4G networks.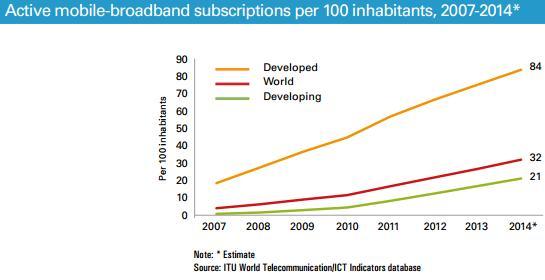 In developing counties, this figure stands at just 21%. However 2013/2014 growth rates are expected to be at 26%, compared to 11.5% in developed countries. The smartphone revolution has allowed mobile broadband subscriptions to grow by an amazing five times in just six years! Already 25% of the global population accesses the internet through mobile devices.
Excellent African Mobile-Broadband Growth Shows Promising Future
Mobile-Broadband penetration in Africa has grown by a whopping 18% in just four years, from 2% in 2010, to 20% in 2014. Africa's mobile broadband penetration is also growing by a whopping 40%, which is twice more than the global average. In 2008, there were 422 million mobile broadband subscriptions, with 80% in the developed world, compared to 20% in the developing world.  By the end of 2014, that figure will shift dramatically, with developing countries accounting for 55% of mobile-broadband subscriptions, while developed countries will account for just 45%.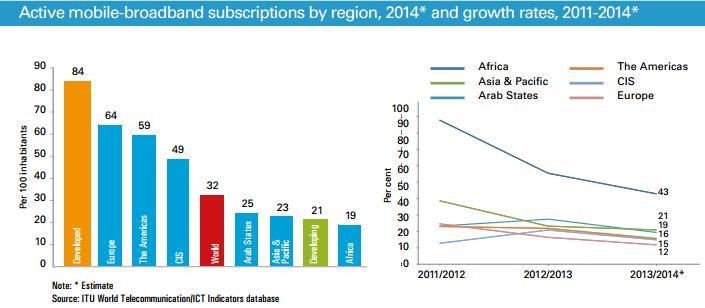 Europe has the largest mobile broadband penetration rate at 64%, followed by the Americas at 59%. In the Asia-pacific, penetration stands at just 23%, although there will be almost 1 billion mobile-broadband subscriptions by the end of 2014. In the Americas, half a billion mobile broadband subscriptions are expected by 2014 end, with a growth rate above 15%.
3 Billion People In The World Will Be Online In 2015
The number of internet users in developing countries has doubled in five years, from 974 million in 2009, to 1.9 billion in 2014, with one out of three people online. Globally, the internet penetration is at 40%, with 78% of users in developed countries and 32% in developing countries. Growth rates for internet penetration remain low in developing countries at 3.3%, compared to 8.7% in developed countries. There are still 4 billion people worldwide, who are not yet using the internet and 90% of them are from the developing world.


Three-fourths of Europeans will be online by the end of 2014, compared to two-thirds in the Americas. In Africa the number of internet users will jump by 10% in four years, to 20% by 2014 end. In Asia-Pacific, only one-third of the population will be online by the end of 2014, but 45% of the world's internet users will be from the Asia-Pacific region.
Although internet usage is still low in Africa and Asia-Pacific, these are the regions where tech companies are working overtime to provide internet access and offer their services. The lack of  infrastructure needed to  support a robust network and other geo-political factors have hampered the prospects of internet connectivity to all citizens worldwide. In the coming years governments will need to invest more in ensuring connectivity and providing a robust internet network to all citizens.