Microsoft Corporation (NASDAQ:MSFT) is no longer the massive technology giant it was in the late 1990s and early 2000s. Other rival companies grew quickly in the vacuum of the declining PC market, leaving Microsoft in the dust. For a long time, the company was in need of a transition phase and the latest fiscal Q3 2014 financial report, may be signalling a new era. Microsoft recorded US$20.4 billion in revenue, a decline from US$24.52 billion in the previous quarter and more or less flat from the year ago quarter. Net profit was US$5.66 billion for this quarter compared to $6.06 billion in the same period last year, which is a decline of 7%. The revenue generated, has also fallen by 0.4% from Q3 2013. After finalizing the acquisition of  Nokia Corporation (ADR) (NYSE:NOK), Microsoft will include it in the Q4 2014 earnings report.
With revenues on target, at 68 cents a share, matching most analysts' expectations, Microsoft is looking steady even as its core business continues to shift away from desktop PCs towards mobile devices. These quarter results are also a good indication of where the company is headed, under newly appointed CEO Satya Nadella.
In a statement about the results, Microsoft CEO Satya Nadella spoke at length about the company's key services:
"This quarter's results demonstrate the strength of our business, as well as the opportunities we see in a mobile-first, cloud-first world. We are making good progress in our consumer services like Bing and Office 365 Home, and our commercial customers continue to embrace our cloud solutions. Both position us well for long-term growth. We are focused on executing rapidly and delivering bold, innovative products that people love to use."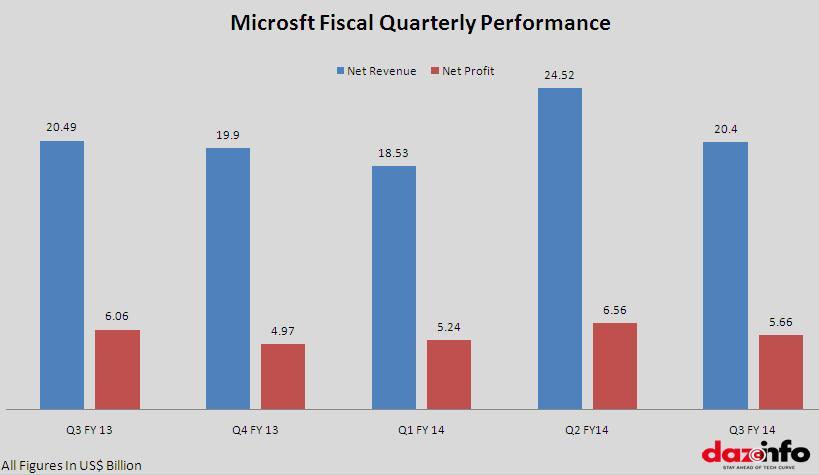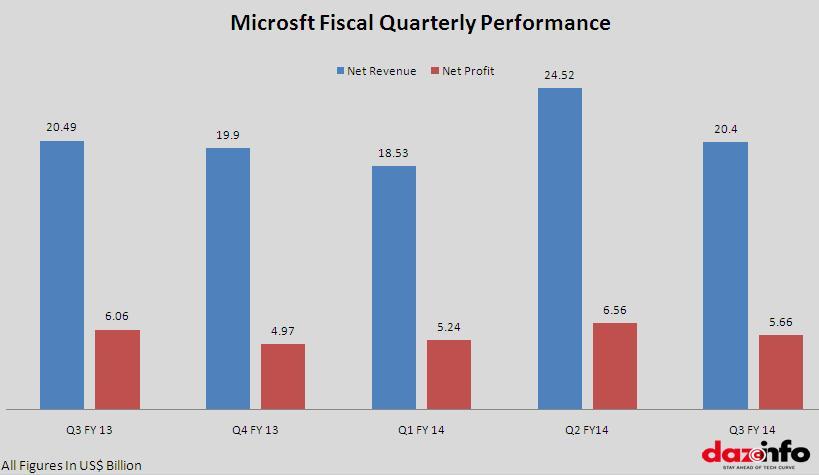 Main Highlights Of The Q3 2014 Earning's Report:
Despite weak PC shipments, revenue from the device and consumer section grew by 12% to US$8.3 billion, from US$7.41 billion in Q3 2013.
Windows OEM revenue grew by 4%, thanks to 19% growth in Windows OEM Pro revenue.
The company sold 2.0 million X-box consoles, including 1.2 million consoles of the latest Xbox One alone.
The revenue from the Surface tablet grew by 50% to an estimated $500 million.
Office 365 now has 4.4 million subscribers, adding 1 million in three months, after its introduction on iPad and Android.
Among the company's service offerings, revenue from Office 365 grew by 100%, while revenue from Azure cloud services grew by 150%.
After the withdrawal of Windows XP, revenue from Windows volume license grew by 11%, driven by an enterprise shift towards newer versions of Windows.
Microsoft Is Making The Transition Towards The Mobile Platform
Microsoft was hit hardest by the initial fall in PC sales and the consumer shift towards tablets and smartphones. However, PC shipments are now declining less frequently, as consumers are making the distinction between tablets and laptops. For Q3 2014, device and consumer revenue was up 12% to US$8.3 billion, from US$ 11.91 billion in Q2 2014. Revenue from Windows fared well, as licensing revenue to OEM partners was up by 4%, after declining by 3% in the previous quarter. As the support for Windows XP ended, enterprise was forced to switch to later Windows versions. This contributed to Windows Pro revenue going up 19%, despite non consumer OEM sales falling by 19%.
Interestingly, the company reported strong sales of Surface tablets with revenue rising by 50% to US$500 million. During the previous quarter as well, Surface revenue was US$893 million, indicating that there are several takers for the company's tablet model, despite poor reviews and declining revenue. Declining sales of Apple iPad are another indication of a maturing tablet market, where users are choosing their devices more carefully. During this quarter, Microsoft shipped 1.2 million Xbox One devices, a decline from 3.9 million, sold in the previous holiday quarter. Sales of Xbox 360 were still popular with 2 million sold, a decline from the 3.5 million sold in Q2 2014.
A worrying factor for  Google Inc. (NASDAQ:GOOGL) may be the rising influence of the Bing search engine in the U.S. Although, Google dominates the online search market at 66.9%, the share of Bing search grew to 18.6 %, up from 18.2% in the previous quarter. Search advertising revenue also grew 38%, up from the previous quarter's growth of 34%.
 Office And Cloud Services Are Still The Biggest Businesses
During Q3 2014, revenue from Commercial services grew by 10% to US$12.623 billion, from US$12.67 billion in the previous quarter. This sector comprises mostly of cloud services such as Azure and Office 365 and represents Microsoft's dominance in this segment with almost 1 million servers. Sales from these products were valued at US$ 1.9 Billion, up 31% from a year ago. Services such as Lync, SharePoint and Exchange grew collectively by double-digits. Businesses customers contributed heavily, allowing Windows volume licensing revenue to grow by 11%. Microsoft estimates that 90% of enterprise desktops are on Windows 7 and Windows 8.
 Microsoft Will Focus On Mobile Mobility
The official acquisition of Nokia Mobile will be completed by Microsoft on April 25, 2014. With the closing of the deal, Microsoft will add Nokia's accounts into its next quarterly results. Nokia currently accounts for 93.5% of all Windows Phone 8 powered devices, thanks to strong sales of the low priced Lumia 520. The new CEO Satya Nadella has outlined the vision for the company to be a mobile-first and cloud-first organization, with the main focus on providing mobility first and offering a seamless experience across all platforms. For all its efforts, the company is still not growing as fast as Apple Inc. (NASDAQ:AAPL), or even Facebook Inc. (NASDAQ:FB). It's takeover of Nokia Mobile for US$7.2 billion, was the only notable acquisition in recent years.
Instead, Microsoft will continue to integrate its main IT business functions into the cloud, and provide support across all devices such as Android OS, iOS and Windows OS. By selling subscriptions for a service such as Office 360, Windows has a good chance to continue to build up its service platform. The Azure and Office platforms, both grew by 100% in this quarter, and this will continue to be Microsoft's key focus. With US$88 billion in cash, it will be interesting to see how the CEO charters the company's growth in a mobile world, where disruptions are unpredictable and often disruptive.