Facebook Inc. (NASDAQ:FB) could be witnessing a slow down in increasing number of users month-over-month but in contrast the site's referral traffic is improving. In March this year the online social media giant has been found responsible for sending one out of every five visits to websites, which is 37.65% higher than the Facebook referral traffic recorded in December last year.
According to the latest report from Shareaholic, the referral capacity of Facebook has been improving for the last few months. However, in the month of March, websites tracked by shareaholic recorded a sudden unusual spike in referral traffic from Facebook. The report clearly highlights the trends in referral traffic and growing contribution of each online social media network. Shareaholic's findings are based on four months of data collected from 300,000+ websites that recorded more 400 million unique visitors each month.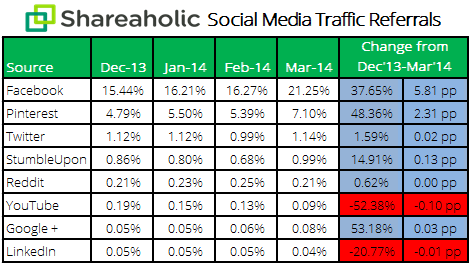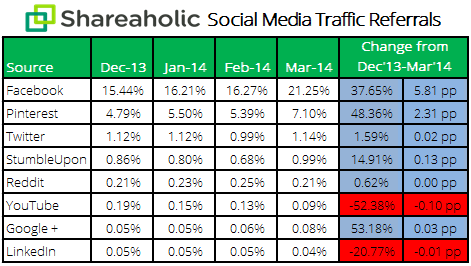 While Facebook has topped the referral traffic chart with almost no immediate threat from any other social medial channel, Pinterest emerged as the second most favorite network that generated 7.10% of overall traffic sites received in March 2014. The referral traffic capacity of Pinterest grew by a whopping 48% since December last year.
Twitter Inc. (NYSE:TWTR) emerged as the third most successful network that managed to send more than 1% of total visits to sites in March this year.  The performance though had declined in February, but the micro-blogging site regained it in March by sending 1.14% of total sites traffic.
Besides Facebook, Pinterest and Twitter, none of the sites were able to send even a 1% of total visits to sites. While StumbleUpon still managed to send almost a percent of total traffic to sites, the remaining four social networks in the list, Reddit, YouTube, Google+ and LinkedIn, highly disappointed as they all failed to generate even a quarter of a percent of total visits to sites.
The report portrays the trend in referral traffic being generated by social media networks and social bookmarking sites. Brand Pages have played a major role in making Facebook the first choice for marketers. Though, the organic traffic of pages declined to 6.15% in February this year, Facebook is still generating a big chunk of traffic to websites.