Facebook Inc. (NASDAQ:FB) is apparently ready to launch an eternally anticipated Ad Network to challenge Google's advertisement business. According to multiple sources familiar with the matter, the online social media giant is set to unveil its ad network, primarily focused on mobile traffic, at its upcoming "F8" developer conference scheduled for April 30 in San Francisco.
The move is being considered as Facebook's best step forward in challenging Google's ad empire till date. For both, Facebook and Google, a great share of revenue comes from advertisements. While Facebook had accumulated 76% of its Q4, 2013 revenue from advertisement, Google's advertising revenue peaked to nearly 90% of its total Q1 2014 revenue. Therefore, getting a new competitor in the online ad space could definitely prove to be a challenge for Google.
In the last few years Facebook has seen an astounding growth in its mobile ad revenue, which has helped the company to grab 15.8% of global mobile ad revenue in 2013. In contrast, Google recorded a marginal improvement in its market share but grabbed more than three-folds of the market share for Facebook.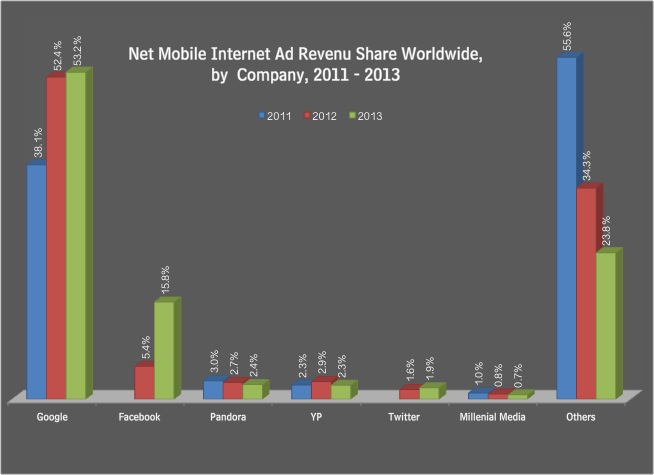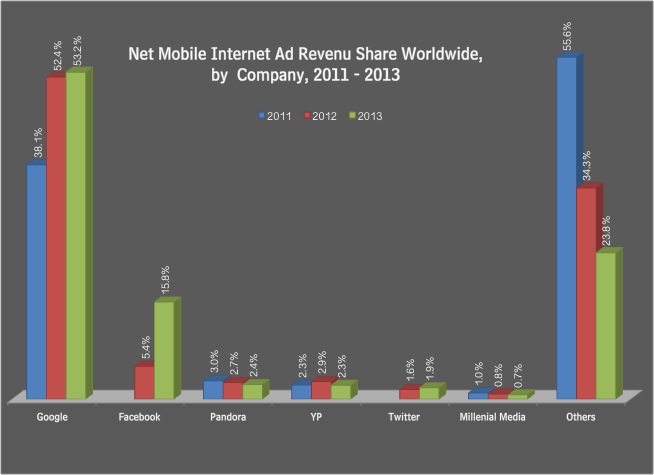 The sources have confirmed that Facebook's ad network is highly focused on mobile inventory and monetization of mobile traffic is the prime objective. Facebook hopes it will increase its revenue manifold in the next few quarters. This makes sense because in Q4 2013, 53% of Facebook's total revenue was generated from mobile and 945 million monthly users were using the network from mobile devices.
We had told you earlier about Facebook's intention to launch its own network and that the company was actively working to monetize its growing mobile network. In January, we also informed you how Facebook was testing its beta version of ad network with a few selected advertisers, specific to the mobile inventory.
Global Mobile Internet Ad Revenue in 2014 is estimated to grow by 75.1%. Facebook and Google, together, are projected to control 68% of the global mobile ad revenue, estimated to reach US$31.45 billion. In 2018, the industry is estimated to be worth $100 billion and Facebook is trying to grab hold of the biggest chunk of the pie by then.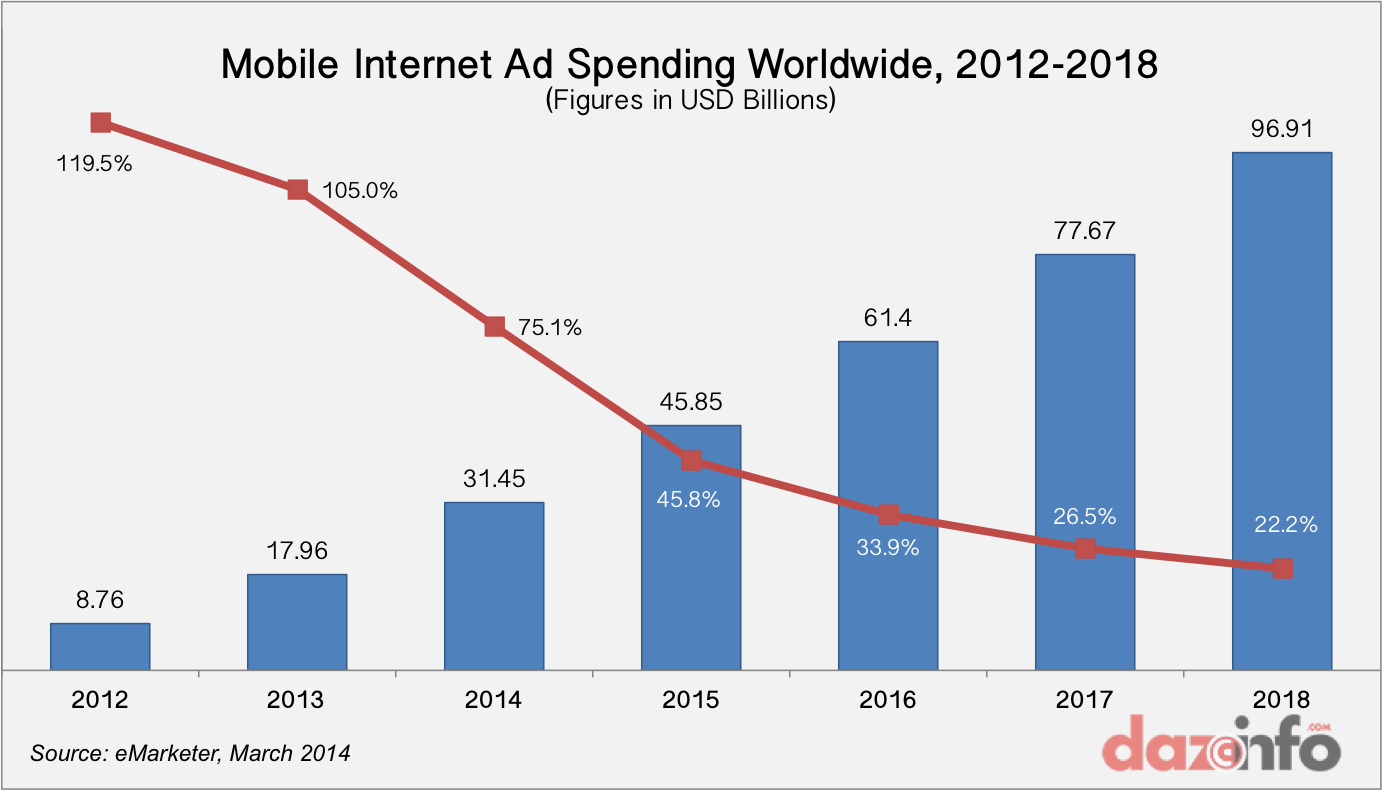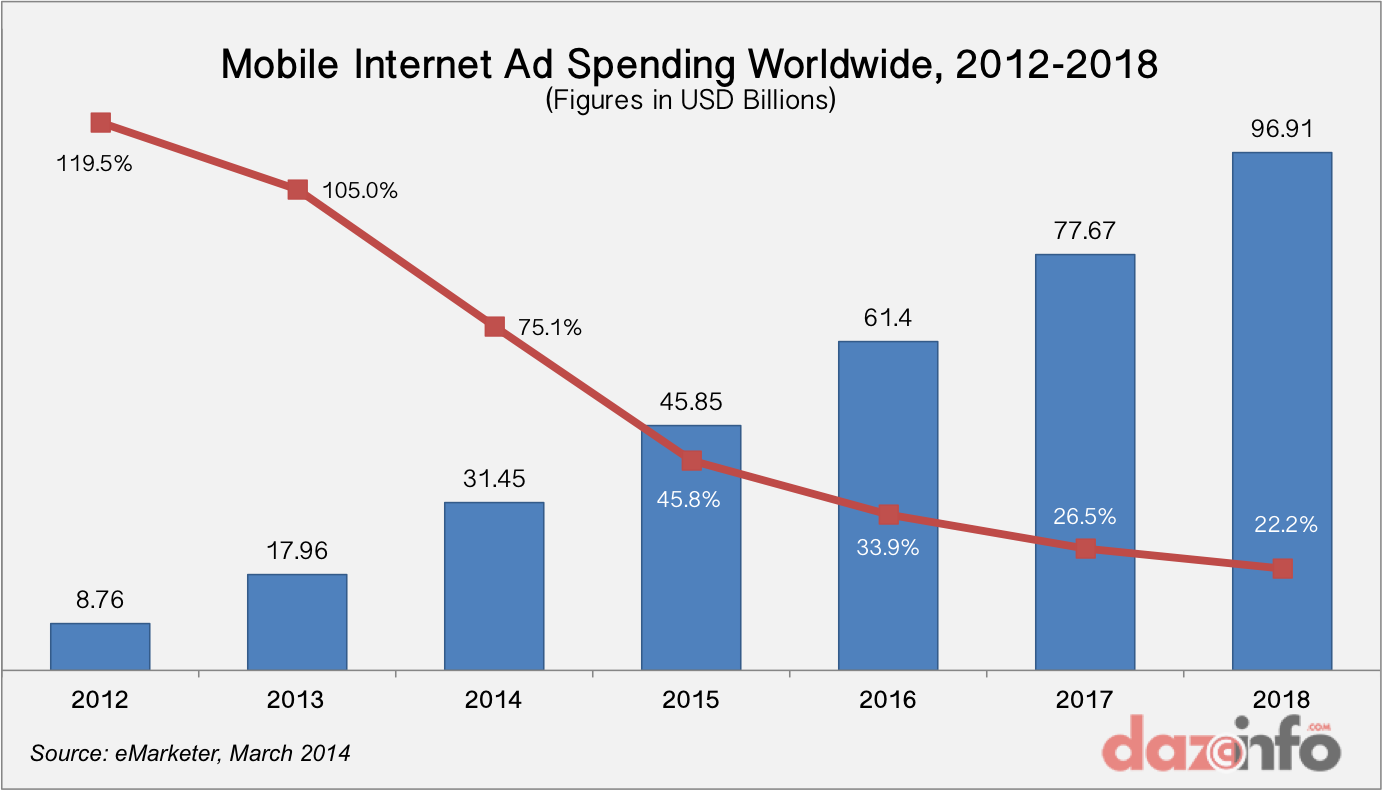 The growing penetration of Smartphone and App-install base has also positioned the mobile ad industry as a promising bet. But Facebook is not the only one playing in the field, besides Google's AdMob, Millennial Media, Flurry and other regional players are also eyeing this growth and making every possible move to influence the industry in their own favor. Twitter's recent tie-up with MoPub – a mobile ad exchange – is only fueling the competition here. To be honest, the other players may not have that much on stake, but Google is likely to face the maximum heat from Facebook's new product.