Apple Inc. (NASDAQ:AAPL) changed the world of smartphones about 7 years ago with the launch of iPhone and then with a highly successful App Store platform. Mobile Apps have since consistently outpaced mobile and PC browser based ads in terms of revenue growth. Mobile revenue is growing at the rate of 73% compared to PC advertising. Understanding the importance of apps and monetization opportunities surrounding it, every smartphone platform had their own version of App Stores up and running.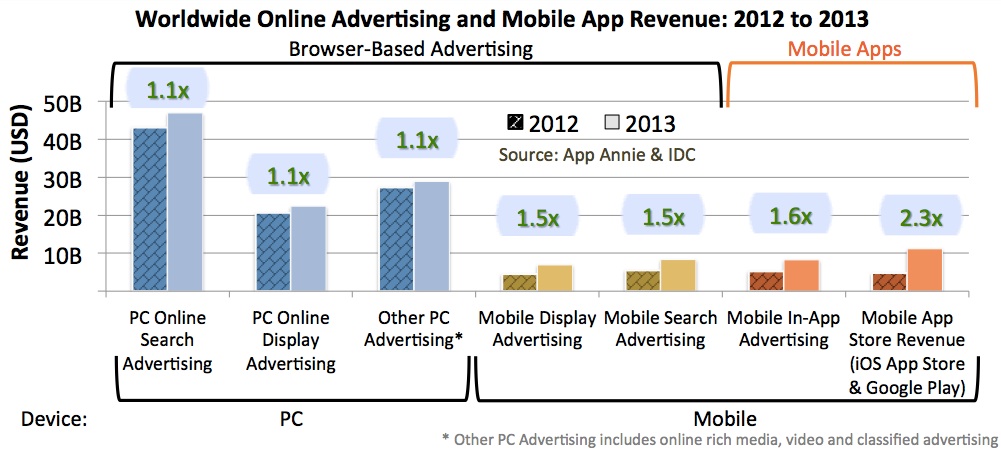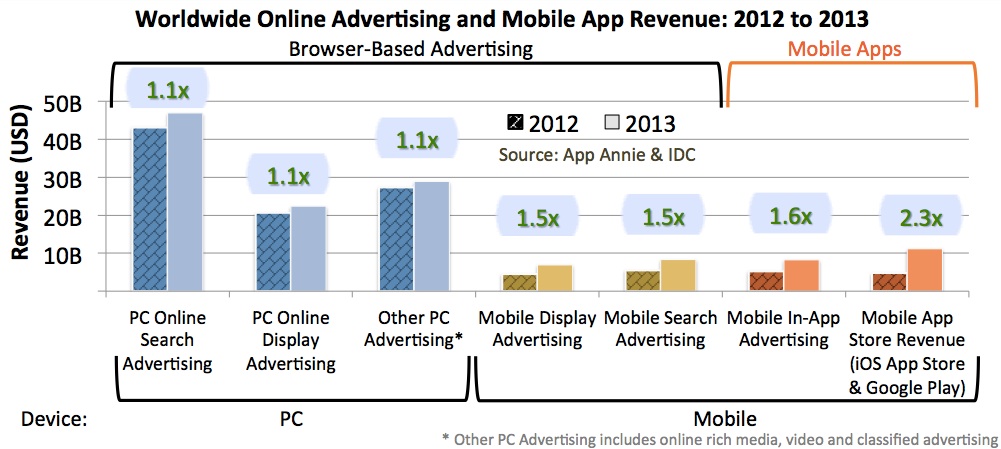 Back then, there were only two kinds of apps; paid or free. Soon, in-app advertisement supported apps and games made their entry in to the app stores. But now, freemium apps and games have overtaken every other kind of app in terms of volume as well as revenue share.
Freemium Apps Have Become Developers' Favourite Monetization Strategy
A recent report, titled Mobile AppAdvertising and Monetization Trends 2012 – 2017, from AppAnnie and IDC took top 1000 apps from Apple App Store and Google Inc. (NASDAQ:GOOGL) Play Store into consideration revealing some staggering facts. According to the report, 83% of those apps have adopted the freemium monetization model as the revenue source. Moreover, freemium apps generate over 92% of the total app revenue. On the other hand, paid apps have experienced 29% decline in app revenue in 2013 when compared to the previous year.


Wondering what 'freemium' apps are? These are the apps/games which are free to download and use. But there is a catch. Some of the functionalities are locked down which can be accessed only after a user pays for them. Functionality lock down can be of various types. Apps like WhatsApp and Solid Explorer are free to use for a limited amount of time only. It's not only about functionality lockdown though. Certain apps like SoundHound have in-game advertisements which can be slightly irritating at times to the users reducing the overall user experience. These ads can be removed by paying a certain amount of money. Other apps like LINE and Viber provide a bunch of extra goodies and add-on contents with in-app payments.
Over 50% of the freemium apps use functionality lock down to force the user to pay. Freemium games are extremely popular where users get extra powers or new levels can be unlocked only after paying. Popular freemium apps can make over $100K per month through in-app advertisements. Developer of instant hit game Flappy Bird made over $50K every day.
Key Apps & Games Enjoyed Increased Success By Switching To Freemium Strategy


Freemium monetization model became so popular that a lot of paid apps/games pivoted to the freemium model in the past couple of years. WhatsApp, which was a paid app when it was released for the iPhone, turned to freemium model when it was released for Android devices. WhatsApp grew by leaps and bounds after adopting the freemium monetization strategy, so much so that WhatsApp messages sent everyday surpassed the total number of SMS sent and received throughout the world everyday. Even though the popular gaming title FIFA 13 was the best-selling paid app of 2013, EA (NASDAQ:EA) still decided to move to freemium model when they released the FIFA 14 which achieved even larger success. The reason why freemium apps are such a huge success is that it provides developers with a much wider range of audience. The users who like the service would pay for functionalities while the other users might pay in the long run.
By 2017, India Will Experience Highest App Revenue Growth Driven By Freemium Apps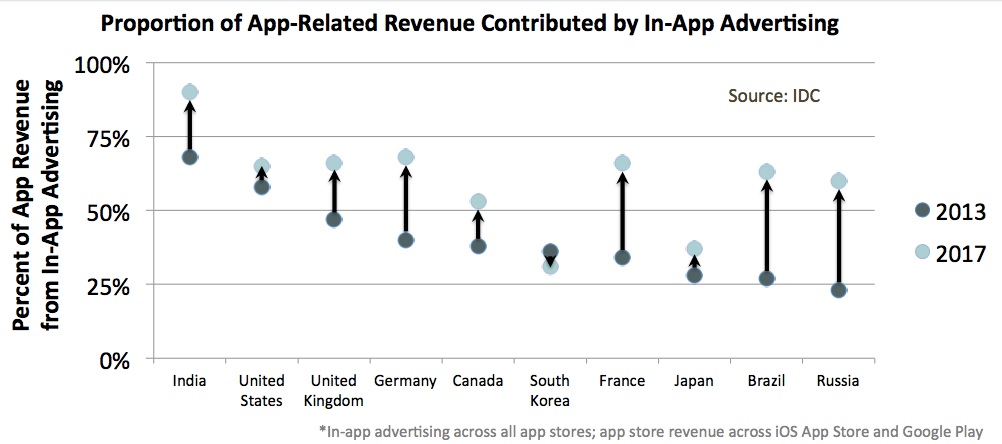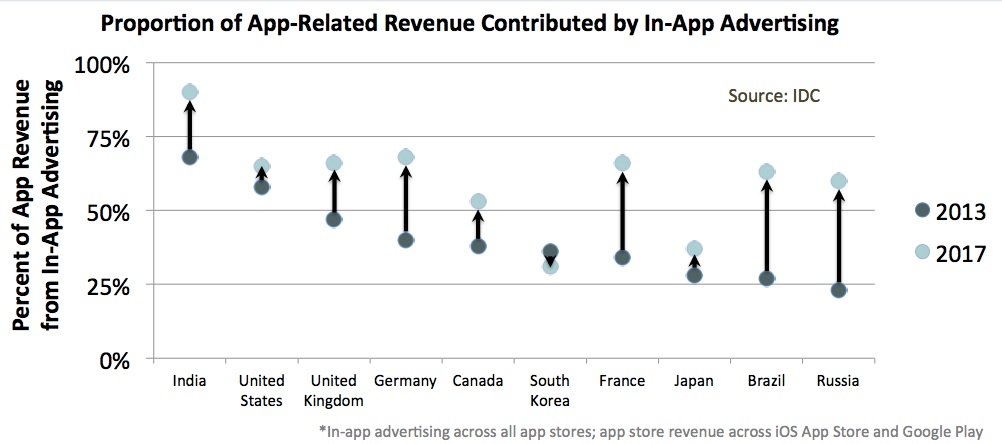 Selecting the best monetisation model is of utmost importance as the general user behaviour changes across regions. While 68% Indian users like to use free apps with in-app advertising, nearly 77% of users in Russia lean towards in-app purchases. According to IDC, in-app advertising will be the most successful way of app monetisation growing nearly 3.8x by 2017. US will stay as the top source of revenue for mobile apps but with 90% of freemium apps, India will surpass everyone in terms of revenue growth by 2017.