Surely it's old news by now that Facebook Inc. (NASDAQ:FB) paid $19 billion for WhatsApp in cash and stock. After plugging in the numbers, it essentially paid $42 per user. Apparently, the decision to acquire WhatsApp is proving worth as mobile messaging app recently tweeted that it has hit a new milestone by delivering 64 billion messages in one day, which is 20 billion outgoing and 44 billion incoming messages, to be more precise.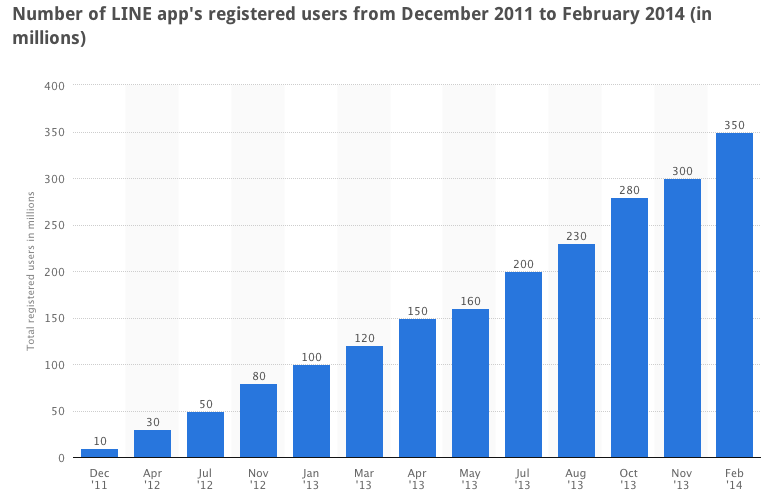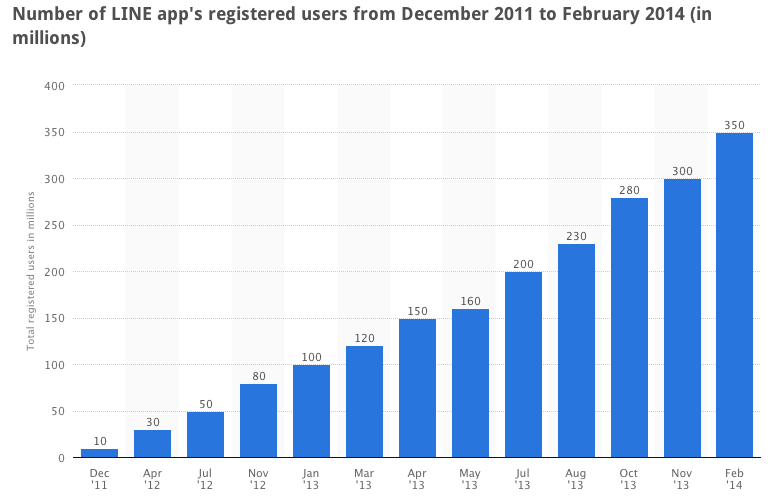 Value Worth Of Each App User
What is a mobile messaging app user worth? And how do we know if the price is too high or low?
While WhatsApp has about 465 million users and the Japanese app Line, providing free mobile messaging, voice and video calls, has grown to 350 million users in February 400 million users in April this year, and out of which 210 million are active users. So can we apply the same numbers to that app?
Stock Prices Plummet
When the news broke about how much Facebook paid for WhatsApp, Line, who is owned by South Korean Naver but most popular in Japan, price dropped. And it had nothing to do with investors being worried that Facebook will be a direct competitor in their region.
The initial drop may have to do with investors only valuing active users of messaging apps at $35 each, whereas the current market cap of Facebook values it roughly at $140 MAU (monthly active users).
How Much Line Is Really Worth
Line has stated that they were optimistic about being able to hit 500 million registered users by the end of 2014. We have no idea how many of these users are active though, since the app has never confirmed any numbers. Nomura, an asset capital corporation, figures that approximately 210 million users are active.
Nomura's Eric Cha also explains that Naver's, the company that owns Line, regular business is valued at $6.8 billion which leaves the $18.2 billion of their market cap as the assumed value of Line. This valuation prices Line's active users at $87, more than double of what Facebook paid for Whatsapp.
It isn't really clear whether Facebook overpaid for Whatsapp though, since different valuations are reaching different conclusions. But nothing is certain about Line either. They don't report their active users or exactly how much profit they make, if any.
There is a rumor floating around that Line will look for a $30 billion IPO by mid-2014.
Was It Really Worth The Price
$87 is a huge sum per active user, especially assuming that international users are worth more than North American or Western users, but only if these users make in-app purchases.
When we think about how companies monetize their users, Asian companies are pretty far ahead in how they monetize compared to their North American counterparts.
This means that investors who know the companies in Asia well will value them much higher.
In Asia, apps like Line make their money by selling products such as games and stickers. Line recently did a group buying flash sale, kind of like Groupon, which was highly successful in Thailand. The lesson learned here is that if you get a group together, you can essentially sell to them. Americans tend to be less interested in in-app purchases though, since ads are constantly shoved into users' faces.
In Asia, there is no reliance on ads to monetize. But lets remember that this is not the case with Whatsapp, which has always been ad free.
Who Is Worth More
We're pretty sure that Mark Zuckerberg is incredibly smart, so it's pretty obvious why he was glad to fork 10% of Facebook paying $19 billion for WhatsApp.
But will they be able to survive without in-app purchases? There is a trove of possible profit but at the same time, introducing paid features may drive users away. We think that WhatsApp will continue to be worth more if Line is unable to become more transparent about its active users and profit.
The post is written by Ilan Nass, a regular contributor to Dazeinfo. He is a tech enthusiast, who like to profile tech companies. He is an editor at Fueled – an iPhone and Android app development company based out of Chicago.