Buyers of Android powered handsets typically experience several pitfalls about the system and software. Users have reported varying experiences with the post purchase support and software on their handsets. Critics have relentlessly lampooned Google Inc. (NASDAQ:GOOG) owned Android for its unity and consistency, compared to the iOS experience, where Apple Inc. (NASDAQ:AAPL) controls all. Google may finally be plotting to re-establish the Android brand through a rumored project. Dubbed as Android Silver, the project will reportedly offer premium Android sale and support experience, among other things. The rumor come from an Android police report, and Google is reportedly considering the project seriously enough, that it was allegedly being shown to other Google employees in December last year.
Android Silver Project: A Premium Android OS
It appears to be an attempt to unify the sales and support experience of exclusively selected Android devices. Theses devices will be picked by Google at its sole discretion. Phones in this alleged program run the latest version of Android software and feature limited or no customization, if any. Only 5 such handsets will be selected by Google for silver status at any give time.
Google would not be selling the devices, at least not exclusively. Instead the program will focus on carrier stores. These stores will be required to help Android silver customers set up their devices with a Google account, facilitate data migration from old devices, and help customers complete their first Google Play store purchase.
Users, who sign up for this program, will get access to a 24 X 7 live hangouts support from Google specialists, who will solve any problems on your device. Also, there are rumors of a Never Lost feature that would help Android Silver users to track and wipe their device. Beyond that, the suggested feature would help users navigate back to their lost device and remotely back up data. There is also a reference to a temporary loaner phone program, presumably meaning Google (or the OEM/carrier) will offer an Android phone for a limited time period, till the old one can be found or replaced. The below screen shots, allegedly shown to Googlers, spill more beans on the rumored Android Silver program.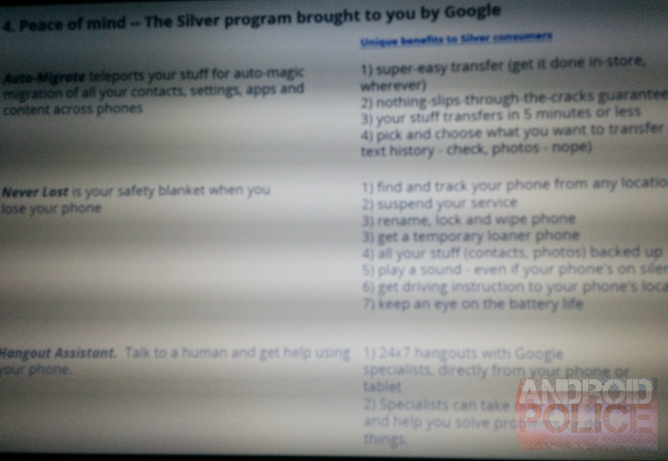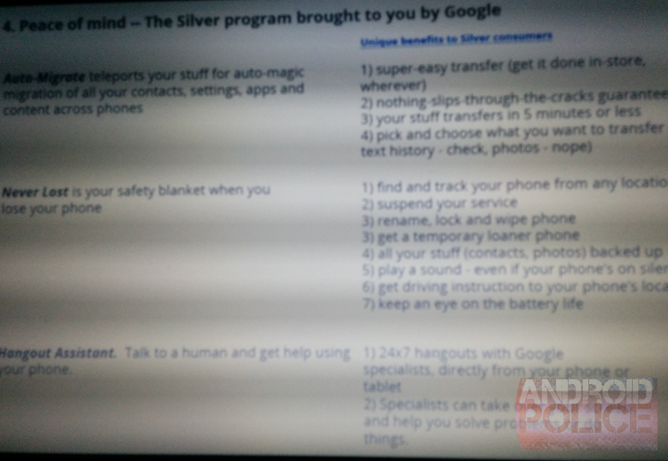 Android police reports that the slides were made at the end of last year and mentions that it does not know the current status of the program, or whether it is still in development.
Fight Against Android Fragmentation
If the rumors are confirmed, then this will definitely be one of Google's most ambitious programs with Android. Google will obviously require the support of many device manufacturers and major carriers to make it happen. The company's efforts to fight against fragmentation of its OS will receive a major boost through this program. Google urges Smartphone vendors to load their Smartphones with the latest version of Android, instead of serving customers outdated and obsolete versions of the mobile OS. For this reason developers struggle to make high quality apps for Android that can consistently perform well across the older and newer OS versions.
Will We See More Nexus devices?
It would also mark a major change in the way that Android phones are sold. This would also give a robust support network to major Android phones that can't be afforded by individual manufacturers without working together. More importantly it would allow Google to feature Android more prominently. A recent move by the search giant required all manufacturers that included its services like Gmail and Google Maps on a device to prominently display the powered by Android emblem. Nexus phones are currently preferred by users for its clean users interface of Stock Android. Having five such devices, similar to Nexus in the market, will ensure the stock Android OS takes center stage. This will transform Android into a product that customers would specifically be interested in.
However, there is no solid proof for this program and all the above information should be taken with a pinch of salt.