The rise of social media and Internet has transformed the tactics marketers used to adopt till few years back. In last 3 years or so, markets as well as companies have invested a huge chunk of their marketing budget and efforts in creating multiple forms of contents and to market them through various channels, including Facebook, YouTube or Pinterest. So, how exactly few leading modern marketing agencies, who are using marketing automation to take their marketing to next level, are adopting and blending few best practices of content marketing with various forms of content?
The team at LookBookHQ tried to explore up to what level companies understand the true potential of content marketing, what form of contents are they focused on, the purpose of content production and associate challenges to produce contents, be it in-house to outsources. And, to do it in best way, LookBookHQ associated with Oracle Eloqua – the home of modern marketers.
The findings are quite surprising:
20% of companies are producing multiple assets of contents per week, while 54% are producing content assets (excluding blog posts) every 2 weeks.
While Papers and eBooks are at prime focus as 76% companies are investing more efforts into these. Webinars and Video contents are the other major focus area with 74% and 66% of companies are regularly producing such contents.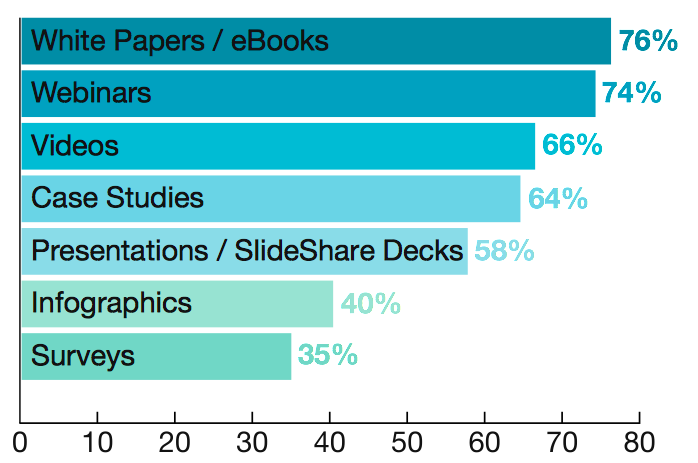 88% of companies are investing into content production with a single goal of Demand/Lead generation.  Only 58% of companies are focusing on content for brand awareness.
Majority of companies are leveraging outsourced content development or in-house content curation for marketing. Nearly 50% companies use third-party agencies to develop content while 21% share third-party curated content to market their own products/services.
Companies have started showing confidence in blogging as an integral part of their marketing efforts. Around 33% of companies produce only 2 to 5 blog posts in a month. On the higher side 24% companies claimed to produce 11 blog posts in a month.
To create buzz about their own brand/services/products, 76% companies share other people's content, mainly via social networks, blogs, email or website.
Besides detail report, LookBookHQ has also released the below infographic, titled The State of Content Marketing 2014, highlighting many takeaways for companies and content marketing companies.