Google Inc. (NASDAQ:GOOG) and Facebook Inc. (NASDAQ:FB) are predominantly driving Global mobile ad spending market, which has been witnessing explosive Y-O-Y growth for last few years. In 2013, mobile ad spending increased 105% to $17.96 billion, and is expected to touch $100 billion by 2018. Greater adoption of smartphones, that reached 1 billion shipments in 2013 for the very first time, and availability of nearly one 2 million unique apps could help global mobile ad market to record 75.1% Y-O-Y growth, resulting in $31.35 billion as spending.
Till 2012, Google was enjoying the biggest pie of mobile ad spending market. Facebook, though, had marked its presence with 1 billion users, global mobile ad spending market witnessed a sudden 3 folds surge in Facebook's contribution only in 2013. The online social media giant captured 17.5% of global mobile ad spending market, Google still remained at the supreme position with 49.3% in 2013, despite of losing a little above 3% market share as compared to 2012. Combined, Facebook and Google controlled 66.8% of global mobile ad spending market in 2013, which is expected to surge up to 68.5% in 2014.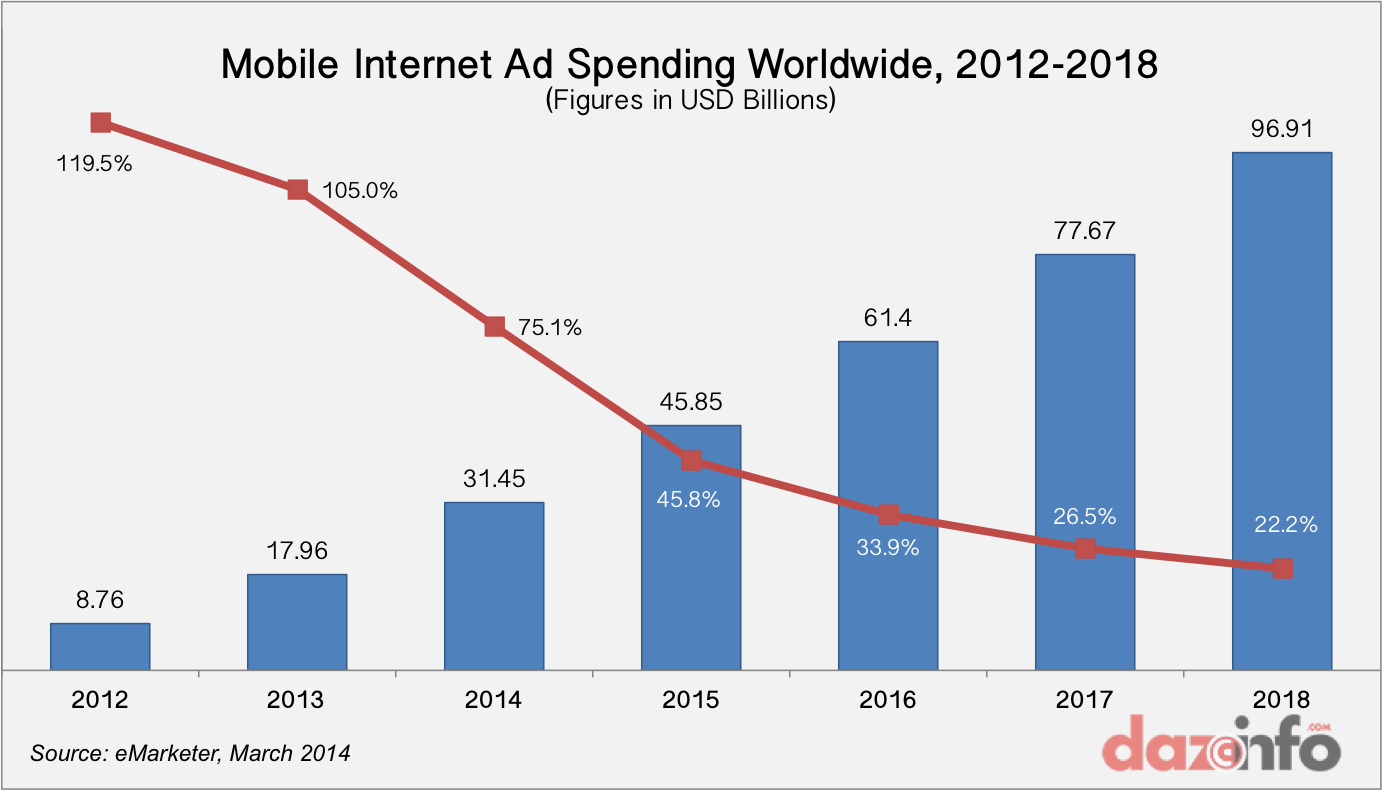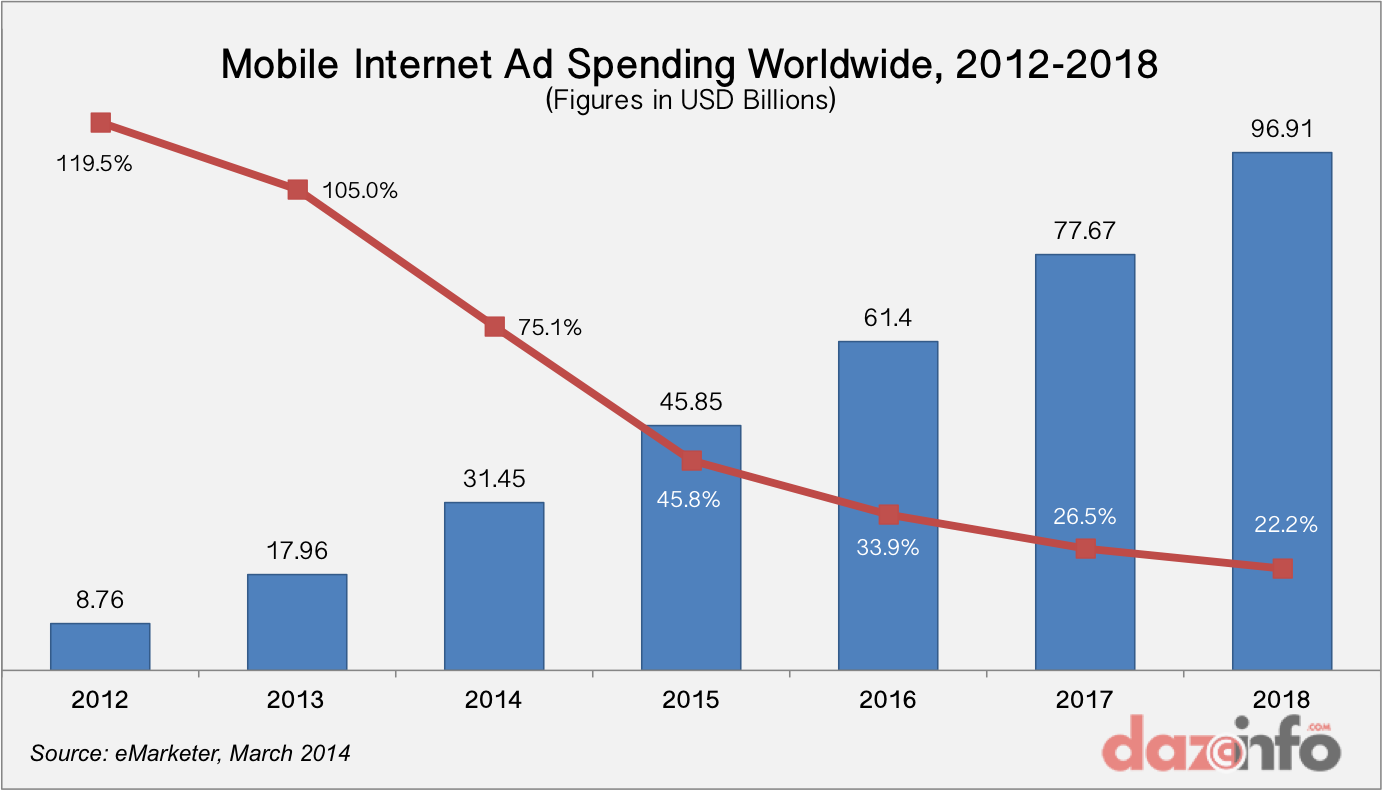 The rapid growth in number of mobile users has helped Facebook to register such a massive progression in mobile ad spending market. Between Q1 2012 and Q4 2013, Facebook nearly doubled its mobile monthly active users to 945 million from 488 million. In last quarter, ended 31 December 2013, 53% of Facebook's total ad revenue came from its mobile users.
The findings also highlight how is Google slowly losing the grip over mobile ad spending market, especially after the emergence of Facebook. In 2013, while Facebook improved its mobile ad spending market share to 17.5% from 5.4% in 2012, Google lost nearly 3.3% market, resulted in 49.3% market share in 2013. The scenario is going to remain almost similar in 2014 as Google's mobile ad spending market share would shrink to 46.8%, while Facebook will record sizable surge to 21.7%.
The projected global mobile ad spending is equal to one-third of total digital ad spending worldwide, which is estimated to reach $47.58 billion in 2014. With more than 1.21 billion the-most-active users on the Internet, Facebook's share in digital ad market is also increasing year over year. Facebook's growth in developed countries has saturated but India and few other emerging countries are holding the key to success, attest till next few years. Mobile internet penetration in India is estimated to reach 76% (against internet users), to 185 million mobile internet users by June 2014. India is also the second largest country on Facebook by the number of users that has reached 98 million by mid of March 2014. On the other hand, India registered 173% growth in smartphone users in 2013, totalling to nearly 80 million smartphone users. These numbers stage a huge opportunity for Facebook that is seeing sizable increase in number of mobile users.
Other social networks like Twitter, Pandora and YP would make a contribution only in single digit to global mobile ad market. Besides, Google and Facebook, only twitter is expected to record positive but marginal growth in 2014.