The explosive adoption of internet and mobile phones in emerging markets will push the global business-to-consumer (B2C) ecommerce sales to hit $1.5 trillion in 2014, resulting in 20.1% increase in sales as compared to last year. Constantly increasing number of smartphone users, improving openness towards mcommerce among mobile internet users, emergence of innovative, yet secured, shipping and payment methodologies and strong marketing push in smaller countries by global brands are causing the global B2C ecommerce sales to record striking growth rate year over year.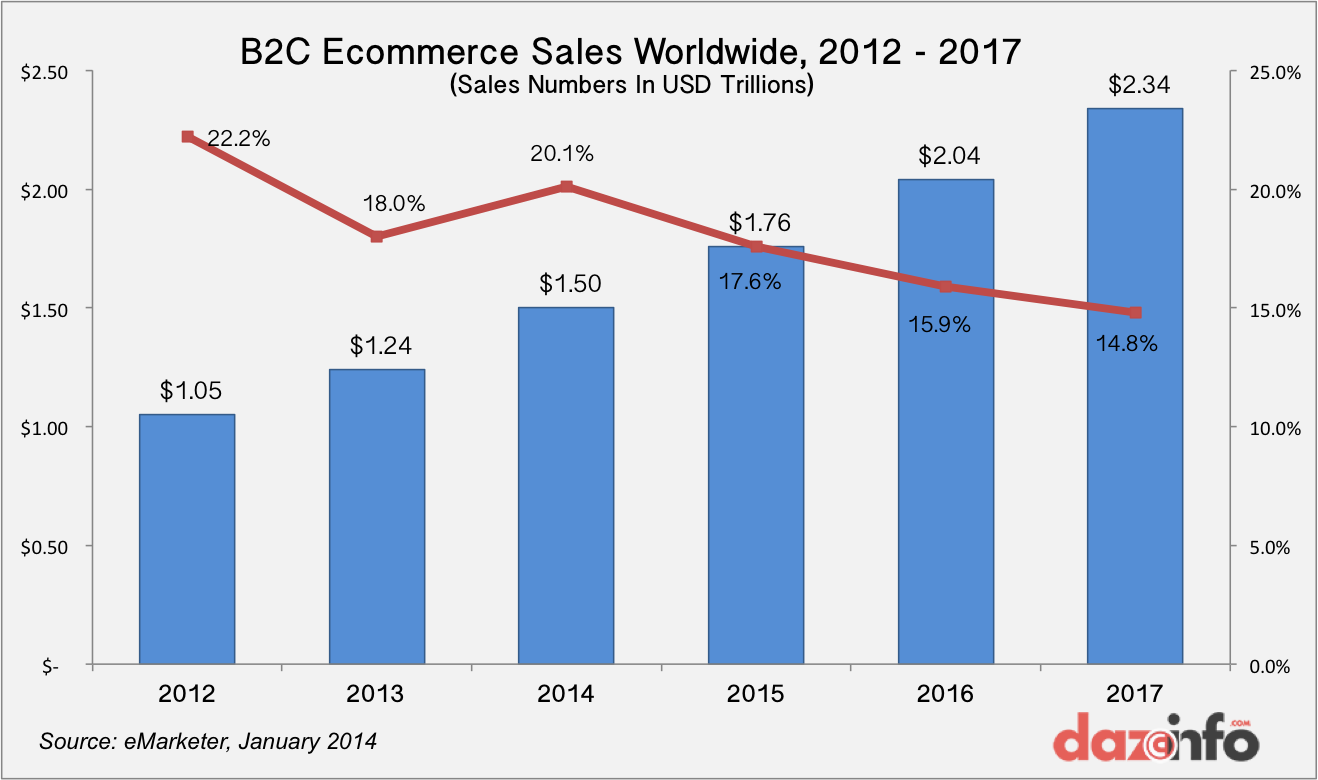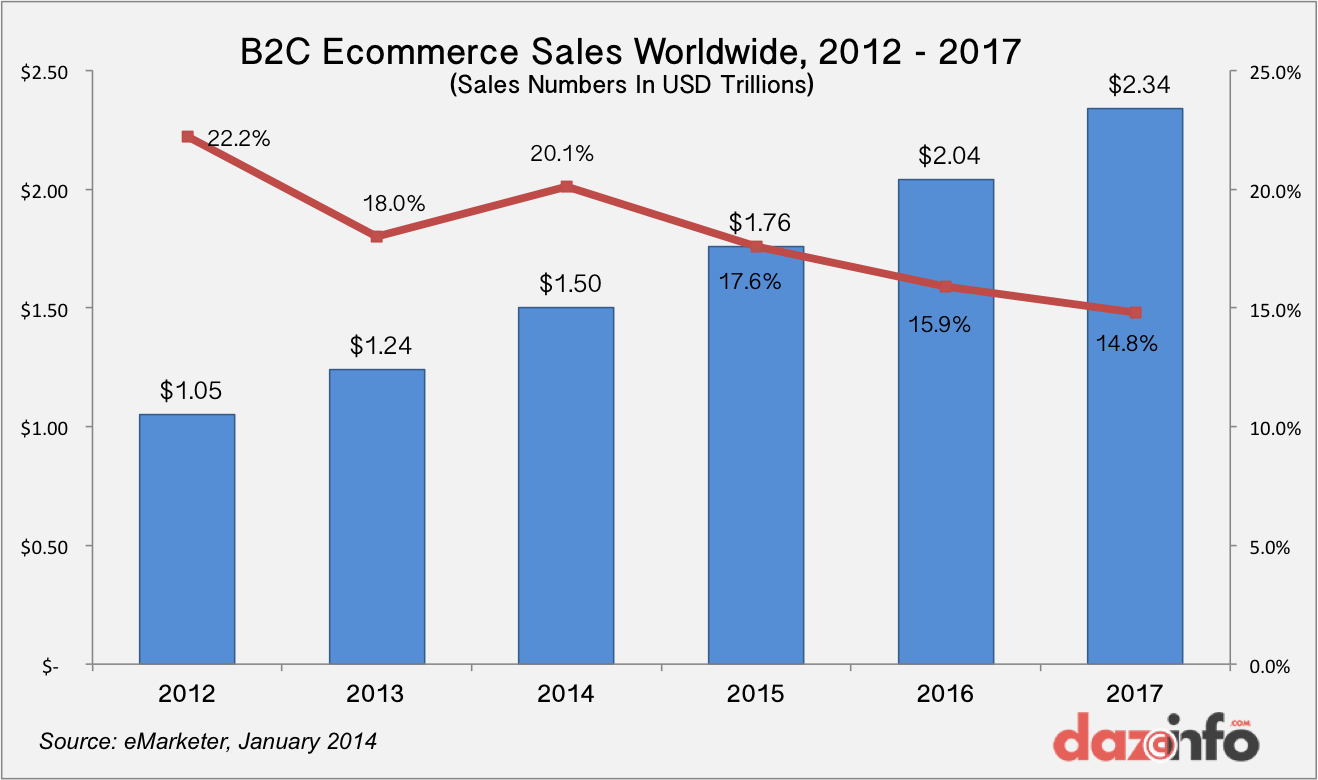 The shipment of smartphones is estimated to reach 1.2 billion in 2014, number of Internet users globally would rise to 3.5 billion (nearly 50% internet penetration worldwide) and four out of five global internet users in 2014 will be a mobile web user. These insights clearly indicate how exactly global B2C ecommerce market is being favored by supporting ecosystem required to register an astounding growth.
The double-digit yearly growth rate in global B2C ecommerce market will continue till next few years, making the market worth $2.34 trillion by 2017.
Asia-Pacific: Largest Ecommerce Market In The World
The whole world is eyeing on Asia-Pacific, investors are snooping around Asian ecommerce companies, expecting to see their investment grow by multi-folds. And why not, for the first time, ecommerce market in Asia-Pacific is expected to leapfrog North America as consumers in farther region will spend more on shopping online. In 2014, Asia-Pacific will contribute $525.2 billion to global ecommerce sales, pushing down North America to second position. The region's contribution is estimated to enlarge from 35% in 2014 to 50% of total global ecommerce sales by 2017.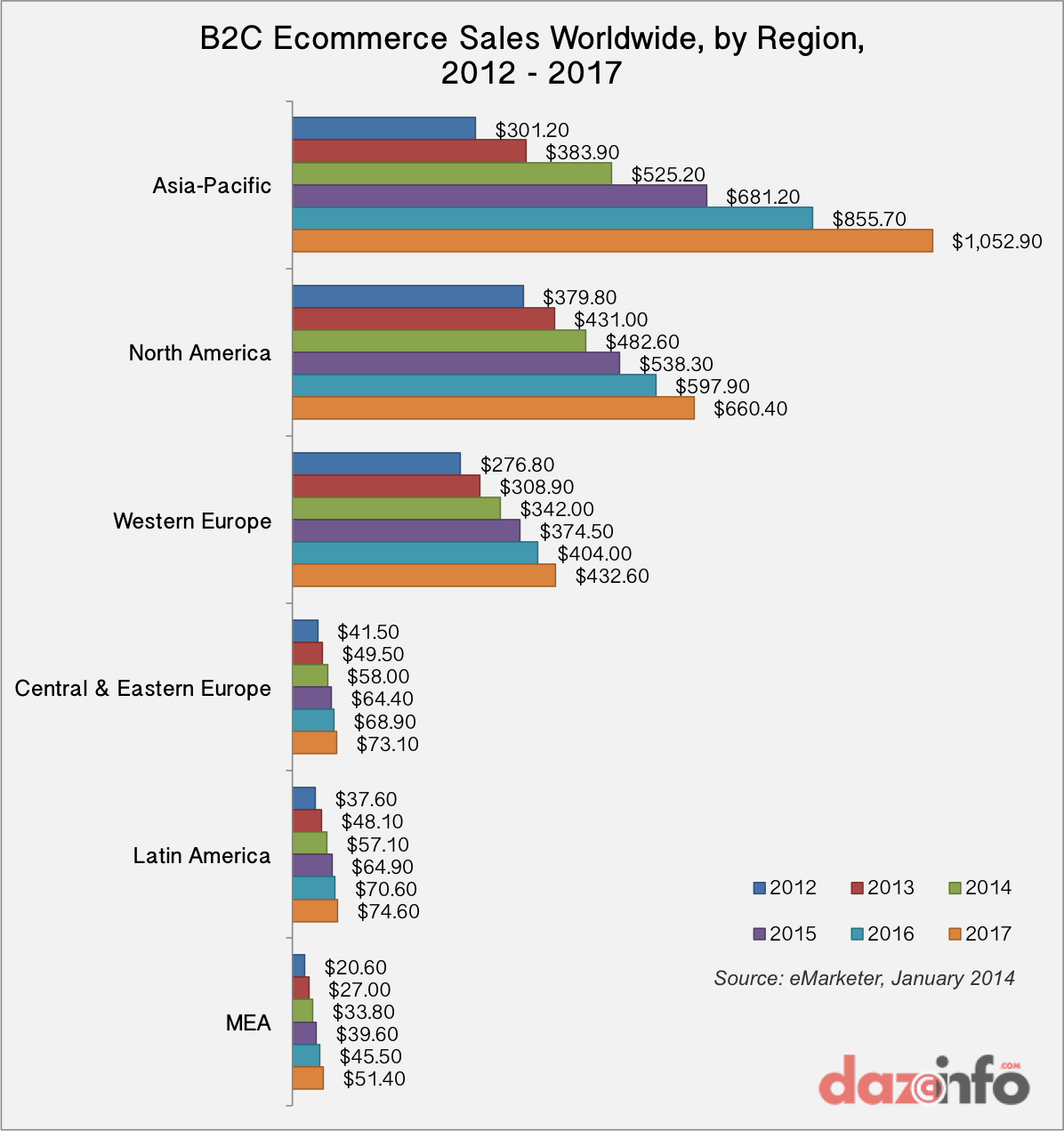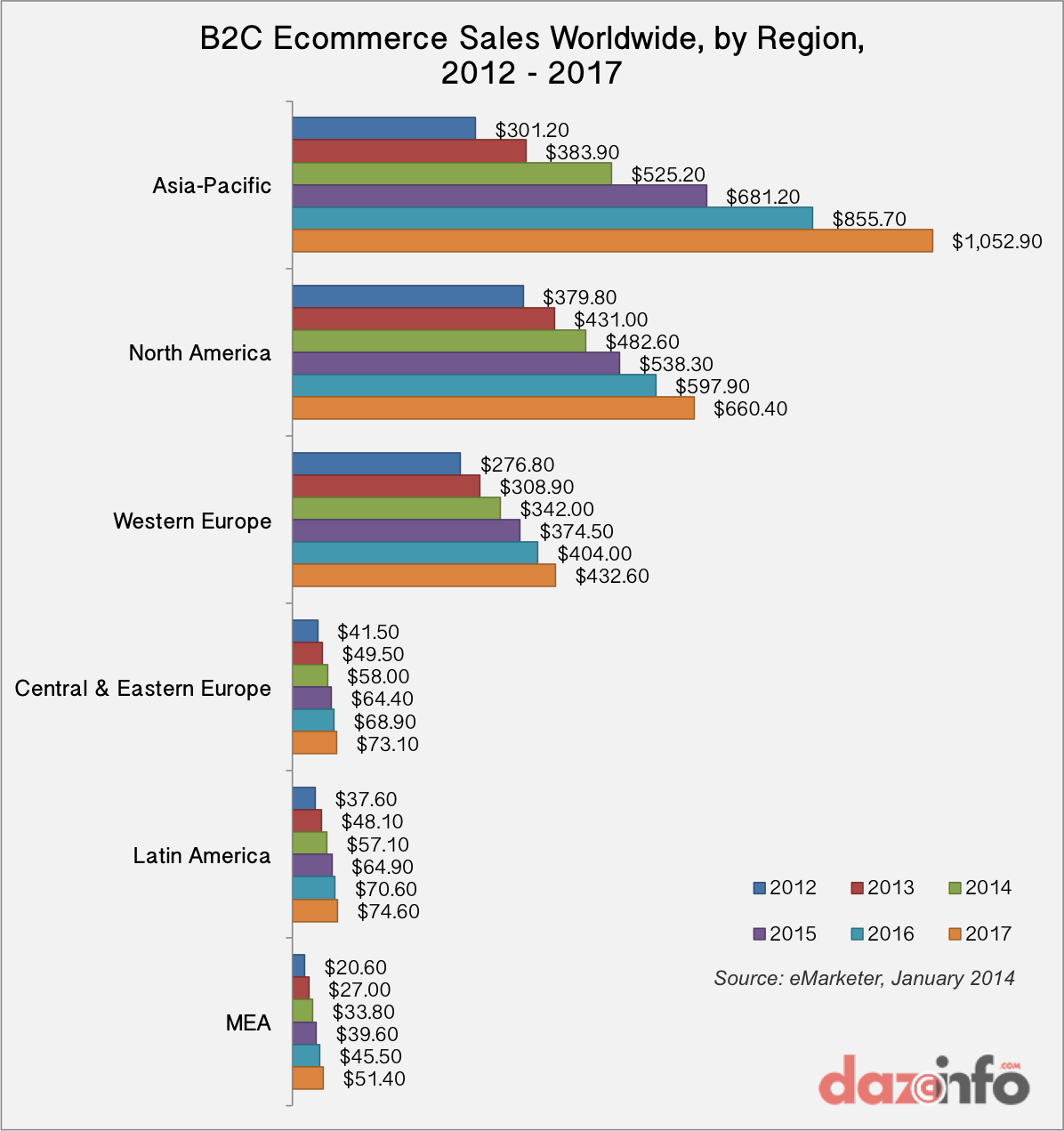 China and India, the two out of three largest countries in the world by number of internet users, mobile subscribers and population, will be playing a crucial role in region's B2C ecommerce market growth. While China will take in 6 out of every 10 dollars to be spent on ecommerce in Asia-Pacific this year, India will witness a massive gain in number of ecommerce sales volume, online payment transactions and number of industry-focused E-Stores. China is also expected to take over the US by 2016 and become the largest ecommerce hub globally.
The massive growth of ecommerce market in Asia-Pacific is due to fact that both China and India enjoy the largest population in the world. Nearly 36% of world population stays in these two countries together and, more than 2 billion mobile subscribers and 500 million internet users make it most lucrative markets for every global ecommerce player including Amazon and Yahoo. In 2014, Asia-Pacific will claim 46% of digital buyers worldwide. Though, these numbers are just 16.9% of the region's population, it showcases a bigger window of opportunity for new ecommerce players to set their shop, grow and grab a sizable pie of gargantuan $1.05 trillion ecommerce market by 2017.