As the world moves mobile, businesses are following suit to stay relevant and up to date. Mobile marketers stay desperate to try to tap into the millennial market — with little success breaking through the distrust and white noise that advertising has become to young people. A recent $19 billion acquisition of WhatsApp by Facebook strengthen the claim. But after WhatsApp relax under the social umbrella, many brands and individuals have started hunting for other independent mobile messaging app to avoid keeping all their eggs in the same basket. Infact, there are many who are hesitant to use WhatsApp going further due to the very fact that now Facebook may control their digital lives of all forms. Lucky for them, Snapchat may be the next platform to look to.
Brands looking to target Snapchat's main demographic of 13-25 year olds (70% of whom are women) are already utilizing this popular mobile app– especially after the addition of Snapchat Stories which allows pictures/videos to be available up to 24 hours, instead of disappearing forever after 1-10 seconds. The popular mobile messaging app logs over 400 million mobile messages everyday, that makes the app equally popular with WhatsApp and WeChat.
This demographic is not only extremely hard to target, but nearly impossible to engage. Imagine the 15-year-old girl next to you Instagramming a vintage-filtered shot of her favorite Starbucks treat with the spelling of her name butchered on the cup. Once perfected, she checks in on Foursquare and links it all to her Twitter by mentioning @Starbucks. What if the next step was to send a selfie of herself sipping on a her caffeinated treat (iced, half caff, ristretto, venti, 4-pump, sugar free, cinnamon, dolce soy skinny latte…duh) to a Starbucks Snapchat account and get a coupon back, in real time, just for engaging? This is slowly becoming a reality. Young people are already sharing their every move (admittedly, often too much) so let them share with you! Brand engagement in 2014 is about having a conversation. Enter into a conversation that's already being had for a mutually beneficial relationship.
16 Handles, a New York City-based yogurt shop, is already trailblazing this kind of Snapchat marketing technique with their "Snappy New Year" campaign. The company encourages users to send them snaps (username: Love16Handles) of themselves eating their frozen yogurt, and in return 16 Candles sends them a discount coupon via snap for 16%, 50% or 100% off to redeem at the register. Within days of launching the campaign in January 2013, the company exchanged over 1,400 images and gained a working list of people to target for future promotional materials…for free! Seems like a win/win to us.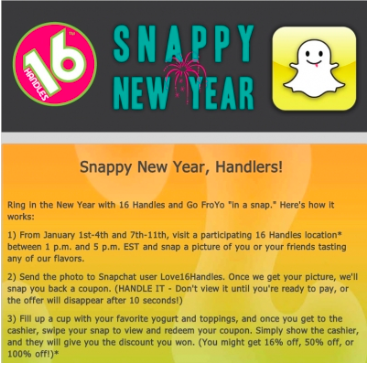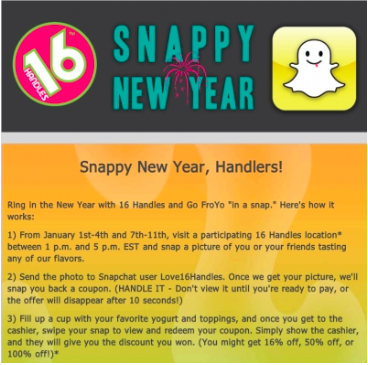 Taco Bell (username: tacobell) was the first big brand to join the Snapchat movement, making their announcement over Twitter in April 2013 for the return of their infamous Beefy Crunchy Burrito.
And look, they snap back!
Streetwear company Karmaloop is utilizing Snapchat to target their ideal target audience of young people to offer exclusive deals and incentives. Not only that, but they use it to give behind-the-scenes interaction with consumers, allowing them sneak peeks into fresh looks and even day-to-day office antics among the Karmaloop crew. This kind of personalization gives the important human interest and personalisation that creates the kind of brand loyalty companies are looking for.
These are just a few examples of those who are taking advantage of social media to better their mobile marketing efforts. Other notable brands (with their Snapchat usernames) who have teamed up with Snapchat include:
Zappos – ZapposDotCom
Grubhub – Grubhub
Seventeen Magazine – SeventeenMag
Acura – Acura_Insider
WWE – WWE
American Apparel – AmericanApp
Def Jam Recordings – DefJamRecords
American Eagle – OfficialAEO
Philadelphia Zoo – PhiladelphiaZoo
Brands may be the majority of those who are directing their efforts towards Snapchat for their mobile marketing campaigns, but TV shows are now catching on. Popular TV show networks aimed at young people are engaging with their audience and focused on who's watching, and getting real-time interaction and viewer reactions.
Popular TV Shows:
The Vampire Diaries – TVDChat
Girls – girlsHBO
Professional sports teams are rapidly joining the Snapchat marketing movement as well. Teams are already providing users with exclusive interviews, behind-the-scenes footage of their favorite players in the locker room or warming up, and new merchandise teasers that then sends users to their website.
Athletic Teams:
Washington Wizards – WashWizards
Cleveland Cavaliers – CleCavs
New Orleans Saints – Saints
Dallas Mavericks – TheDallasMavs
New York Jets – OfficialNYJets
Philadelphia Eagles – Eagles
Milwaukee Bucks – BucksDotCom
People fall in love with a brand, not just a product or service. Snapping is a way for brands to stop treating their customers like consumers, but like personal friends that they care about in an exclusive way.Young people love good deals, exclusivity and personalization. The integration of Snapchat into your mobile marketing campaign could very well be the answer to breaking through the distrust and brand disloyalty, and a way to easily access young people in a free and engaging way.
About The Author: Kayla Bibeau is an active contributor to Dazeinfo and works for content & marketing team at Splitforce – a leading mobile app A/B testing company that makes opinion based upon data not opinions.