Google Inc. (NASDAQ:GOOG) is apparently facing some though time with constant declining Adsense growth, and the scenario is also discouraging many premium publishers, including NYTimes, that have been relying heavily on the network for many years now. AdSense accounted for 29% of Google's $43.7 billion dollar revenue in 2012. While there has been a growth in AdWords by 22%, AdSense remains flatlined. The performance of Adsense further deteriorated when contribution plunged to 21.9% of $59.83 billion revenue in 2013. Many are mystified in their thoughts on the direction of Google AdSense and what this means for the future of the ad network.
Quarters Show AdSense Taking The Plunge
Historically, Google's AdWords and AdSense have always mirrored each others growth, however numbers in Google's last quarters have shown that AdSense's growth is taking a steep plunge. The decline is being attributed to Google's advertising policy changes, according to Google's CFO Patrick Pichette. With signs of three consecutive quarters indicating declines in Google's AdSense revenues, it makes a tough call for the future of the ad network.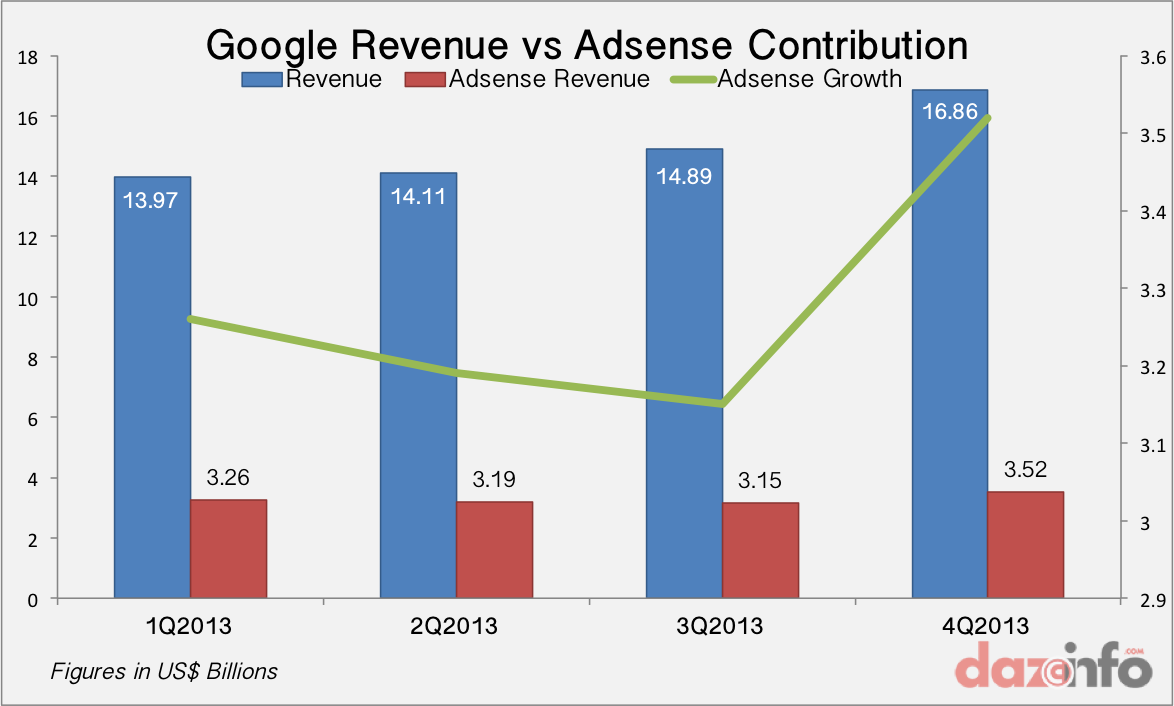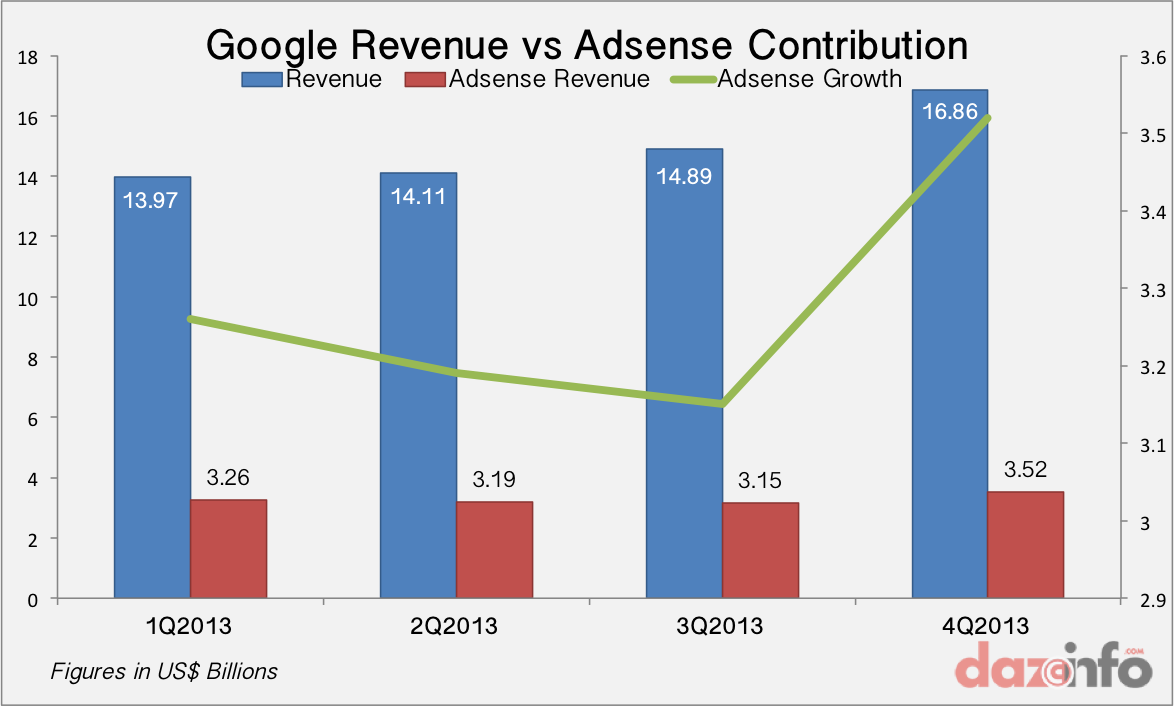 Mobile Ads Slashing Clicks
One of those very specific changes, is one which requires customers to buy mobile ads, even if they don't monetize on that specific channel. Google has also reported a significant drop in the number of clicks on its ads, with the introduction of mobile ads acting as the catalyst to this demise; as mobile ads only produce a fraction of the revenue of those of ads on desktops.
AdSense An Accessory To Spam Sites
AdSense has been criticised for its part in aiding sites in its network with stolen articles and spam content, with allowing them to profit while sending them even more traffic; naming Google and its networks as an accessory in this activity.
The decline in AdSense usage is also speaking to Google's lacking in its capabilities, through their indexing algorithm, to block traffic being sent to scrapper and spam sites. Their inability to distinguish legitimate from spam websites, spoke to a flaw in their algorithm.
Google responded with its "Panda" update, which cracked down on the low quality content found on sites and its "Penguin" update crunched lower quality sites, causing many of them to lose the traffic that drove them.
Who's Really Benefiting
From the looks of it, publishers of lower quality websites are taking the hit, as higher quality publishers are benefiting from increased traffic through a better "quality drive" through search. Giving these sites a better chance to increase their AdSense revenue. How we see it, food taken off one man's table and being put on another; tribulations of life?
In the Google network ecosystem, we've seen it all.  As there will only continue to be a supply for the increased demand, and as far as we're concerned, with more ad space now becoming available with the removal of lower quality site fulfillment, the demand for that opened space will only continue to flourish, as more and more struggle to get even a mere acceptance into the network.
Another uphill battle we see for smaller publishers is that account levels are taking precedence. As under Google's DoubleClick brand, it is mainly big brand advertising and Ad agencies that are gaining the path into the AdSense network, which appears to have a track record of only being given to those of the highest level of the quality scale.
Network Crash vs. Network Pruning
We see these numbers being attributed to the pruning of the network to include higher quality sites, thus higher quality ads. We are also expecting to see search quality updates similar to "Panda" and "Penguin" in the future, where publishers will also see a drop off in traffic at certain points, which will only serve to strengthen the quality of the user experience.
Man is no longer living by AdSense alone
What we have seen is that more and more advertisers and small publishers are now flocking to ad networks that quite simply pay more. With a decline in revenue in sales through AdSense, this translates to less payouts to users in its balance between profitability and meeting supply and demand.
Smaller publishers are now looking to spread their wings to other outlets, as diversification is becoming a key component in the game plans of many having the intentions of increasing the number of income streams they live by.
While there is no direct competitor of Google Adsense yet, there are few effective alternatives that could be seen as the other revenue junctions for publishers. Affiliate marketing, Chitika, Adversal, Cliksor are the few that are largely adopted by publishers. However, what would be more interesting to Facebook Ad Network that is making news for some time now.