"Our major businesses can disappear in 10 years,"

-Lee Kun Hee, Samsung Chairman
When Lee Kun Hee Chairman Of Samsung ( KRX:005930 ) made that statement, he was not trying frighten or create panic among his shareholders or workers. He was speaking the truth. A couple of years back HTC was the number one Smartphone company for North America, with its devices selling like hot-breads, but today the company is no where to be found even among the top 10 Smartphone makers. Lee has read the market and market history correctly. Riding the bandwagon of Android based OS, Samsung rose to become the 2nd largest Smartphone maker after Apple. Samsung Galaxy S4 and Galaxy Note 3 phablets drove the sales and revenue figures this year. But as Lee pointed out, the picture could change any minute.
The reason for this worry is that most of Samsung's revenue margin comes from its Smartphones. If it were not for the Smartphones Samsung could have posted bad results.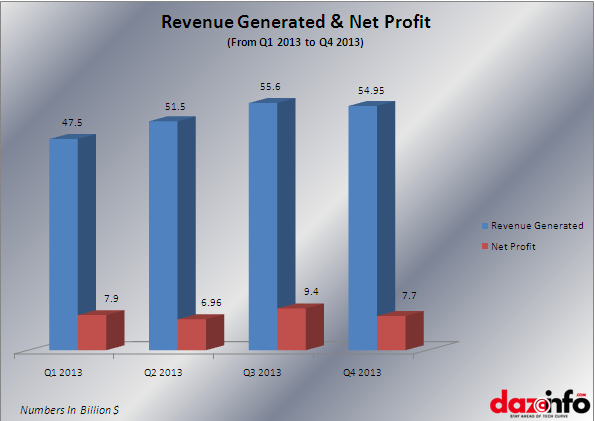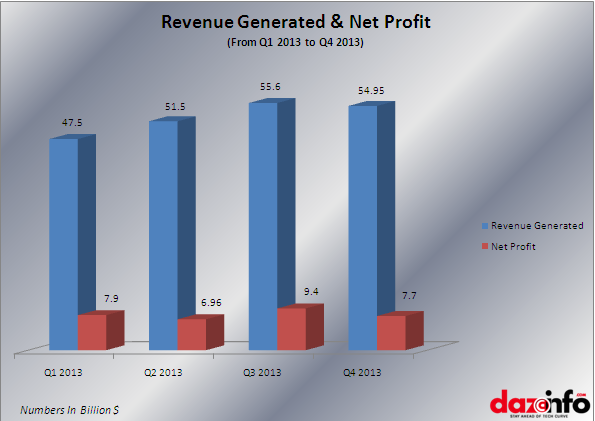 Below is a graph from Asymco's Horace Dediu showing the increasing percentage of Telecom divisions in its profit margins.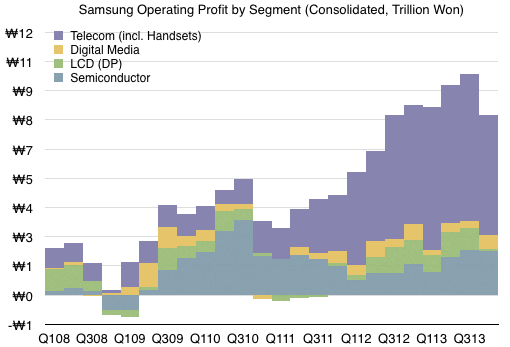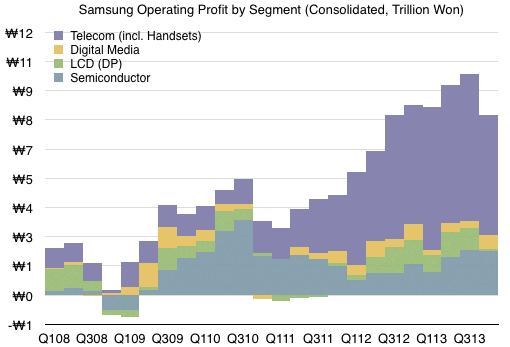 Its Galaxy S and Galaxy Note series have made Samsung the leading player in the global Smartphone market and is able to challenge bigwigs like Apple. But if profits start declining one fine day, Samsung will turn back into a component supplier.
Samsung wants to avoid such a scenario and this the reason why it is trying to find out the next big thing, so that it can keep its dominant position in the market intact. One area in which Samsung sees high possibility of growth before it becomes crowded is that of Wearable technology. That is the reason why it is trying to enter the market of Wearable technology in a big way and Samsung Galaxy Gear Smartwatch is only the start of things to come.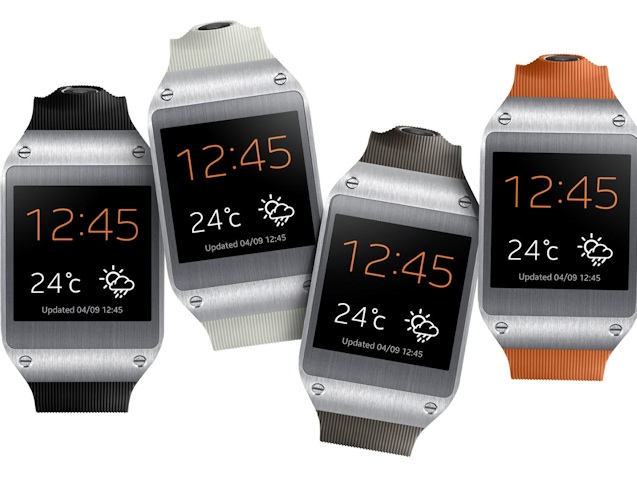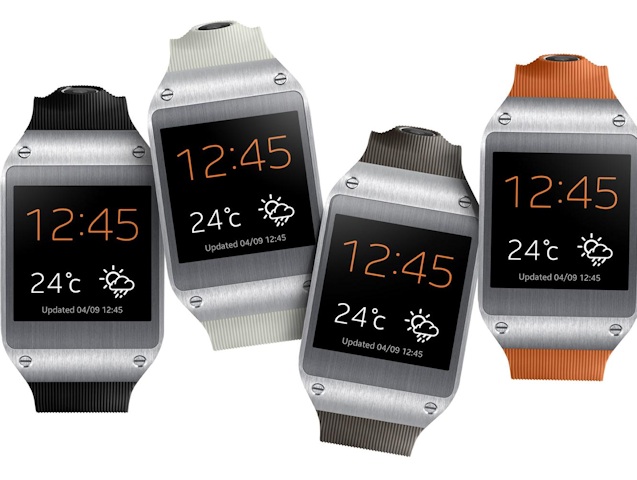 Starting with Samsung Galaxy Gear smartwatch, Samsung is trying to evolve itself into more of a lifestyle brand from just being an Electronics brand. In the words of Dennis Miloseski, head of studio for Samsung Design America, Samsung is trying to make products which would become part of people, their style statements.
"You have to look at the tastes that individuals have. It is something that is visible on your body and it is a part of you."

– Dennis Miloseski, head of studio for Samsung Design America
Wearable technology is still in its infancy and it may still take time for the market to boom and start driving revenue in the balance sheets for the companies. Meanwhile, Samsung is trying to place bets on the growing phablet market. Company is planning to launch more tablets with bigger displays and also launch more phablets. Galaxy NotePro 12.2 and Galaxy TabPro 12.2 showcased at CES 2014, were glimpses of things to come.
It appears that Samsung is trying to achieve the same thing in the phablet/tablet market as it has achieved in the Smartphone market. Samsung is planning to bring out more phablets with 5-6 inch screen sizes as part of this strategy. It is planning to dump multiple devices fitting different requirement and budgets. This means that whatever requirement a user has, there is always a Samsung device to choose from.
Samsung as of now is comfortably placed in the Smartphone market, but having seen the decline of some of the big names in the recent past, it is getting nervous. But this nervousness is good for the company and may one day be the reason for its success.