The new year has just begun and speculations about different Operating Systems has started. Top Smartphone and PC manufacturers are ready to enter the market with their new strategies and plans. According to Shareaholic, a trend has been observed across 200,000 websites reaching more than 250 million visitors from September to December, 2013, which shows the growth of different Operating Systems. However, this trend is totally based on Shareaholic's reach, here the interesting fact is that out of the four Operating Systems which are showing positive growth, three are Smartphone OS.
Mobile OS Usage:
In the last decade, analysts have suggested that the upcoming years would be more lucrative for Smartphones and tablets. Since then their assumptions have proved correct and even the shares of smart devices crossed expectations. The recent data shows that in Q3, 2013, the worldwide mobile devices sales reached up to 455.6 million units and the worldwide Smartphone sales crossed 250 million. This data clearly shows why mobile devices as well as their Operating Systems are on a continuous surge. The number of people who use Smartphones to access the internet are also growing because the trend is totally based on the internet public.
According to this graph, iOS, Android and Windows Phone Operating System are the ones dominating every other competitor in their segment. Once again, Android tops the chart with a growth of 27.65 percent usage as compared to its nearest rival iOS with 25.18 percent. Although, the four month average use of iOS is 17.74 percentage and Android has just 11.92 percentage, but as Android is enjoying the biggest share of the pie in the worldwide mobile operating system market share with 81.0 percent. In comparison iOS has just 12.9 percent of the market share or any other mobile OS. Windows Phone OS is also showing an upsurge with 25.86 percent as shown by Shareaholic. In this segment of  Operating Systems, it is absolutely clear that upcoming years would bring huge increments in usage of mobile Operating Systems and Android is expected to break all the earlier records.
PC/Laptop OS Usage:
Series of Windows Operating Systems like Windows XP, Vista, Windows 7 and Windows 8 has significantly went down accounting for -24.92, -15.06, -7.53, -13.65 percent usage, respectively. Although it can be seen that usage of Windows 7 has declined but it still remains the numero-uno with a four month average of 37.54 percent. That ultimately accounts for approximately more than 90 million users who have contributed to the trend via Windows 7. While other Operating Systems like Linux and Macintosh are struggling to survive with -2.93 and -14.46 percent usage, Chrome OS was able to show growth as compared to the other OS with 26.59 percent usage with very few number of users with a four month average of .10%  that is just 25000, which is very negligible.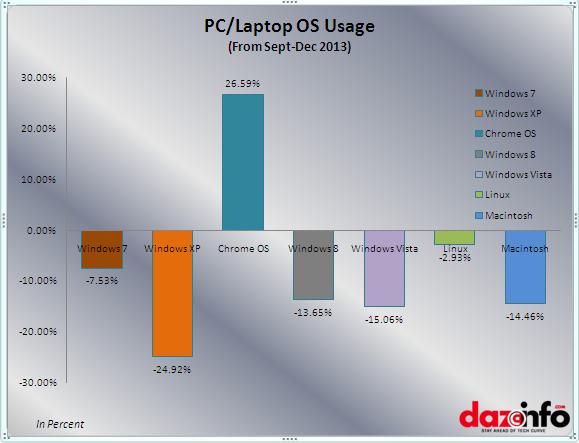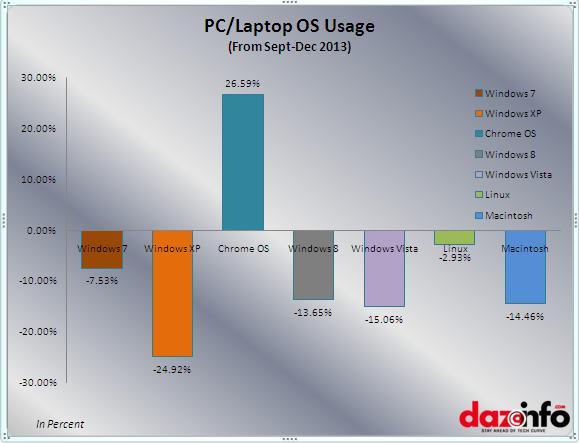 Most of the users are now switching to Smartphones and tablets, and analysts will likely say that the coming years are not meant for the PC/Laptop market. If we consider the last Q-O-Q shipment worldwide for PC and Laptops, the data clearly shows that in Q4, 2012, where PC shipment was 90.3 million units, it decreased in Q4, 2013 to 82.6 million units with a remarkable fall of 6.9 percent. This might be the reason why the usage of PC/Laptop Operating Systems is declining as compared to the mobile OS.