Canada has the second highest internet usage across the globe, with users spending more than 41 hours per month online. With its high internet usage, the country also indicates which way the internet usage trends across the globe are headed. The way internet is used in Canada could provide an indicator to major advertisers and help them in formalizing internet advertising strategies across the globe.
As premium content moves online, the usage of internet for streaming videos, watching programming content, shooting and sharing video content has started occupying a major part of the online activity of users in Canada. Canada currently ranks 2nd worldwide in terms of video usage with users spending around 25 hours monthly watching videos with a video viewing rate of 291 videos per user.
Number of video users have increased by more than 140% in the last three years and more than 88% of internet users were online video viewers. The study by comScore does a detailed analysis of Canadian internet users and their video viewing activities over the internet. Watching videos over the internet is high amongst all age groups in Canada, with the younger generation responsible for watching most of the online video content.
The (12-17) age group took the top spot with 94% users watching video content over the internet, logically it was followed by the next demographic group i.e. (18-24) with 93% of users watching video content over the internet. Among the remaining demographic groups the number of users watching video over the internet remained around 90%. At the third position, there was a tie with 90% video usage in the (25-34) age group and those with 65+ age. A high percentage of video viewing among the 65+ age group was a surprising trend. The other two age groups which were studied i.e. (45-54) and (55-64) had around 88 % of users spending time online, watching videos.
Although the (12-17) age group had a high reach, the number of videos per viewer 390, was way less than that of the (18-24), (25-34) & (35-44) age groups. The users in the age group (18-24) had the highest number of videos per viewer with around 561 videos per viewer. They were followed by users in the (25-34) age group with 545 videos per viewer. The users in the (35-44) age group saw around 408 videos per user, making them the third largest group watching videos. The 65+ age group had the least ratio of videos per viewer i.e. 216 videos.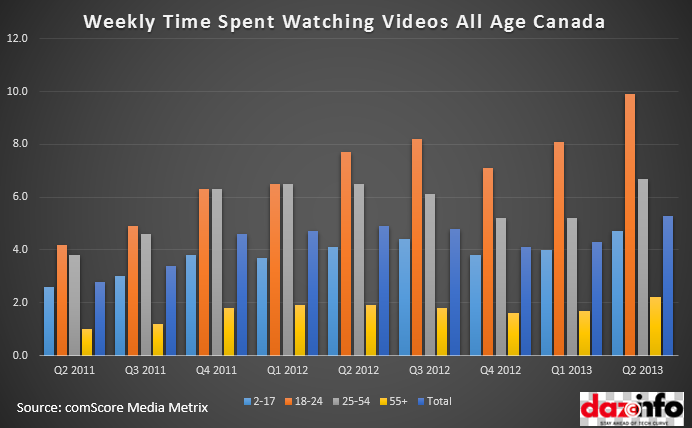 The number of hours spent every week viewing videos online by each age group has been on the rise since Q2, 2011. Analysis of data by comScore shows that in general the numbers of hours increased from 2.8 in Q2, 2011 to 4.9 in Q2, 2012 and further to 5.3 in Q2, 2013 for all the age groups in Canada. It showed maximum increase for the age group (18-24) where it increased from 4.2 hours in Q2, 2011 to 6.5 in Q2, 2012 and further to 9.9 in Q2, 2013.
The demographic group (25-54) showed the next major increase from 3.8 in Q2, 2011 to 6.7 in Q2, 2013. Age group (2-17) was the next largest group with an increase from 2.6 hours in Q2, 2011 to 4.7 in Q2,2013. The age group of 55+ spent the least time watching videos every week, but still they showed a remarkable increase from 1 hour in Q2,2011 to 2.2 hours in Q2,2013.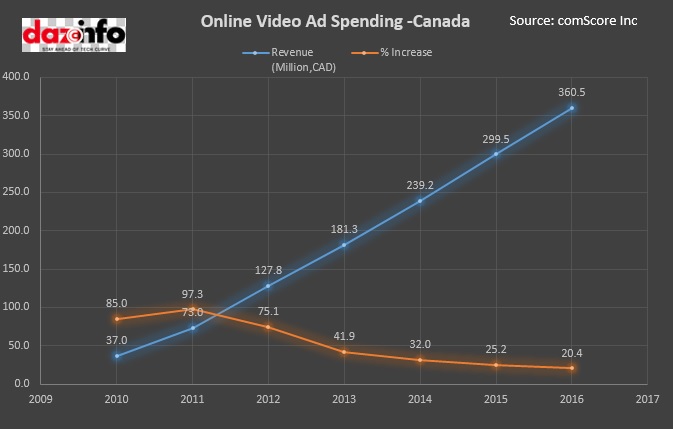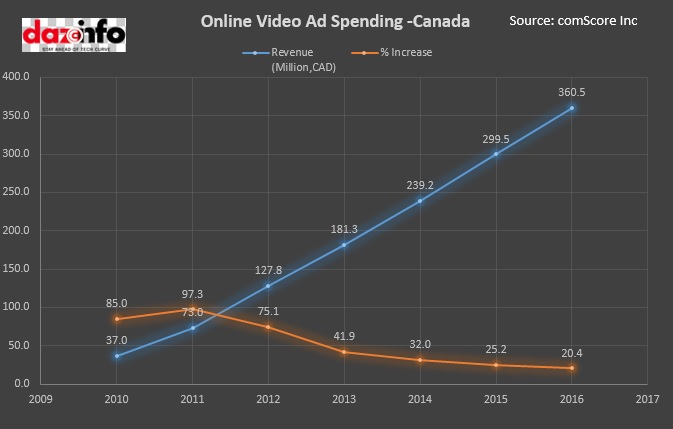 This increasing trend has not gone unnoticed by the advertisers. The online ad-spending on videos has seen tremendous growth in Canada. It grew from 37 million CAD in 2010 to 73 million CAD in 2011, showing an increase of a whopping 97%. It further grew by 75% in 2012 to 127.8 million CAD .The revenue further grew by 41.9% to  181.3 million CAD in 2013. The online video advertising is expected to grow to 239.2 million CAD in 2014, showing an increase of 32% Y-O-Y. Advertising revenue is expected to increase to 360.5 million CAD by 2016.
[Source :
comScore Report
]