The whole India, and probably Pakistan too, is surprised with the breaking news of the shocking demise of Sunanda Pushkar – wife of Indian Union Minister Shahi Tharoor – who was battling with the Twitter controversy for last 3 days. On Friday late evening Sunanda Pushkar was found dead in her room at Hotel Leela Palace, Delhi and since then the Internet is going crazy blaming the unimpeded expose of social media. Though, no clear cause has been identified for the death of Sunanda Pushkar yet but social media is already being blamed for playing an evil role that resulted in horrifying consequences.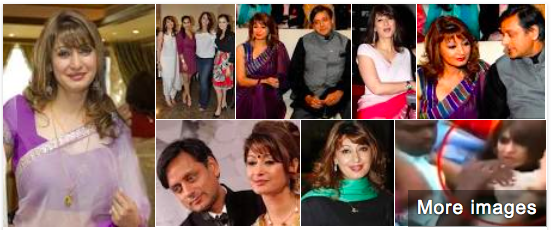 For those who are not yet familiar with the bizarre 'tweets exchange' between Sashi Tharoor, his wife Sunanda Pushkar and a Pakistani journalist Mehar Terar that caused the whole controversy, here is a quick preview of the whole scenario that possibly led to the death:
Three days back, Indian Union Minster Shashi Tharoor rocked his followers and friends with his bizarre public tweet:
@mehrtarar I love you, Shashi Tharoor. And I go while in love with you, irrevocably, irreversibly, hamesha. Bleeding, but always your Mehr,

@mehartarar Sadly my wife @sptvrock who gave up everything for found out about my affair with u Mehr

Shashi. I'm not crying any more. I'm not falling to pieces. I'm more lucid than ever. How little I knew you became visible to [email protected]
Though, it was not the first time when Sahi Tharoor caught attention of everyone for his peculiar tweets, but this time apparently it went much ahead than the expectations.
While the tweeps were finding it weird and strange to digest such tweets from official Twitter account of Shahsi Tharoor and started suspecting of possible account hacked, his wife's statement to Economic Times spilled the beans only to make Sashi Thaoor face more embarrassment:
"Our accounts have not been hacked and I have been sending out these tweets. I cannot tolerate this. This is a Pakistani woman who is an ISI (Inter Services Intelligence) agent, and she is stalking my husband. And you know how men are. He is flattered by the attention. I took upon myself the crimes of this man during IPL (Indian Premier League). I will not allow this to be done to me. I just can't tolerate this. I have nothing more to say," she said, speaking on the phone.
Following, late Sunanda Pushkar openly triggered the Twitter War against Mehr Tarar – a Pakistani journalist accused for stalking her husband. Underneath are Sunanda's tweets to Mehr:
@prasanto @MehrTarar indians who have dignity unfollow her or are there no ppl in pakistan who R desperate 4 husbands of other women SHAME

@MehrTarar the audacity of a woman desperaely in love with an Indian "please shashi dont make me go i pleaded and begged i love u Shashi "

@MehrTarar leave us Indians alone and stop talking to my huband and pleading with him its digrading respect youself as a women

its funny on a election yr ppl want to bring down an MPusing a Paki journo who has lost her job and tries with everyone including with Omar

Or perhaps to build up twitter followers thats a cheap thing 2 do ask the Pakistanis what they think of her & yes 20 calls a day is stalking

for her information Shashi an& I are very happy together sad for her to know i guess i get sick and go away 4 treatment &the vultures pounce
As expected, the response was obvious as it all was happening on an open forum with an absolute absence of any privacy. Pakistani Journalist Mehr Tarar responded on Twitter:
I have nothing to say to a woman clearly out of her mind. To be called an ISI agent, a stalker..I have nothing to add. Just shows who she is

I'm not avoiding answering any of u. I just consider it beneath me 2 respond 2 personal attacks on me here.Not a Jerry Springer-reality show

I interviewed 2 politicians in India;Apr,Dec.Hv them on tape.Doing a show on Business+ nxt mth..And I'm a mother.Trashing me w/ ISI..grow up

The blonde's aqal is weaker thn her grammar & spellings.From an 'affair' it has become 'stalking'..make up yr mind, darlin'.Which one is it?
However, on 16th January Sunanda and Shahi both tried to calm down the whole issue by releasing a joint statement on Facebook:
We are distressed by the unseemly controversy that has arisen about some unauthorised tweets from our Twitter accounts.

Various distorted accounts of comments allegedly made by Sunanda have appeared in the press.  It appears that some personal and private comments responding to these unauthorised tweets — comments that were not intended for publication — have been misrepresented and led to some erroneous conclusions.

We wish to stress that we are happily married and intend to remain that way. Sunanda has been ill and hospitalised this week and is seeking to rest. We would be grateful if the media respects our privacy.
Now with the demise of Sunanda Pushkar exactly a day after such statement, Social Media has come under attack by many prominent personalities as other Indian users on Twitter.  While many are blaming the illegitimate access to Shashi's account, others are raising a question over the whole Social Media saga and its unobstructed influence over people.
Is Social Media Turning Evil ?
The question has aroused if social media is really to blame or it's just a situation blown out of proportion. It could really be anything but the incident has triggered a debate over free-flowing adoption and use of social networks. Sunanda's case is not a lone incident where social media got its share. Exactly 4 years back in January 2009, estranged husband killed his wife for changing her Facebook relationship status back to Single. Similar to Sunanda-Mehr-Shahi issue, back in 2008 a love triangle led to much worse situation when two ladies, fighting over the Facebook for months for a guy, decided to settle the fight once and for all all. One of them perused the other one across the city and ramped her car when he was busy in getting few things parcel at MacDonals, and eventually killed her passengers.
Similarly, Internet is filled with incidents, likes of Dad kills his ex-Wife for stopping her child for supporting his Facebook post, Teen kills his girl friend over MySpace comment, a man used Facebook to lure his ex into a death trap, so on and so forth. Here is the list of worldwide famous 25 Social Media murders that rocked the whole world in last few years.
But, these are not the only cases where social media turned evil to people. The excessive use of social media as well as Internet is making people's life more public and many a times a person is illegitimately or naively exposed for something he is desperate to keep under the carpet.