This below tweet may sound funny, but yes Google in future may have access to your house and may be monitoring your activities in the house supposedly to make it better. Google Inc. (NASDAQ:GOOG) got the keys of future smart homes by acquiring Nest a start-up which sells internet connected thermostats and smoke detectors and is working towards making smart homes for $3.2 billion. Nest's acquisition was the second biggest acquisition by Google in recent time, second only to the $12 Billion acquisition of Motorola Mobility. Google has been a big player in acquisition and is known for acquiring companies at the right time and successfully integrating them into it's environment. YouTube, AdMob and Doubleclick are example's of Google's high priced successful acquisitions.
Oh PS with Nest's built-in sensors now Google knows when you're home, what rooms you're in, and when you're out. Just FYI.

— Ryan Block (@ryan) January 13, 2014
Nest was founded 2 years ago by former Apple engineers Tony Fadell & Matt Rogers. Company is known for its Thermostat, which is programmable, self-learning and Wi-Fi-enabled. Thermostat is supposed to be intelligent enough to optimize heating and cooling to conserve energy. So the question arises why did Google acquire this company ?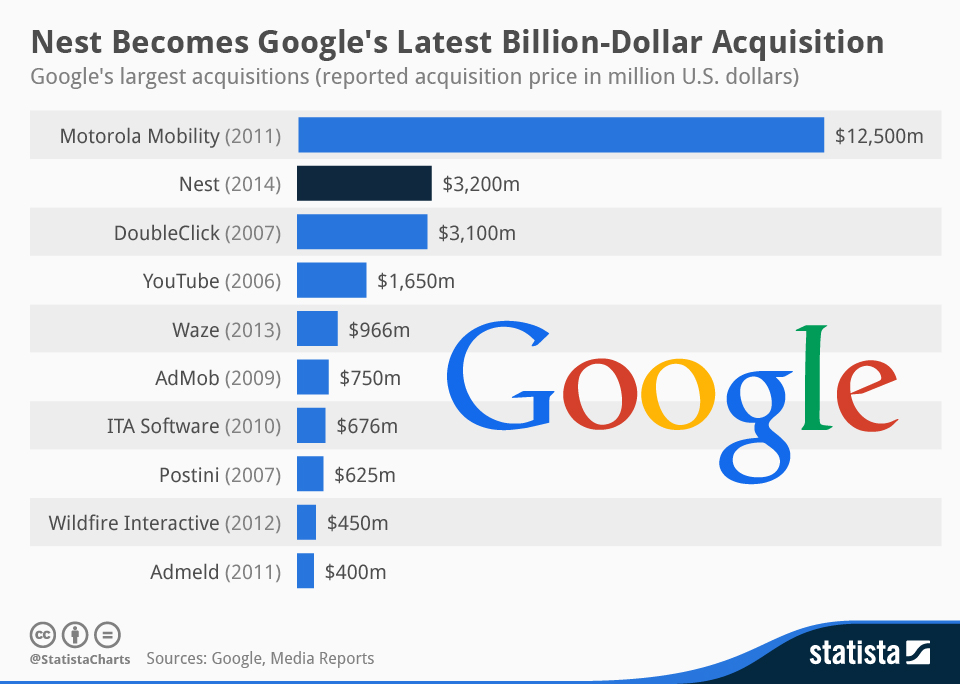 Why Nest?
Google today has become more of an ecosystem, it is no longer a search engine company neither an advertising company. It is currently trying to evolve itself into a more technology oriented company, it is trying to create more consumer related products like smartphones, a car without driver. With already being a dominant player in internet, Google's acquisition of Nest is intended to make it a key force in 'internet of things'.
" Nest's founders, Tony Fadell and Matt Rogers, have built a tremendous team that we are excited to welcome into the Google family. They're already delivering amazing products you can buy right now–thermostats that save energy and smoke/CO alarms that can help keep your family safe. We are excited to bring great experiences to more homes in more countries and fulfill their dreams!"

– Larry Page, CEO of Google

"We're thrilled to join Google. With their support, Nest will be even better placed to build simple, thoughtful devices that make life easier at home, and that have a positive impact on the world."

– Tony Fadell, CEO of Nest
Google's Acquisition of Nest is not to help it in displaying ads depending on which room you are and what you are doing. It's acquisition of Nest is to help it to move on to the next level of technology i.e. creating smart homes. To put it simply, Google wants to use Nest's Platform to build a smart home, which would start your coffee machine as soon as you wake up, would adjust the thermostat depending on where you are and how long you would take to reach home. These things are currently non-existent and may take another decade to actually materialize. So then, why buy Nest? Well Google wants to be there at that time and buying Nest makes it the most prominent player in Home Automation.
With the purchase of Nest ,Google has become a serious player in the 'internet of things', with its Android devices, Google Glasses and now Nest , Google is on its way to provide us the Google Smart Home.Though the  real picture may be years away, Google has started to put the pieces together and as Larry Page said in fall of 2011, Google is now trying to create beautiful, intuitive services and technologies that are  incredibly useful for people and acquisition of Nest falls under that vision.
"To create beautiful, intuitive services and technologies that are so incredibly useful for people that people use them twice a day, like you might use a toothbrush. There aren't many things people use twice a day." – Larry Page,CEO Google Inc.
What Does Google Gain ?
The deal currently looks like an all gain deal for Google. Google's recent attempts to become an OEM have not been successful. Its 13 billion dollar deal with Motorola Mobility has also not done any wonders for the company.With the acquisition of Nest, Google gets its CEO Tony Fadell, who is famous for designing the iPad. Fadell has a proven record of designing tech products, be it the market transforming iPad or the sleek Nest thermostat.
Smart Home is where devices talk to each other and try to make decisions for you. Nest thermostats are currently doing the same.The devices don't  turn itself on and off based on user's choice but their sensors train themselves to adjust the temperature based on the user's entry and exit.The devices spread across the home, talk to each other and try to predict human behavior. Now if  everything is  connected to Google's network, user's behavior at one place could be simulated easily. So our offices would be talking to home and homes to our vehicle. So in-fact Google could use Nest's technology to make the world around us Smarter.
Now comes the creepy part, Nest's technology would enable Google to keep a tab on us and our behavior. In fact we may start getting ads based on which room we are in, what we are doing or which products in our homes are about to be exhausted. But this may be the price of getting connected to the 'internet of things'.
What Nest Gains?
Well Nest gains Google's Network, it gets to dig into Google's coffer to continue with their market and above all as Fedell said, he gets to do what he is best at, designing products and let Google worry about rest.
"I was spending so much time in my days just worrying about infrastructure and not worrying about product. This allows us to concentrate on the stuff that differentiates us." – Tony Fadell.