According to the latest release of Google Inc. (NASDAQ:GOOG), the first Android platform statistics for 2014 by Android Developers, Android version 4.1 to 4.3 Jelly Bean has acquired the maximum share which is 59.1 percent of the total Android market share. Whereas the newly launched Android version 4.4 KitKat has also garnered good strength in the market with 1.4 percent of the over all share. While the older versions like 2.3.3 and 2.3.7 Gingerbread and 4.0 Icecream Sandwich are losing their market share substantially, which is just 21.2 and 16.9 percent respectively. Based on a new study of the Android market share, the distribution of shares for different Android versions can be seen here.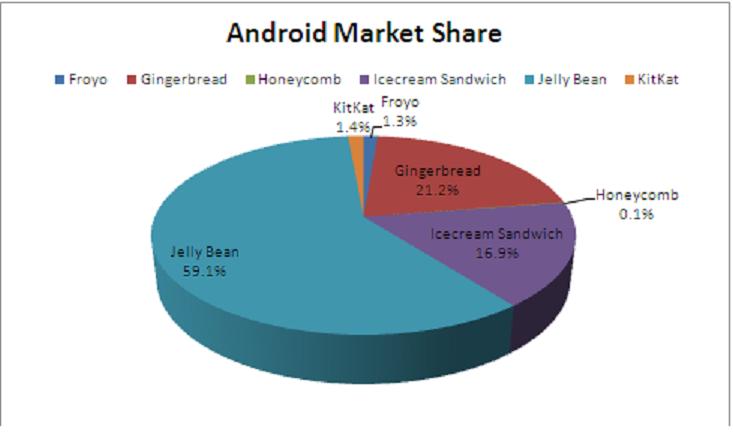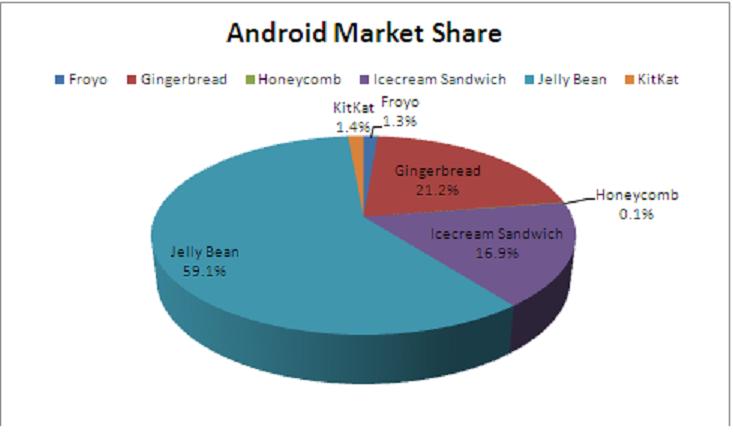 If we check the records from 2nd Dec 2013, Gingerbread and Icecream Sandwich both suffered a substantial loss in their market shares by 2.9 and 1.7 percent respectively. Froyo also marked a decrement in its share by 0.3 percent. Loss in these previous versions does not only affect the Jelly Bean shares but Kitkat also fetched some of the shares. Whereas, Honeycomb remained unchanged with 0.1 percent of the overall market share. A previous study of Android Market Share by Wikipedia shows:-
After the launch of Jelly Bean in late 2012, many Smartphone manufacturers such as Samsung, Sony, HTC etc. opted for the Jelly Bean installed devices. And those devices which were upgradable joined the league of Jelly Bean. Jelly Bean is able to acquire such a large market share because of  the abundant availability of such devices in the market. Local vendors like Micromax, Huawei, ZTE, Karbonn etc are playing a vital role for the Android market share by decreasing the average selling price and offering devices with latest versions of Android at prices which are much less than the other global vendors.
Starting Q3 2012 and up to Q4 2013 the number of Android Smartphones sold in the market were powered by the Jelly Bean Android version. Looking at the current scenario, it is quite evident that Jelly Bean is the dominant platform when it comes to Android versions. Jelly Bean is largely responsible for taking Android Smartphones far ahead of the other Smartphones which ran on different Operating Systems like iOS, Windows etc.
Focusing on the newly launched Android version KitKat, with the sleekness and simplistic usage that this version offers, it is highly likely that Kitkat will be skewing the shares of Jelly Bean and will also maintain a strong hold over other mobile operating systems, even in the near future.