In August last year Steve Ballmer announced that he would be retiring in a year. It left many gaping at the decision and trying to understand why this decision was taken, when Microsoft Corporation (NASDAQ:MSFT) was in the middle of a transition from a software company to an OEM.
In a press release followed by the announcement, Ballmer mentioned that Microsoft is currently in a phase of transition and he wanted the company to have a new CEO who can provide direction to the company right from the start and shape Microsoft as per their vision.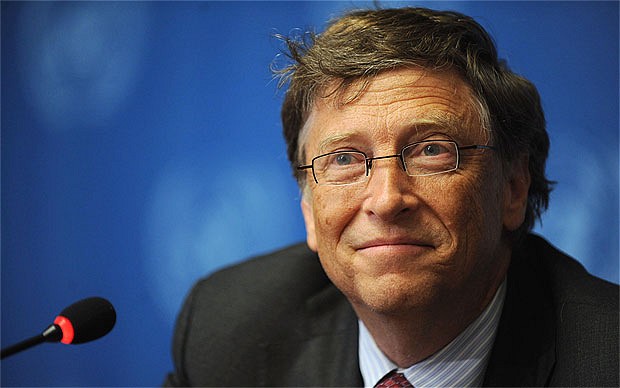 "There is never a perfect time for this type of transition, but now is the right time.We have embarked on a new strategy with a new organization and we have an amazing Senior Leadership Team. My original thoughts on timing would have had my retirement happen in the middle of our company's transformation to a devices and services company. We need a CEO who will be here longer term for this new direction."
While transition from Bill Gates to Steve Ballmer was rather smooth, Gates had handpicked Ballmer for the job. Bill Gates and Steve Ballmer shared the same vision and sight for Microsoft. But the transition this time is not that simple, anyone who would be appointed in place of Steve Ballmer may not share the same vision.
Microsoft has appointed a search committee to look for a replacement for Steve Ballmer. The committee is headed by John Thompson, former CEO of Symantec (SYMC) and a current board member of Microsoft (MSFT). Steve Luczo, chairman and CEO of Seagate Technology (STX) and a Microsoft board member, Chuck Noski, former chief financial officer of Bank of America (BAC) and a Microsoft board member along with Bill Gates would be the other members of the search committee. The search committee would also be helped by Hedrick & Struggles (HSII) — a search firm to help them.
Who Will Be The New CEO
Ever since Steve Ballmer's announcement, there have been many names doing the round for the position. It has been a mixed bag containing both – internal and external names. The whole process doesn't seem to be progressing in the direction Microsoft had hoped for. After the exit of two contenders – Microsoft's former executive Stephen Sinofsky and Ford's present CEO Alan Mulally – from the race recently, the whole situation is apparently taking an ugly shape. In August last year, Microsoft had announcement that the hunt for a new CEO would be finish by early 2014 and sitting in January 2014 now, the company is left with few options in hands to juggle. Here is a list of some of the names which are thought to be in contention:
Tony Bates: He's in charge of Skype and also manages business development and evangelism for Microsoft. He has previously worked at Cisco Systems (CSCO).
Stephen Elop: He was the head of Microsoft's business division from 2008 to 2010.He left Microsoft in 2010 to become the CEO of Nokia (NOK). With the focus shifting on mobility devices he may be the person leading the race.
Julie Larson-Green: She was said to be the heir to the throne after Steve Ballmer's departure. She is currently in charge of Microsoft's devices division. She has been heading one of the strategic growth areas of Microsoft and may be one of those serious contenders.
Kevin Johnson: He was an ex-Microsoft employee who left Microsoft to run Juniper Networks (JNPR). Kevin was associated with Microsoft's Windows division.
Qi Lu: Ex-Yahoo employee, he currently heads apps and service engineering for Microsoft.
Tami Reller: She has been with Microsoft since the acquisition of Great Plains Software in 2001. She now runs marketing for Microsoft.
Challenges for The New Microsoft CEO
As Steve Ballmer mentioned in his press release, Microsoft is currently in a phase of transition and is facing challenges due to a market shift from the conventional computing devices to mobility devices i.e. Smartphone and tablets. Another transition that company faces is the shift from software to hardware and services.
While Apple Inc. (NASDAQ:AAPL) and Google Inc. (NASDAQ:GOOG) have already taken a lead in both of these new emerging market segments, Microsoft had been a late entrant in the mobility segment. It is still struggling to make its mark in the mobility segment.
Mobility Market
Better late than never, Microsoft launched its two Windows tablets labelled – Surface running on Windows RT and Windows 8.The initial launch of Surface devices didn't live up to expectations. As per a report from Bloomberg, Microsoft had ordered 3 million RT's eventually had to contend itself with selling less than 2 million devices.
With the initial lackluster performance of Surface devices, Microsoft came up with an improved and upgraded Surface 2 and Surface 2 Pro devices at the end of 2013. Both the devices are Windows 8 based. Market has responded well and both the devices are running out of stock with major retailers in North America. With exact sales figures still to be out for Surface 2 devices, it can't be said if this sell out is because of good market management or because of short supply.
Smartphone
With the Smartphone market poised to grow to 1 billion units, Microsoft is trying to capture a piece of the pie that has evaded it till now. Windows is currently at number 3 position and is trying to solidify its position and is expected to grow at the cost of Android based smartphones. With its recent acquisition of Nokia's Smartphone section, Windows is trying to enter the market as an OEM and not as a Software service provider. By becoming an OEM Microsoft is trying to remove its dependency from other Smartphone manufacturers.
The challenge for the new CEO would be to consolidate it's acquisition of Nokia and leverage upon it to make a mark in the Smartphone market.
Software Market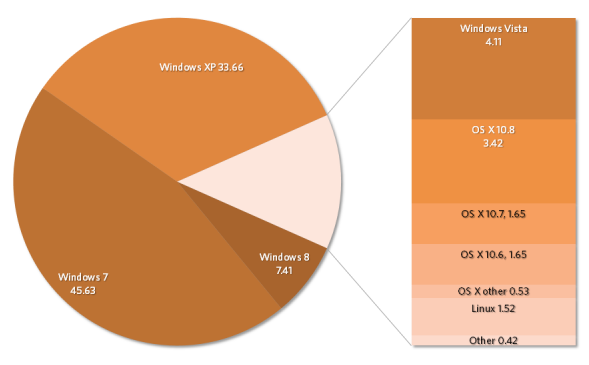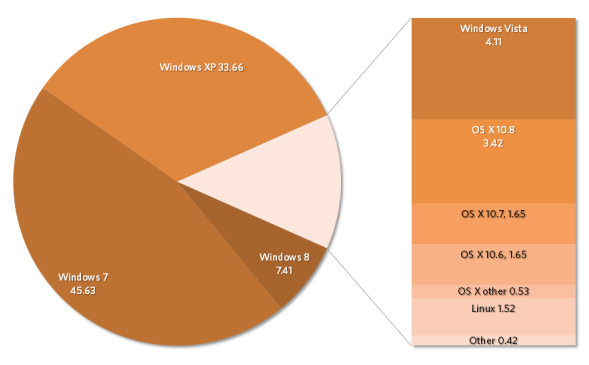 Finally Microsoft has managed to salvage some of its lost reputation in terms of innovation with Windows 8. Windows 8 has managed to account for around 7.41% of the market share. This is more than the market share of all the versions of Apple's iOS. Microsoft has managed to provide an environment and not just an OS to its users. It has provided users with an interface integrating its cloud services, gaming, storage and e-mail facility, which provides a seamless experience across devices.
The new CEO would have to drive this strategy of providing the seamless integration across all of Microsoft devices and provide an environment that provides at least the same features and applications as provided by Google and Apple.
While Ballmer had received plenty of criticism for not reading the computing trends on time, he was still able to keep Microsoft intact and growing. The new CEO of Microsoft would have to possess some of Ballmer's and Gates' charisma and abilities, but also, he/she should have the ability to respond to computing trends in a timely and correct manner.
Bill Gates: Top Choice Of Readers
Few weeks back we asked our readers about their preference for Microsoft's new CEO and guess what, the company's Founder Bill Gates, who has also been ranked as the most admired personality in the world, has emerged as the best suited CEO for Microsoft. Though, he openly admitted about his restricted vision about the mobile industry, vital for Microsoft's growth in coming years. Nearly 37% of people participating in the poll picked Bill Gates, followed by Someone Else (27%). Just 17% of respondent said that they wanted to see Stephen Elop as the next Microsoft CEO while Kevin Turner emerged as the last choice with just 6% of votes.
Today, while the race is still on and the scenario is changing with new announcements and developments, we would like to ask you – "Who do you think, can best fit in Ballmer's shoes ?" You can cast your votes below :
[poll id="25″]