An increasing demand for informative articles, news and blogs over a period of time has pushed several networking sites like Facebook Inc. (NASDAQ:FB) and other most visited websites by users to provide well designed informative content. People generally like keeping themselves updated with the latest trends and news happenings in different fields. Facebook recently revamped its news feed algorithm to provide user relevant news as more and more users were browsing for informative content on the site.
Buzz Feed Ranked No. 1 With 5.6 Million Shares Followed By Huffington Post With 4.8 Million Shares!
Earlier we had analyzed top media publishers in November which received heavy traffic via user engagement on Facebook. Huffington post was the premier media publishing site in November with over 20 million engagement rate (likes & shares). But in December 2013, Buzz Feed overtook Huffington post with over 5.6 million shares with a mere 2,983 article posts whereas Huffington post was 2nd highest with 4.8 million shares with over 16,947 articles both via Facebook. If we compared the likes on Facebook, Buzzfeed recorded a massive 13.5 million likes, whereas Huffington post garnered 12.4 million likes.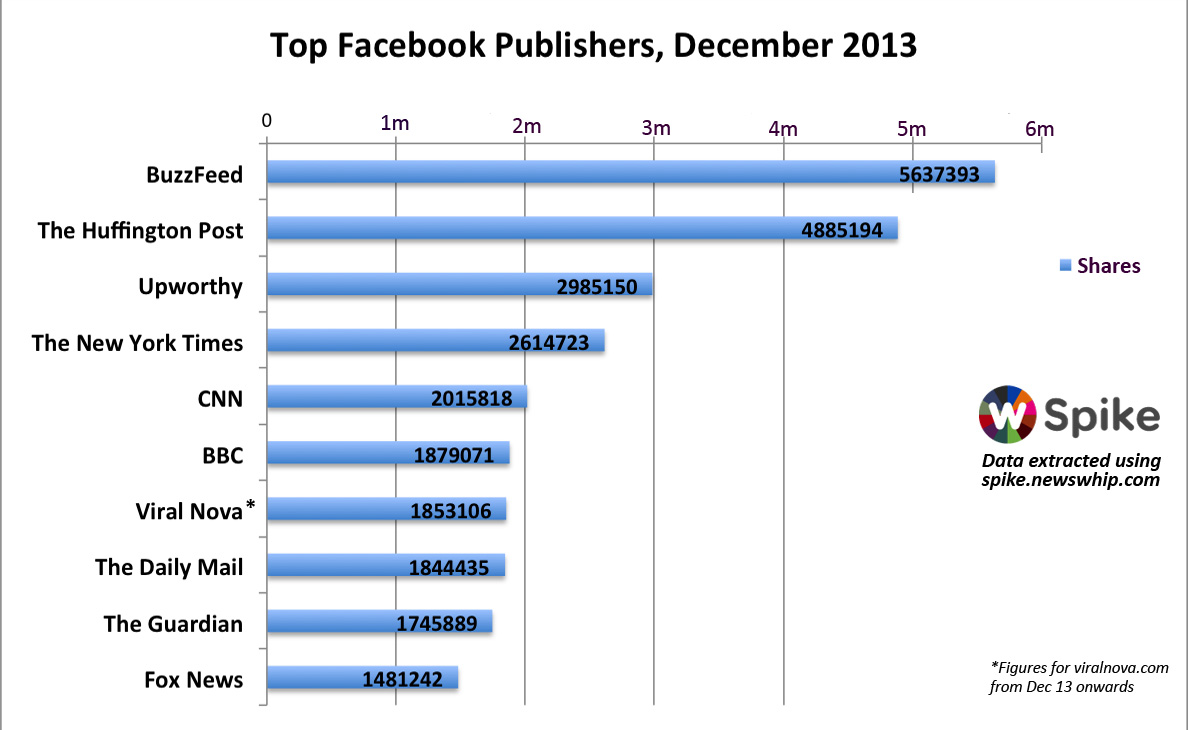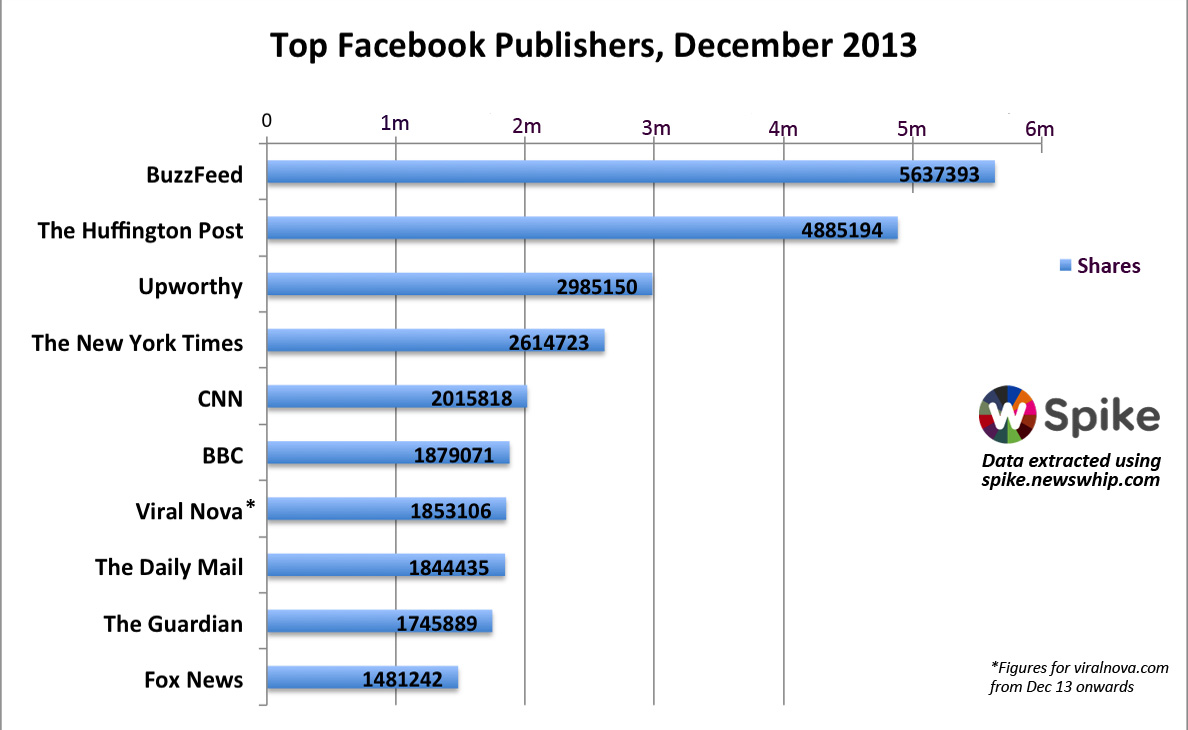 Upworthy recorded 2.9 million shares (6.2 million Facebook likes), NY times 2.6 million shares (and 4.4 million likes), CNN 2.01 million shares (4.3 million likes on Facebook) and BBC with 1.8 million shares were other prominent media publishing firms in the list. Viral Nova and Independent journal review were latest new additions to the top 10 leading media publishers list on Facebook. Media publishing firms saw an increase of 170% in referral traffic from Facebook in the last 1 year. People are increasingly browsing for informative news on social media sites.
More than 30% of U.S. adults were reported to consume news on Facebook. Smartphones and tablets have evolved into powerful media publishing platforms which has made the outreach of news easier with a super fast internet and comfortable browsing features of various social media networks. Of the total Facebook user-base of 1.189 billion, more than 874 million or 73.5% users browse through mobile devices. People are increasingly spending their leisure time during work hours on social media sites networking and browsing to consume trending news.
Nearly 75% of internet population worldwide browse social networking sites, the craze of social media is steadily rising not only because of their lucrative networking features but also because of innovation and change brought about by these sites to evolve as a complete package site. Social networking sites like Facebook are trying to emerge as the daily-go-to sites for web users across the globe by including all possible requirements of users like news consumption, brand engagement, network with friends and a lot more. Facebook's referral rate to websites on the mobile platform increased by a whopping 253%.
Media publishing websites are likely to flock onto different networking sites due to a rising trend of reading news by web users on these sites. Networking sites like Twitter Inc. (NYSE:TWTR), LinkedIn Corp, (NYSE:LNKD) and other such networking sites are preferred by users to consume news. Twitter is widely known as an information network used by media publishers to spread news outbreak of latest events. LinkedIn has also started the influencer's program and channels program to educate users with informative content.
Source: Newswhip