We had discussed earlier about social ads spending across the globe, which was reported to be increasing steadily on a Q-O-Q basis in both developed as well as developing states. This is due to the increasing usage of networking sites and innovative ad features developed by Facebook Inc. (NASDAQ:FB), Twitter Inc. (NYSE:TWTR), Instagram, Google Inc. (NASDAQ:GOOG), Pinterest and others. In the developed states of North America, social ads spend per user in 2014 is estimated to be around $32.82, which was 240% more than the next closest competitor Western Europe with $13.71 per user. According to a press release by BIA/Kelsey, social ads in the U.S. are estimated to be around $11 billion by 2017, with a CAGR (Compound Annual Growth Rate) of 18.6%.
Locally Targeted Social Ads Revenue Estimated To Rise Up By 26.4% Up To $3.6 Billion.
In the graph below, we can see that the overall social ads spend is expected to reach the $7.1 billion mark by the end of this year, and may further rise up till a massive $11 billion in the next 3 years (2017) or so. Even in the case of local markets in the U.S., social ads are widely adopted by advertisers mainly due to the extra sophistication associated with various social media sites' ads and an increased usage of social networking sites by Americans. Locally targeted social ads spend will grow at a 26.4 percent CAGR, and reach up to an estimated $3.6 billion by 2017.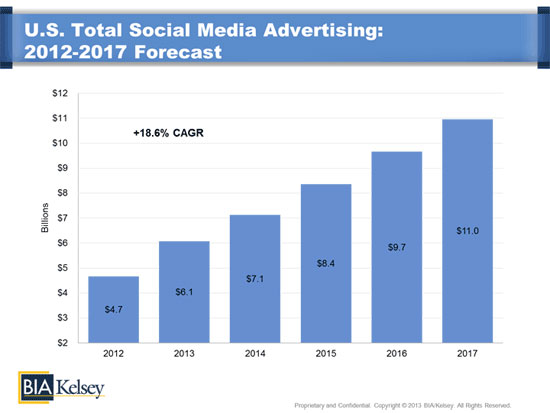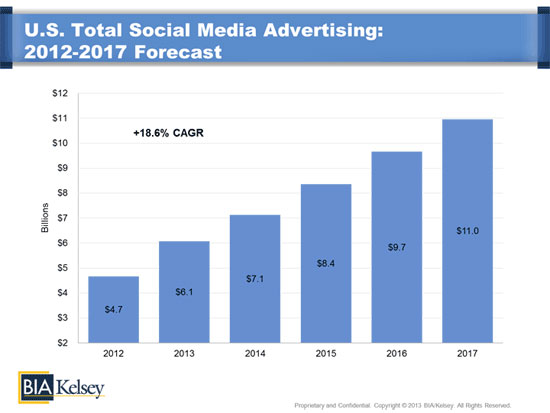 Ad initiatives by Facebook to deliver more specific advertising models to brands in the form of the custom audience feature, location-based ad targeting, age and gender based ad targeting, FBX, news feed ads and a lot more has lead to a rise in ad investment not just by global brands but also local brands in the U.S. Marketers from SMBs and local businesses can now target specific users via the Custom Audience feature if they have their contact details (Facebook id or email id or phone number), the location-based ad targeting of their customer base is confined to certain geographic regions, gender based ad targeting of products is suited to a particular gender group and a lot more similar ad options which are much more deliverable and optimized marketing budgets significantly.
Twitter on the other hand had introduced keyword targeting, lead generation cards, introduction of visual tweets to provide more deliverable results to advertisers. Pin board style photo sharing website Pinterest, which has attracted more than 70 million user worldwide had introduced related pins, gift guides, gift feeds and a lot more exciting features to aid brands. Instagram also introduced brand ads within a user's feed in the form of soothing engaging images embedded with smart content.
A majority of social ad spend is likely to sway in favor of mobile ads specific to Smartphones and tablets due to an explosive rise in their usage in North America. More than 178 million web users access Facebook in the U.S. to share stories, have discussions, consume news and for various other purposes. Facebook although has a mere 199 million user-base or about 16% from the U.S and Canada, its advertising revenue from these states accounts for $832 million which is about 46% of the overall Facebook revenue.
The micro-blogging site Twitter, which derives 88% of its ad revenues from the U.S. in spite of having a mere 24.3% of users from the state. 1000 timeline views in the US generate $2.58 in revenues, which is approximately 7 times the revenue generated by 1000 international timeline views ($0.36) on the Twitter platform. When it comes to driving website traffic, Facebook's referral traffic to brand websites recently sky rocketed by 170%, on the mobile platform it's referral rate went up by 253%. Visual tweets increases re-tweet rate by over 150%. Pinterest accounts for over 17.46% of e-commerce revenue from social networking sites in the U.S.
With the above mentioned stats and data points depicting exuberant success which social media has provided to the advertisers in the U.S, there are very little chances of brand advertisers avoiding investment on social ads in the future.
''Social networks are evolving their ad products and features to improve performance, Native social formats, including video, and mobile-social advertising will be the principal marker drivers." said Jed Williams, director of consulting and senior analyst, BIA/Kelsey."