The first decade of this millennium witnessed the fight between desktops and laptops to garner share in the emerging devices market. The second decade is witnessing another fight to garner the market share of the device market, but this time it is between tablets and laptops. Google Inc. (NASDAQ:GOOG) owned Android is likely to keep flourishing year-over-year with nearly 20% annual growth.
A study by Gartner predicts that the market for devices (PCs, tablets, ultramobiles and mobile phones) would grow by 7.6% to 2.5 billion units in 2014 and further by 6% in 2015 to 2.6 billion units. This evolving market is currently in a consolidation phase with tablets, PCs and mobile phones, all trying to gain or keep their foothold in the market.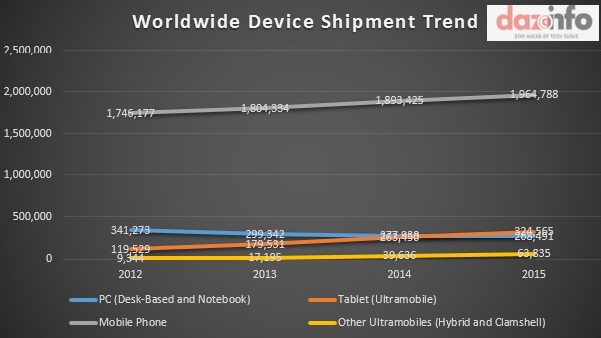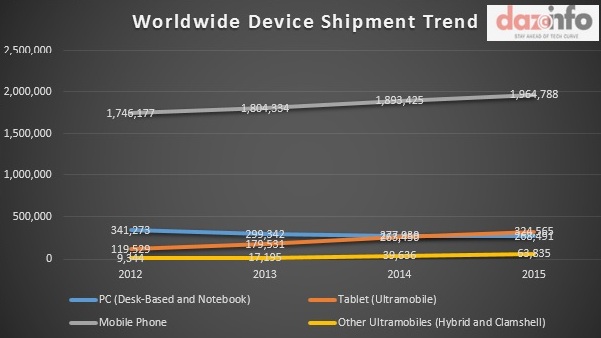 According to the report, the market for mobile phones is in a phase of consolidation as the usage will see a rise of about 5% for 2014 to 1.9 billion units and by a further 3% to 2.0 billion units. On the other hand, the market for tablets is predicted to increase by 47% to 264 million units in 2014 and by a further 23% in 2015 to 324 million units.
"The device market continues to evolve, with buyers deciding which combination of devices is required to meet their wants and needs. Mobile phones are a must have and will continue to grow but at a slower pace, with opportunities moving away from the top-end premium devices to mid-end basic products" – Ranjit Atwal, Research Director at Gartner.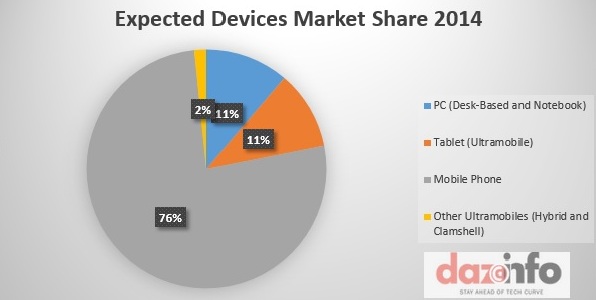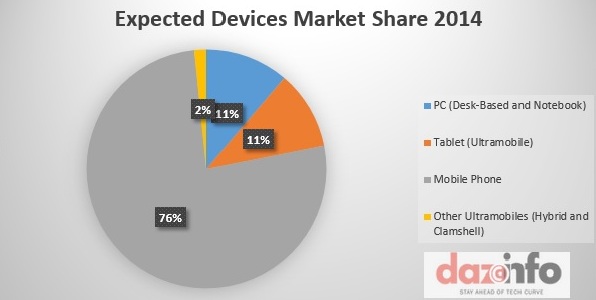 The market for laptops is decreasing and would shrink by 7% in 2014 to 278 million units and by a further 3% in 2015 to 268 million units. The study also contains some good news for the laptop market, it predicts that only 8% users would replace their laptops with a tablet. Apart from tablets the other segment which is predicted to grow rapidly are the ultramobiles. Study predicts that this segment would grow by 57% in 2014 to 40 million units and by a further 37% in 2015 to 64 million units.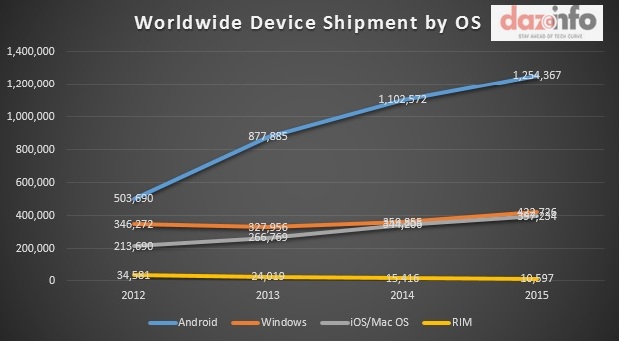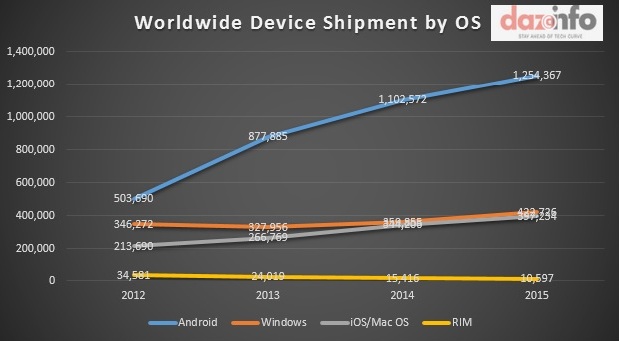 Android continues to be the favorite choice among all the devices mainly because of biggest catalog of mobile phones and tablets. The report claims that Android operated devices would grow by 26% in 2014 to 1.1 billion users and by a further 13% to 1,3 billion users. Windows remains the second most favorite OS, courtesy PCs and it is expected to grow by 10% in 2014 to 360 million users. While iOS/Mac OS user-base is expected to grow at a constant pace by 29% to 344 million users in 2014 and by 15% to 397 million users.
In the Smartphone market, Android has almost eclipsed the presence of other OSs, Apple Inc. (NASDAQ:AAPL) owned iOS is the only mobile platform that is challenging Android up to a certain extent. 64% of Smartphones across the globe are powered with Android, while the Windows Phone OS is trying to find its grounds by exploring a few out-of-the-box strategies.
Gartner claims that Blackberry is poised to be wiped out from the market as it presence will be restricted to a negligible 10k devices by 2015. Though Blackberry's new CEO is trying to revive the market, the company will have to bite the bullet to outpace the closest competitors like Windows Phone OS or iOS.
Source: Gartner, January 2014