Inevitability of social media presence is now a fact that brand marketers across the globe must live with, but very few have grasped the main essence or meaning of the word social media and are managing their social media brand accounts in an automated or impersonated fashion. Sadly, very few marketers realize the importance of brand humanization to provide a more lively and interactive feel to brand followers or customers and pursue a long-term relationship with customers on various networking sites like Twitter Inc. (NYSE:TWTR), Facebook Inc. (NASDAQ:FB), Pinterest, Instagram and others. Brand followers, fans or customers are usually excited to engage with brands on social networking sites, hence brand humanization can play a crucial role in enhancing the user's experience.
The micro-blogging site Twitter has variety of features which users use actively but many brand account holders fail to realize the importance of its usage. Actions on social media platforms which form a part of brand humanization hardly costs anything much for brands but the returns are quite immense in terms of loyalty amongst customers. Brand accounts need to drop down to the level of any other common Twitter user and effectively use – follow, re-tweet, favorite tweets of their customers or highlight relevant mentions by non-followers/followers on their brand pages. Twitter users are generally super excited if a big brand or famous personality re-tweets or favorites their tweet. It inculcates a loyalty factor and helps build a long-term relationship with customers.
Average Amount Of Follow Per Company With A Twitter Handle Is 4,314 (Amongst Fortune 500 Firms)
Social media is called so for a reason, users including brand accounts are expected to be more social and not end up resembling media publishing firms providing only updates and product promotion stories. It is important for marketers to engage with their customers in various formats like follows, re-tweets or mentions and a lot more is available on the Twitter platform.
If we analyze the number of follows by Fortune 500 firms on Twitter, observations made were summarized as below. Nearly 95% of all companies having Twitter accounts followed at least one user. If we look at the average amount of follows per company, the tally is as high as 4,314 with Whole Foods Inc. (NASDAQ:WFM), the world's largest U.S based retail store providing natural and organic food following more than 545,726 Twitter accounts, 500% more than any other Fortune 500 company brand account.
Jet Blue Corp (NASDAQ:JBLU) was next in line with 107,247 follows, Star Bucks was ranked 3rd as it had registered more than 83,395 follows from Twitter accounts. Coco Cola (67,884 follows), StarWood (59,758 follows), Nordstrom (43,931 follows), Coca-Cola Enterprises (34,829), American Air (34,150) were the other prominent Twitter brand accounts which embraced the Twitter feature follow to its best and won the hearts of their brand fans. Follow is one of the unique social impressions on Twitter which creates an effect which is much more engaging than brand awareness, it totally changes the perception of users towards a particular brand in a positive manner.
Top 10 Fortune 500 Firms Favorite 660 Tweets On An Average Per Month!
If we analyze Fortune 500 Twitter accounts based on yet another exciting brand humanization feature favorite – JC Penney Co. (NYSE:JCP), a leading cloth brand store, was at the top with 1608 favorites in the last 30 days (last 30 days, as per survey dates mentioned at the end of this article).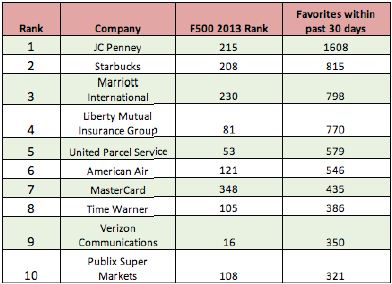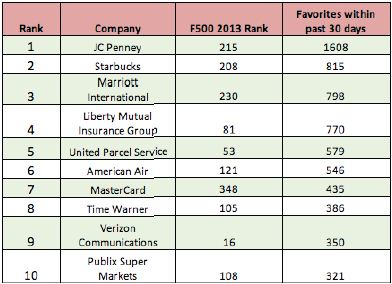 Starbucks (815), Marriott International (798 follows), Liberty mutual Insurance Group (770 follows) and United Parcel Service (579 follows) were other prominent fortune 500 firms who favorited maximum number of tweets in a span of 30 days or so. Favorite feature is much more vital than follow, as follow is just a one time activity, whereas favorite can be used repeatedly to gain traction of brand followers and their tweeps. Brand accounts must carefully utilize this feature and favorite tweets of their customers selectively as continuous usage might give a different impression and make consumers feel that the act is programmed and not humanized.
An Average Of 268 Re-Tweets In A Month Were Registered By Top 10 Fortune 500 Firms (based On The Re-Tweet Count)
Let us analyze Twitter's most appreciated and finest feature the Re-Tweet. The list of leading firms based on their Re-Tweet activity in the last 30 days was topped by America's well-known chemical firm Monsanto Co. (NYSE:MON) with over 451 Re-Tweets. Next in line was Tim Warner with 369 Re-Tweets, Yahoo Inc. (NASDAQ:YHOO) 348 Re-Tweets and Eli Lilly with 307. CA, ADP, Master Card and Live Nation Entertainment were other prominent firms with most Re-Tweets.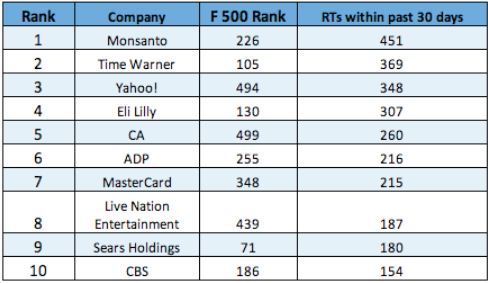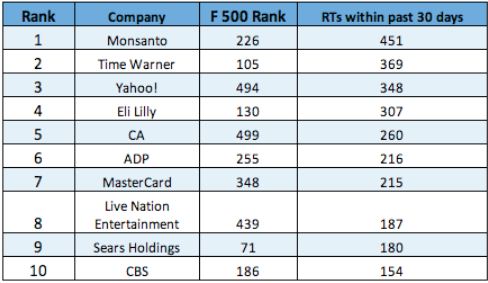 Whenever a Twitter user (including a brand account holder) Re-Tweets a particular tweet, the tweet is notified or appears in the main feed of all the tweeps for that user. Hence, it gains wide publicity or outreach. Re-Tweet is one of the most vital features of Twitter which is used by a majority of users to gain mass attention of users due to its viral nature. Brands must effectively use the above mentioned various brand humanization features to extract maximum benefits in terms of social currency from networking sites.


Insight Pool had conducted this survey amongst Fortune 500 firms. The data was aggregated starting October 25th through November 3rd 2013 for 418 companies with Twitter accounts. Twitter impression which included Follows, Favorites, Retweets and Lists, was defined as a subtle action that each brand can take towards an individual.
Source: Insight Pool