As the first quarter of 2014 has kicked off, marketers from various B2C and B2B firms are busy collecting data, stats, figures and ideas to frame their marketing strategies, allot budgets and a lot more. According to a survey of over 500 marketers by webmarketing, which discovered top challenges and priorities of marketers in 2014, a majority of respondents from the B2B sector stressed on lead generation as both, the top priority and a major challenge, whereas in case of B2C, driving sales was the prime objective and measuring ROI was a major challenge ahead of them in 2014.
Generating Leads Was The Top Priority Of Nearly 41% of B2B Marketers and 18% Of B2C marketers.
Of the different priorities addressed by responding marketers, generating leads was a major one for nearly 41% of B2B marketers, whereas in case of B2C, hardly 18% bothered about the same. Generating leads is indeed vital in both the arenas but in case of B2B, it is an uphill task, as it requires more strategic planning, task orientation, execution and the procedure is generally lengthy and time-taking.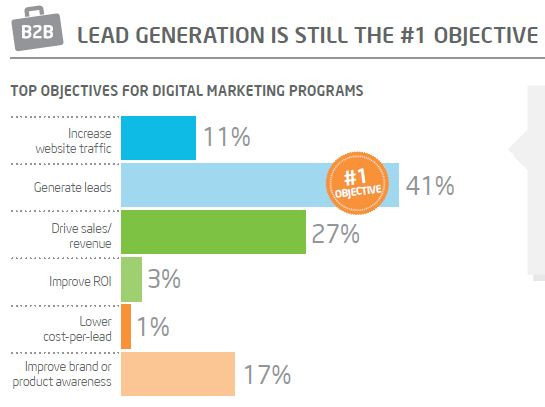 In case of B2C, generating leads depends mainly on emotional choice of consumers as they buy things based on their needs and depths of their pockets. Generating leads in B2B requires a lot of efforts in optimizing an efficient mixture of inbound and outbound marketing strategies. Comparatively in B2C, leads are generated with lesser efforts but it takes immense efforts to attain desired sales rates and have a continuous revenue flow throughout. Whenever a product is launched by a B2C firm, there will definitely be one or the other person who would be in need of that product, so it easily helps in generating initial required lead to kickoff sales. But the tougher part comes later when marketers require optimum sales and need to drive a consistent revenue flow.
Driving sales was the top most priority of nearly 40% of B2C marketers. Due to high-levels of competition between various competing rival brands, it is important for a brand marketer to keep innovating and reducing profit margins to provide better deals for sustaining the above average sales rates.
Getting back to priorities of marketers, driving sales was voted as the next highest priority by 27%, improving brand awareness by 17% and increasing website traffic by 11% of B2B marketers. For B2B firms when an entire scenario is set up with effective planning and a lead is generated, then driving sales is not an uphill task as the playground is totally set for customer acquisition. Hence, it was voted as the 2nd most important priority.
In case of B2C, improving brand awareness was the 2nd highest priority supported by 27% of respondents, generating leads was 3rd in line of priorities upheld by 18% of B2C marketers in the survey. In the B2C section, maintaining prominence in a particular brand category is tough due to emergence of multiple rival competitors, hence improving brand awareness from time to time is important through various ads.
Lead Generation Is Yet Again A Major Challenge For 21% Of B2B Marketers And Measuring ROI For 25% Of B2C Marketers.
When marketers were asked about major challenges, nearly 21% of B2B respondents yet again claimed lead generation as a major challenge ahead of them in 2014, whereas producing enough quality content was 2nd in the list of challenges supported by 20%, converting leads in customers was the 3rd in the list. Basically, in case of B2B, generating leads requires a lot of ground work, cold calling, digging in contacts and a lot more. Lead generation in B2B is similar to seeking water in a barren desert, but once the lead is acquired a majority of work is done as the initial research survey and analysis conducted is good enough to push the captured prey into the customer acquisition list.
Producing quality content was another major concern, because the entire process of grabbing a customer from the market depends mainly on the type of content which the brand firm levies or market upon. High-quality content with rich media sources and all essentials that a customer needs will highly influence the customer and thereby affect the lead generation process.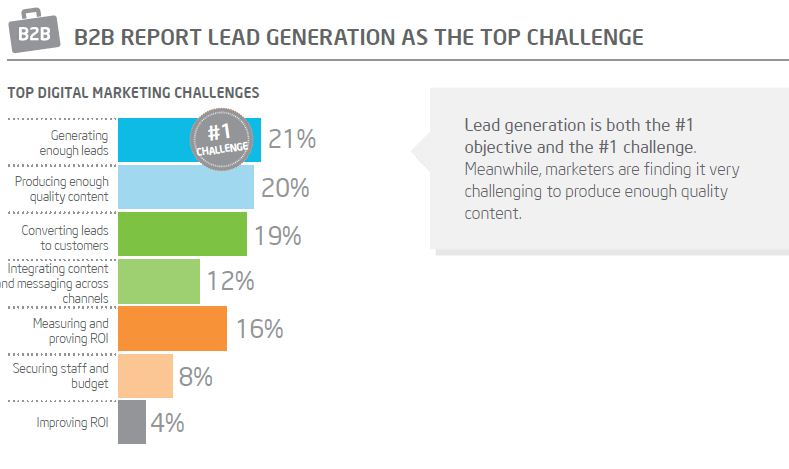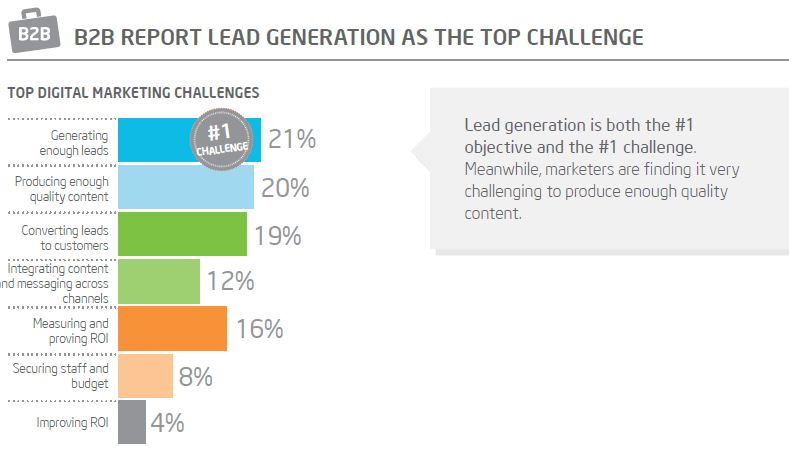 In case of B2C, about 25% of marketers stressed on measurement of ROI as a major concern. Conversion of leads into customers was the 2nd most voted challenge by 22% of B2C marketers. In B2C arena, marketers generally adopt various strategies like social media marketing, public events, blogs, informative articles, YouTube ads and a lot more. They also achieve partial results from all these marketing efforts, but the major concern lies in standardization of returns or ROI from a particular marketing campaign. It is not possible for a brand to invest on every single marketing method. Hence, it is important to know which of the marketing tactics has generated hefty returns and which strategy failed to work. So that next time they can allot budgets smartly and focus more on the most profitable marketing strategy.