As we had discussed earlier, social login has totally changed the ability to register or log on to a website, replacing the former lengthy sign-up process by social identity of a user. With tremendous growth in usage of networking giants like Facebook Inc. (NASDAQ:FB), Twitter Inc. (NYSE:TWTR). Google Plus and niche sites like Pinterest, LinkedIn Corp. (NYSE:LNKD), Instagram, Amazon Inc. (NASDAQ:AMZN), PayPal and AOL Inc. (NYSE:AOL) by web consumers, website brands have started rolling out various  social login options to make the registration task easier for website visitors.
A majority of brand websites have availed Facebook login option on their site as they are aware of its massive user base of 1.189 billion, and people also widely prefer Facebook as they can interact with brand ads (relevant brand ads are placed after a user shares his/her social identity) with their close peers and other audiences. But recently the social login market saw a rise of other networking sites like Google Plus and niche sites like PayPal, Amazon and AOL. Facebook's share hardly increased in Q4 2013 and remained at 45%, same as the one recorded a quarter earlier. Google Plus increased its share by 2% and rested at 35%. Janrain, a popular user management and social login provider had summarized social login adoption trends by users across different website brand sectors.
Facebook Outplays The Rest In Retail And Consumer Brand Sectors With An Average Estimated Share Of 60%!
If we analyze social login trends in retail section, Facebook largely dominates with over 60% share and is still observing a rise. From Q1 of 2013, when the social login share of Facebook in retail sector was around 55%+ (below 60%) to Q4 2013 where Facebook crossed the 60% mark, the social media titan has shown a steady growth rate. Social login shares of other networking sites like Google Plus, Twitter, Yahoo has seen a sharp decrease in the last few quarters.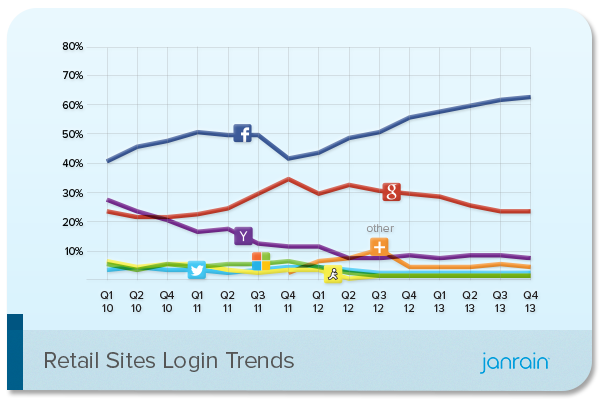 Even in the consumer brand sector, Facebook ruled the roost in terms of social login shares between 55% – 60%. Facebook has shown a steady growth in consumer brand sectors from Q2 of 2013 (below 55%) to Q4 of 2013. Rest of the social networking sites declined in social login shares from the last couple of quarters. A few key facts which support the above observed trend in retail and consumer brand sectors are summarized below.
Consumers widely use the Facebook site as a social login option while logging into retail and consumer brand websites as they love discussing about their favorite brands on the networking site and share stories about their experience with the brand. Sharing of Facebook profile details will facilitate a possibility of brand ads on the users' profile which enriches brand engagement experience of a user. The retail sector and consumer brands have a massive user-base and they aim to target relevant ads to their consumers based on their profile information on Facebook.
For Example if a consumer registers via Facebook on Flipkart and shops for some electronic gadgets, Flipkart is likely to show ads, deals and offers pertaining to their latest electronic wares to the same users in their NewsFeed or right side ads thereby enriching his/her brand engagement experience. Users are likely to prefer the social login option of the networking site which they use the most if they wish to interact further with brands or the least used site if they hate brand ads while networking.
LinkedIn's Social Login Share In The B2B Sector Increases Steadily!
If we analyze the social login behavior of users registering/logging on B2B websites, we can observe that Facebook's share has declined steadily in the last 1 quarter from 33% to 30%, whereas the leading professional networking site LinkedIn saw a significant growth from the 26-28% range up to 29% (approximately) in social login shares in the last one-quarter. Interestingly, even Google Plus social login share increased Q-O-Q and is inching closer to LinkedIn's share. Facebook's share in the B2B sector is likely to decrease further as the platform is more suited for fun and casual networking experience unlike LinkedIn.
LinkedIn is a knowledge rich platform and generally preferred by professionals and graduates looking for serious business related discussions. Usage of LinkedIn as a social login option for B2B websites goes hand in hand with the mentality of LinkedIn's niche like-minded users. Web consumers who opt for LinkedIn as a social login option generally do so hoping for more knowledge rich and informative ads on the LinkedIn site from B2B websites which they visit. LinkedIn's share of social login is bound to increase in the B2B sector.
An increase in the social login share of Google Plus in the B2B sector can be attributed to those website visitors who visit the site for a one-time-visit or casual engagement to discover about the brand and do not wish to further interact or do business with the site, hence they choose the Google Plus login option as the search giant's networking platform is ad-free. Also the users who do not wish to see B2B website ads on LinkedIn platform prefer logging in through other social login options like Google Plus.
Media Sector Dominated By Facebook With Close To 55% Social Login Share!
If we analyze the media sector, we see that Facebook has witnessed a steady rise in the arena and owns a social login share close to 55%, even Google Plus and Twitter's share of social login is increasing. Although, the current share of Twitter and Google Plus is less significant and around 10%-13% and 22%-27% respectively. The figure is bound to increase in case of Twitter as the site is known as a prolific information network and is widely used for propagating viral news.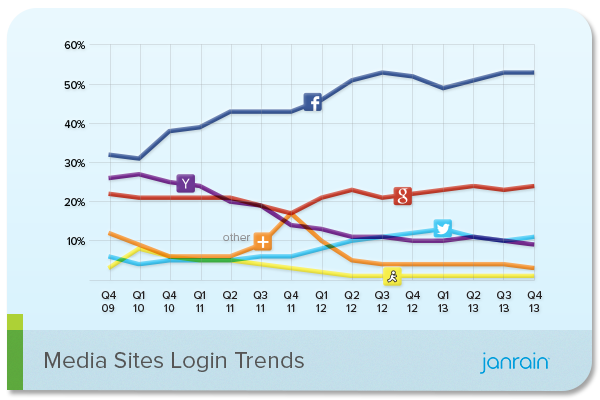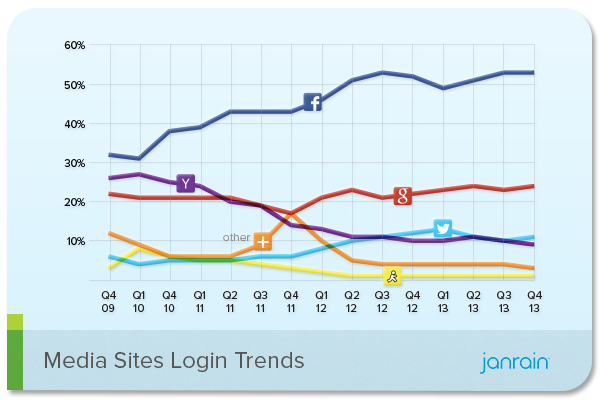 Facebook recently discovered a large proportion of its active user-base engaging with informative new content from media publishing sites, which resulted in the much-needed news feed revamp to promote relevant articles to a user's feed based on their browsing history. More than 30% of U.S adults consume news on Facebook. Referral traffic rate to media publishing sites has increased by 170% in the last 1 year, owing to a user's demand for latest trending news and articles. Hence, users prefer logging into media websites with Facebook login option to see relevant articles on the the networking site while browsing.
Entertainment And Gaming Section Dominated By Facebook!
Social login for gaming and entertainment sections was totally dominated by Facebook. Youngsters as well as professionals, while traveling, or during their leisure time, prefer playing games via apps on Smartphone and  tablets and sometimes desktops too. Most of these games require them to register or login through social login options. Most of the games have Facebook social login options due to a higher probability of a user's presence on the site due to its massive user-base. But using the Facebook social login option for playing games has another disadvantage – spamming user's friend list with notifications of game requests.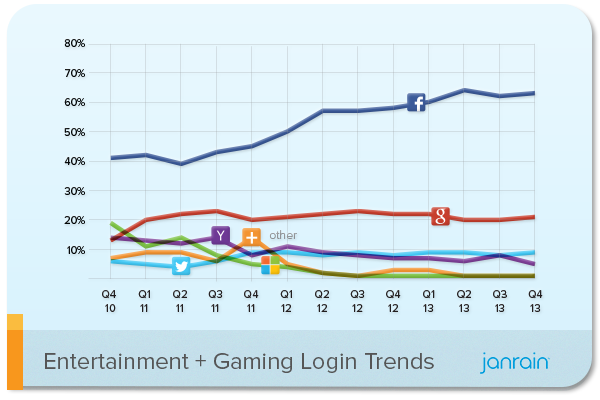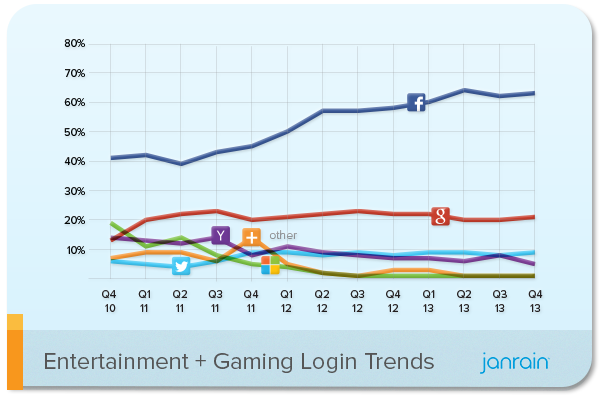 Usage of Google Plus and other niche sites were also high by gamers mainly to avoid frustrating their Facebook friends by sending unlimited game app requests.