Social ads' spending is on the rise across the globe with increasing usage of social networking sites by web users. In 2014, content sharing on social media sites is expected to rise to a massive 32 billion items per day, a 700% rise when compared to 2011 content sharing figures of 4 billion items per day. People are increasingly embracing various social media sites like Facebook Inc. (NASDAQ:FB), Twitter Inc. (NYSE:TWTR), LinkedIn Corp (NYSE:LNKD), Pinterest and Instagram on desktop and mobile platforms. Compatibility of a majority of the above websites on mobile phones and tablet devices has led to a rise in mobile social media users. Increasing levels of engagement on various networking sites has tempted a majority of advertisers to spend heavily on various forms of social ads. Advertisers are competing to drive their well designed marketing content to user's main feed and drive engagement of desired form.
North American Advertisers Spend 240% More Than Advertisers From The Next Closest competing Region!
According to a well-known measurer of digital trends eMarketer, advertisers from North America are expected to spend $32.82 per user on social ads in 2014, which is 240% more than the next closest competing advertisers from Western Europe, where social ads spent is likely to be around $13.71 per user. Although, social networking site adoption in developing economies of Asia-Pacific and Africa is increasing at an exploding rate, still advertisers are not ready to invest a major share of the marketing budget on social ads. Average social ads spending worldwide per user in 2014 is estimated to be around $6.97, an increment of 12.78% compared to the 2013 tally of $6.18.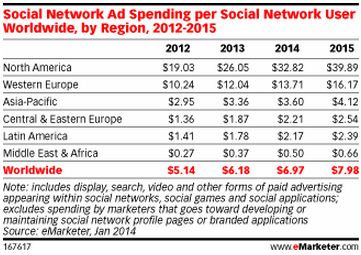 Social ads' spend drops off significantly after North America and Western Europe. In Asia-Pacific, advertisers are expected to spend $3.60 per user on social ads, an increment of 7.1% compared to 2013. Advertisers from the Middle East and African regions are estimated to spend $0.50 on social ads per user basis.
Social networks are driving a significant amount of returns to advertisers by driving brand followers to a brand's website. According to a report by shareaholic, Facebook's referral rate spiked up by 170% in the last 1 year. People are increasingly engaging with various brands on Facebook, Pinterest and Instagram. Nearly 48% of shopaholics prefer social media to plan for holiday shopping. Facebook is known to drive 60% of shopping traffic for retail websites. Even at the mobile level, Facebook has fared well by a record increase in referral rate by 253%. RPV (revenue per visitor) on Facebook saw an increase of 38% from $0.67 to $0.93 and is now the highest amongst social networking sites.
People are sharing content and discussing about their favorite brands and their shopping experience on various networking sites. More than 80% of content on Pinterest website is shared content in the form of re-pins, number of shares on Facebook increased by 94% in last 1 year, twitter registers nearly 5700 tweets per second – these figures depict the level of addiction the web users have towards networking sites. This has greatly influenced brand advertisers to market their content on various networking sites.
2014 Social Ads Spending Growth Rate Estimated To Be Highest In The Middle East And Africa At Around 64%!
Social network ad spending is expected to grow by leaps and bounds in the Middle East and African regions as the advertisers are slowly grasping the various social marketing tactics and their importance. Advertising innovations by various networking giants has provided an opportunity to materialize growth rate as high as 63.9% in the Middle East and African regions. Latin America and North American advertisers are expected to increase their social ads spent by 37.6% and 30.7% respectively. In Asia-pacific, advertisers are likely to increase their social ads spend by 22.6%.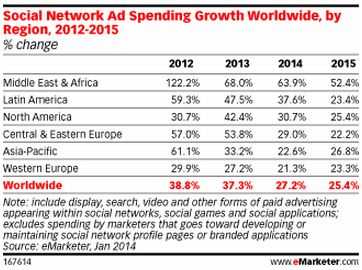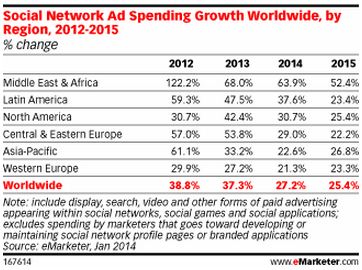 Social networking sites are toiling hard to make the platform advertiser friendly and aid them in deriving desirable results for the funds invested. Pinterest with its unique pin board style photo sharing has taken the e-commerce arena by surprise, accounting for 17.64% of e-commerce revenue (in the U.S, April 2012) from social media sites. According to yet another report by Adobe, Pinterest recorded an emphatic growth of 150% in RPV (Revenue per visitor) from $0.22 in 2012 to $0.55 in September 2013. The 140 character service, Twitter too surged by 300% in RPV from $0.11 to $0.44. Facebook, Pinterest and Twitter collectively drive about 15.22% of overall traffic to brand websites in the last 1 year.
Largest professional networking site LinkedIn is the undisputed king of referrals to corporate websites with 64% share. An average Facebook user spends close to 8.3hrs per month and logins at least 13.8 times a day (on his mobile). In one internet minute, nearly 277,000 Facebook logins occur, 100+ LinkedIn accounts are generated and about 1.3 million video views are registered on the YouTube site.
Advertisers are undoubtedly amazed by social media activity of web users in certain parts of the globe. This has persuaded many to levy their trust on social ads and invest more. A vast summary of stats and figures summarized above must be smartly used by brand advertises to allot marketing budgets for social ads and market their content effectively. Social media sites in an unavoidable and must-adopt platform for brand advertisers.