February 4, 2014 marks the 10th anniversary of the U.S based social networking giant, Facebook Inc. (NASDAQ:FB) which has amazed over 1.189 billion users across the globe with its lucrative features and networking options, grabbing the attention of brand advertisers across the globe to build a $8 billion business ($2 billion per quarter) on its networking platform.
Facebook has managed to catch the fancy of over 178 million users in its own birth place – the U.S., which is currently the leading Facebook country in the world with over 14.9% of its total user-base of 1.189 billion. The internet users in the U.S. are rather modern and irrespective of their age almost everyone from young teens to old age adults embrace the latest social media websites for networking, voice their opinions and express themselves. A few interesting trends were observed while studying the demography of Facebook's users based on age, gender and relationship status.
 Adults In The Age Group 18-34 Years, Account For 48.31% Of Total Facebook Users In The U.S!
The U.S is one of the most advanced countries with a significant amount of internet penetration, which has resulted in vast number of web users embracing the social media networks for content sharing and interaction. Facebook by far has managed to dominate as top choice for the web users in the state.
Although, recently there were a few findings which reported a declining enthusiasm amongst the teenagers in the developed states of the U.S, alerting the social media giant about its near end. But the doomsday of the social media titan seems to be a long shot than what is being estimated, because Zuckerberg's team is striving hard to remain dominant by innovating and copying ideas from other contemporary networks.
If we analyze Facebook's demography based on age, nearly 9.8 million users are below the age of 17. About 23.5% of Facebook's user-base in the U.S is formed by teens in the age group 18-24, which tally up to 42 million.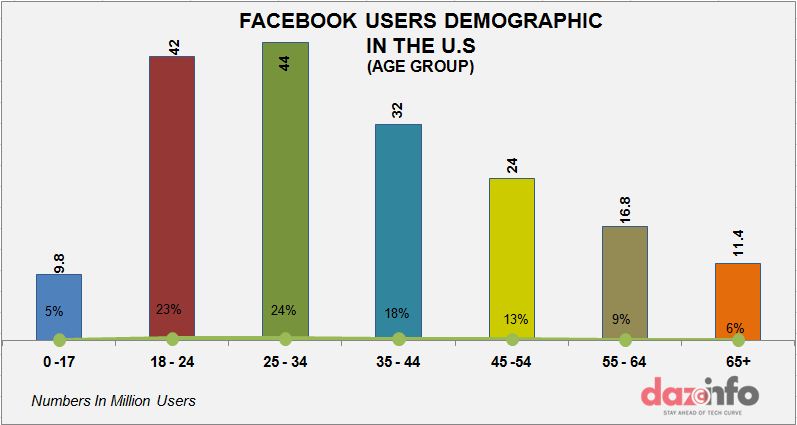 Adults were found equally enthusiastic as teenagers, as more than 44 million Facebook users, which means 24.7% were from the age group 25-34. Close to 32 million Facebook users (17.9% of total U.S users) were found to be in the age group of 35-44 years. Nearly 13% of the total U.S. Facebook users, which means 24 million are aged between 45-54. About 28.2 million Facebook users were above 55 years.
The noteworthy fact about the Facebook users' demography age wise in the U.S.  is the adoption of the networking site on a wider scale in almost every single age group. Unlike developing economies like India, where 50% of Facebook users are between 18-24yrs. In the U.S, adults irrespective of their age are most welcoming and actively engage with the most widely used networking platforms like Facebook.
Female Users Marginally Outplay Males In Nearly All Age Groups!
If we analyze Facebook users demography based on age, distribution was quite fair between the 2 genders, with females marginally outplaying the males. In the age group 13-17, about 5.2 million users were females and 4.6 million were males. In the next higher age group which forms 22.4% of the total U.S user-base (25-34 yrs), male and female users accounted for 20 million each.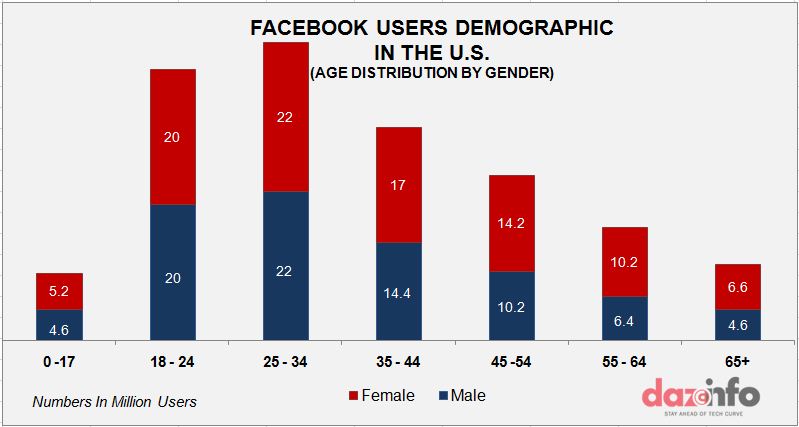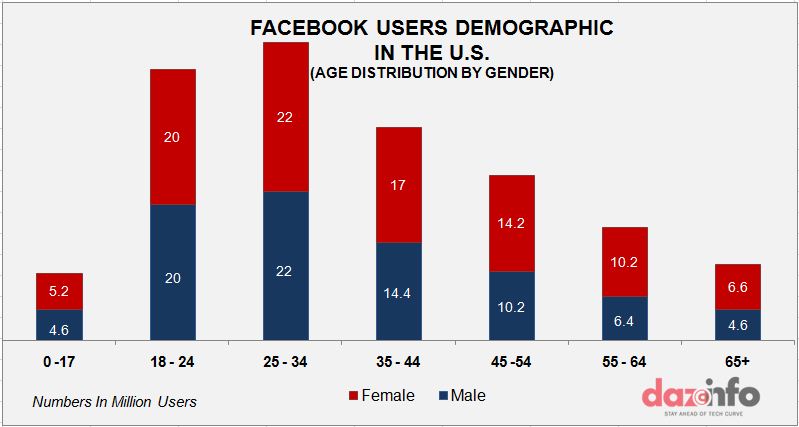 The craze of Facebook was not just limited to teens but also adults in age groups between 35-44 years, where more than 17 million females and 14.4 million male users flocked the site to share content and network with like-minded users to discuss interesting topics. More than 14.2 million female and 10.2 million male users, which totally account for 13.7% of total users in the U.S. belonged to the age group 45-54.
In the age group 55-64, 6.4 million were males and 10.2 million were females. Similar was the case with Facebook users above 65 years, where female groups yet again dominated with over 6.6 million users compared to 4.6 million males.
More Than 66% Of Facebook Users In The U.S Were Open About Their Relationship Status!
The Facebook users from the developed states of the U.S. were quite open about their relationship status. Nearly 40 million Facebook users in the U.S. were single, whereas 4.4 million were engaged. About 52 million Facebook folks were married and 22 million claimed an in a relationship status. And close to 56 million hesitated or did not bother to specify their relationship status.
If we analyze the age distribution in comparison with relationship status, we can observe that in the age group 18-24, more than 76% of them openly spoke about their relationship status. In the next higher age group of 25-34 years, nearly 9.6 million hesitated to talk about their relationship, whereas, the remaining 34 million, which forms 78% of the total users in the category, were open about their relationship status.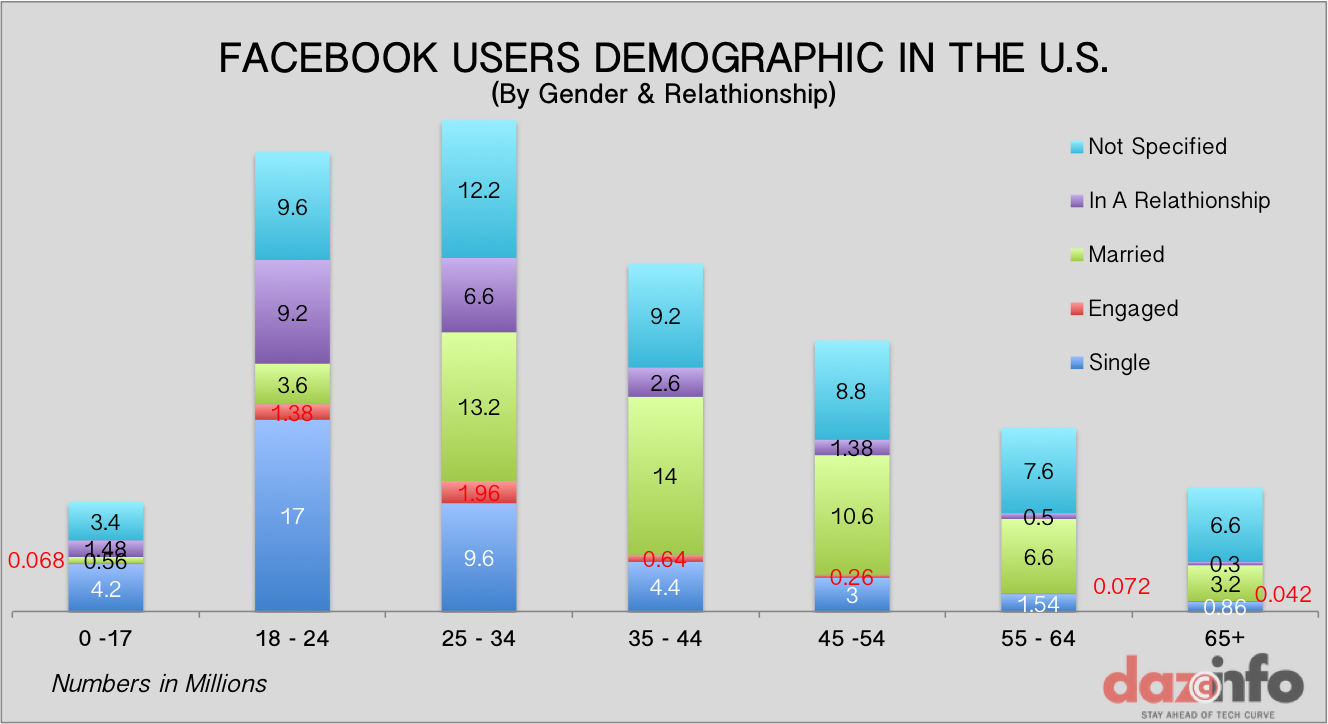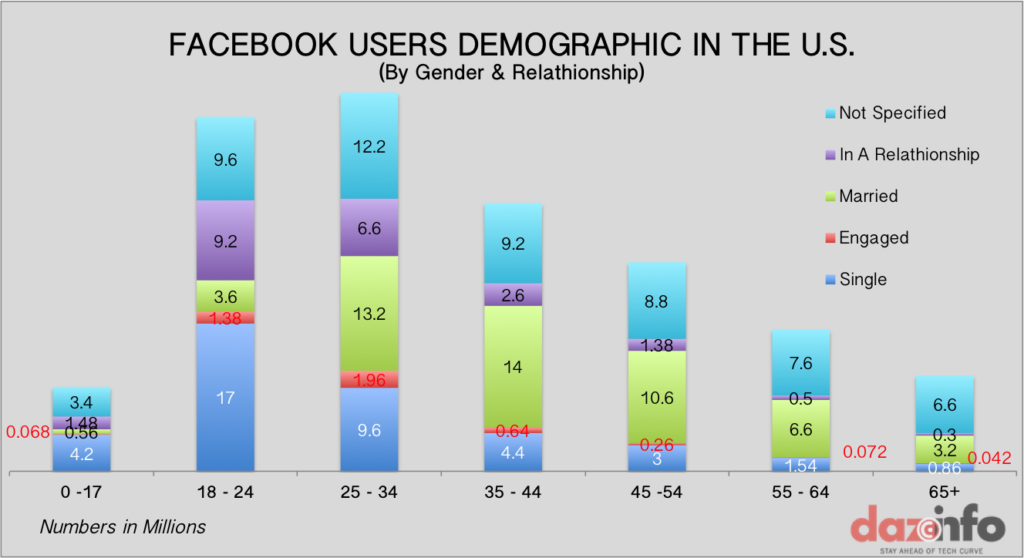 Although, Facebook has lost its charm in the U.S., still there is a significant group of social networking users who prefer Facebook, as it is easy to connect to every possible social media user due to its massive user-base tally of over 1 billion. Moreover, the upcoming latest features from Facebook like news feed revamp, enriching brand engagement experience through innovative ad initiatives, which displays user relevant ads, an increasing rate of informative content from media publishing firms in the NewsFeed of users and a lot more has held certain users from eradicating Facebook totally out of their daily go to websites.
The internet users in the U.S. are basically trend setters. They hardly hesitate to shift to the trending or the latest networking platforms. The internet penetration and fast adoption of Smartphone and tablets has resulted in an exponential rise in social media activity on different sites.