The social media behemoth Facebook Inc. (NASDAQ:FB) is inching towards the completion of its landmark 10th year of successful social media journey. In the last 10 years, Facebook has managed to amass over 1.189 billion monthly active users from different parts of the world. Nearly 40% of the total Facebook users come from top 5 countries while other hundreds of countries on Facebook contribute 60% users together. The U.S., India, Brazil, Indonesia and Mexico together account for 470 million Facebook users.
Facebook was successfully embraced by majority of web users from developed countries and currently is on a rampage in terms of user growth from developing nations. We recently analysed Facebook's latest data from various sources, including some of the Facebook's official tools, to understand the demographic of Facebook users from top five countries by number of users.
Young Generation Leads Facebook Growth:
Young age internet users from these top five countries are showing more interest and commitment towards Facebook. Of the total number of 470 million users, nearly 158 million users (33.61%) are in the age group of 18-24 years, followed by 122 million (25.95%) users who belong to the 25 – 34 years age group. This clearly indicates that a majority of Facebook users, 59%, are young age internet users who like to stay engaged, communicate and spend more time on the internet.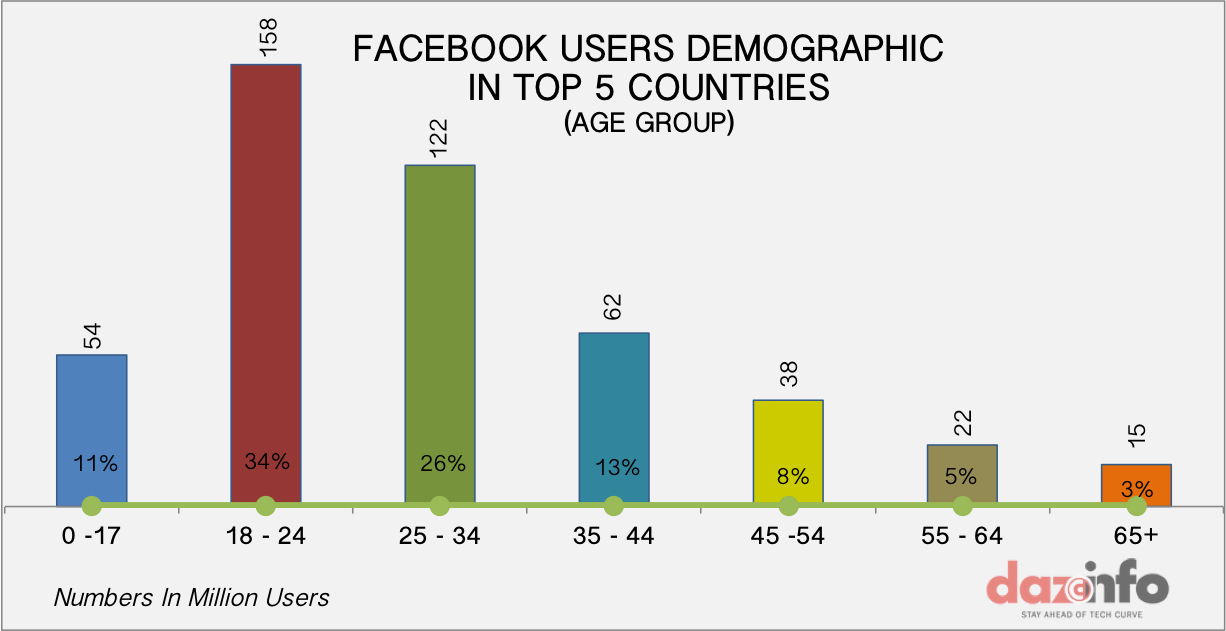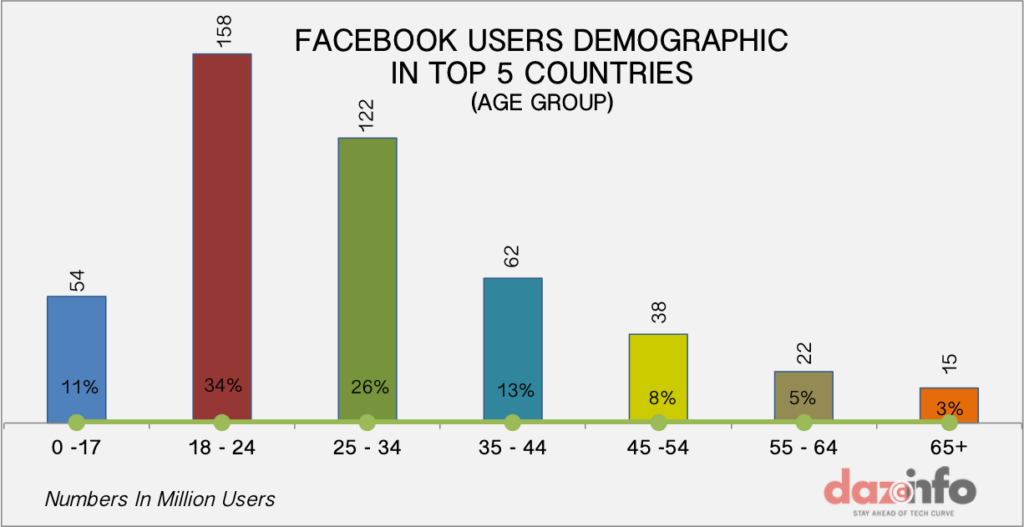 Although, Facebook can boast about this massive user base in the U.S but according to many analysts the figure is likely to decline from the U.S and other developed states due to certain issues and competition from other networking sites. In fact, a few reports claim that teens are distancing themselves from Facebook as they are saturated and are hunting for new online horizons.
Females Dominate In Matured Age Groups
While looking into the distribution of age groups based upon gender, male Facebook users dominate younger  age groups, however, the trend is flipped up side down as it moves towards matured age groups. Overall, among all the top five countries together, Facebook has nearly 252 million male users against 214 million female users. There are 4 million users who belong to the Gay community too.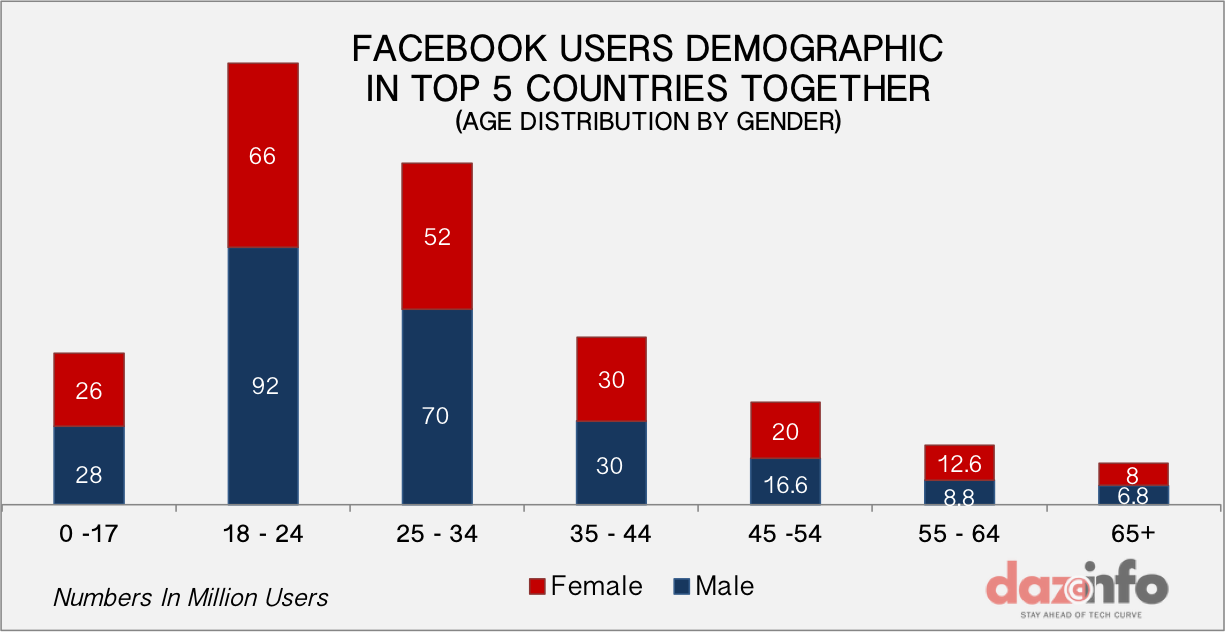 Facebook Users Don't Like To Talk About Relationships
The Demographic of Facebook users based upon the latest data (as on 05, January, 2014), also depicts that a majority of Facebook users don't like to reveal their relationship status. The second largest community based upon relationship status is single, around 114 million Facebook users from top five countries together, fall under this category, followed by 94 million married users.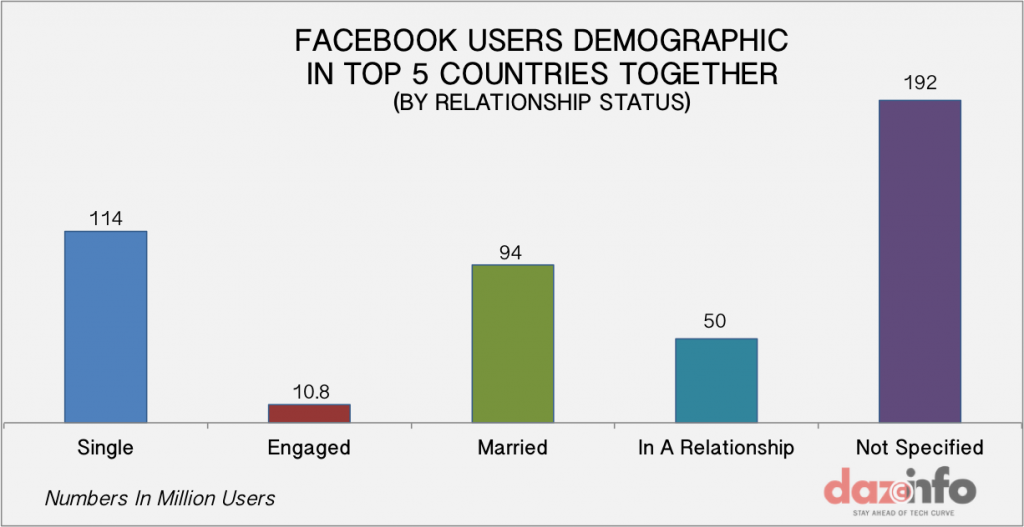 While segregating these Facebook users based upon relationship status and age group, its again the young age people who ideally fall under the category Single but prefer not to speak about their exact status. 35% of Facebook users from the top 5 countries together, belonging to the age group 18 -24, have not spoken about their marital status. However, 40% of users belong to 25-34 years age group and those in the 35 – 44 year age group have chosen not to speak about their marital status much like the younger age group users on Facebook.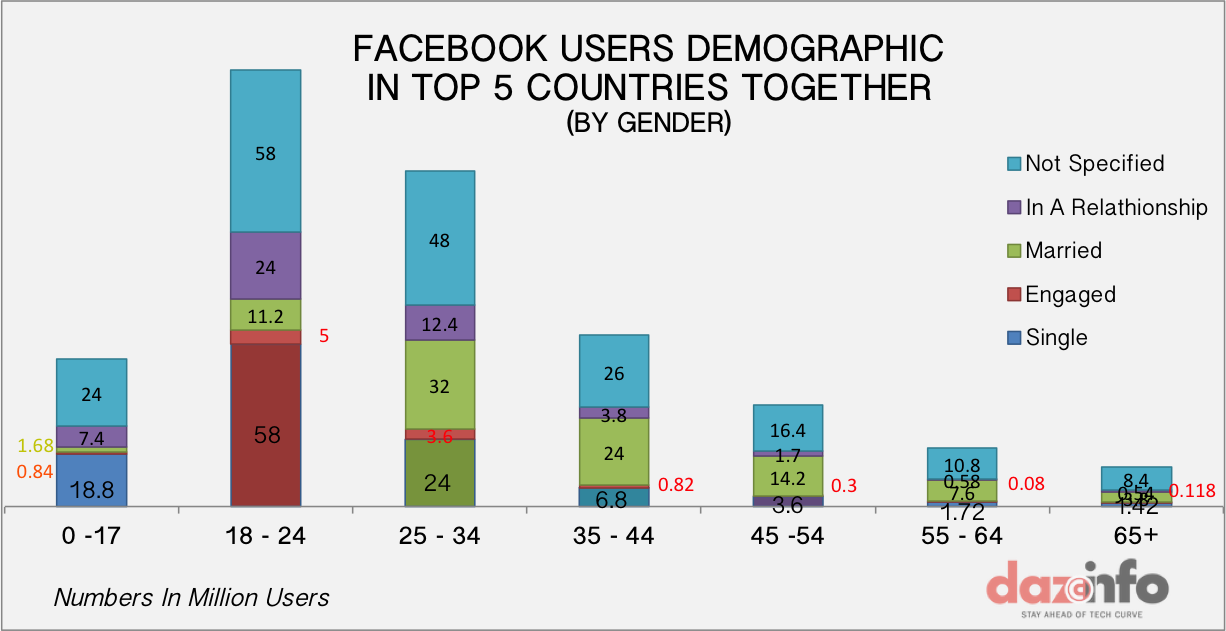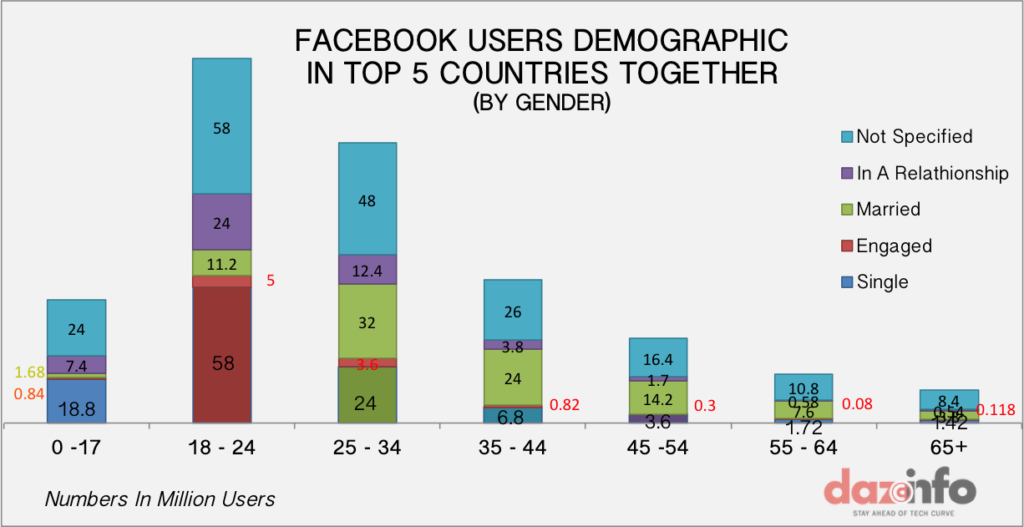 Facebook is growing at an exponential rate in developing countries. However, the rising concerns on its openness and impact on political situation in a few countries is causing concerns for governments in many countries. Recent incidents in Syria and Egypt where Facebook influenced people during protection resulted in pulling the curtains down on Facebook – at least for now.
The user-base of the social media giant is expected to rise further in developing countries in future and decline in developed states. It would be interesting to see over time, how Facebook adoption trends proceed with a lot of other networking sites providing fierce competition.
The above demographic helps marketers and brands from top five countries on Facebook to strategies their marketing campaigns and efforts.