As social media adoption is on a constant rise, so is the case with adoption of social login preference over traditional methods of filling up lengthy registration forms of different websites. People are increasingly adopting various networking sites like Facebook Inc. (NASDAQ:FB), Twitter Inc. (NYSE:TWTR), LinkedIn Corp. (NYSE:LNKD) and Google Plus to  login to any website for subscribing to their newsletters, register to avail coupons and special deals for shopping online or to be updated with their favorite brand's websites. Web consumers avoid wasting time filling up registration forms, remember different usernames/passwords and are also lazy to follow all formalities of usual sign-up processes.
Social Login : Google Plus Soars Up By 2%, Twitter Down By 1% And Facebook's Share Remains Unchanged!
According to a report by the popular user-management and social login provider Janrain, Facebook dominated the social login arena in Q4, 2013 with a 45% share, followed by Google Plus with 35% (an increase of 2%), Yahoo Inc. (NASDAQ:YHOO) with 7%, Twitter with 6% (down by 1%), LinkedIn and Windows with 2% each.
Websites are increasingly adding more social login buttons of different sites to make it easy for customers/website visitors to register their account and increase the fan base of a particular brand. In the above pie chart, we can see that Android, Windows, Pinterest, PayPal and a few others are also making their mark into the social login arena. There are very few people who are well versed with the advantages and disadvantages of providing social profile information to websites. The ones who are acquainted and wish to engage further with brands on their favorite networking sites choose social login of the most-used social media. Whereas, others who hate brand ads, and mentions of their association with the brand to their friends and peers prefer choosing a social networking site which they hardly use or where they have very little connections.
Brands Likely To Increase Social Login Options Of Both Widely Used And Niche Sites!
If we observe the social login adoption trend (in the graph below), we can see that Facebook was saw a spike until Q3, 2012 with over 55% share. Although it still bears a lion's share of 45% but the rate is comparatively less. Google Plus has increased its share significantly from Q3, 2012 onwards from 25% (approximately) to 35% in Q4, 2013. Yet another noteworthy feature is the emergence of other social login buttons like that of AOL, Amazon Inc. (NASDAQ:AMZN), Instagram and PayPal. People  are looking for more choices, hence it is important for websites to provide sufficient social login options so that the major share of their website visitors are happy enough to register and share their personal details with the website. Sharing of personal information provides various stats, data and browsing behaviour of users to brand sites, which they can use effectively to place relevant ads, updates and other digital marketing material on networking sites.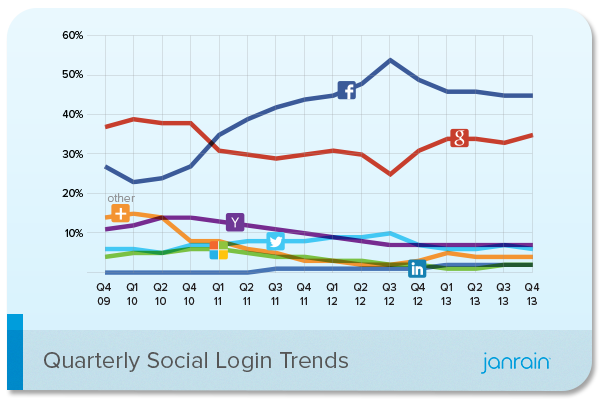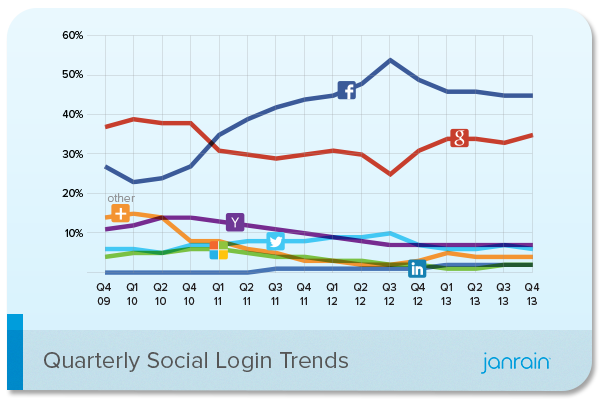 Now, let us dig deep into the various possible attributes which are likely to be the reason for the above depicted trends. The social media giant Facebook saw no changes in its social login share. This could be well supported by 2 opposing facts – a decrease in usage of Facebook as social login option by brand lovers of developed states which is well compensated by recently generated craze of Facebook amongst web users of developing countries. People love engaging with their favorite brands and consume informative brand related or other general news on Facebook as personal interaction with close peers has shifted drastically to messenger apps.
Facebook has nearly dried out in developed states of the U.S.A, Canada and the U.K. Consumers hardly find the platform more interesting and they hate sharing their social profile information with their favorite brand websites as they love to see their favorite website brand ads and updates on the most-used networking site (which is currently floating amongst various other social media sites apart from Facebook). In developing countries like India, Brazil and other Asia-pacific regions, Europe and African countries are increasingly adopting Facebook as it is still a new and lucrative option for web users of the above countries. People in developing economies love interacting with their favorite website brands on networking sites, hence they prefer the most-used social media platform, Facebook for social login while registering for a particular website.
Google Plus, the social media wing of search giant Google Inc. (NASDAQ:GOOG), saw an increase in share of social login adoption from 33% to 35% in Q4 of 2013. Google Plus with its attractive GIF images has undoubtedly attracted a handful of users for active networking on the site, but there hasn't been much enthusiasm amongst users in brand engagement sections on the site. One possible reason for the above depicted increase is that the website visitors provide access of their personal data from Google Plus accounts, as they have no intentions of interrupting their networking experience  on their favorite social media site (by providing personal details via social login button) through ads and updates from the websites which they visit. Hence, they use Google Plus as a redundant social login option as their browsing activity on Google Plus is less and they can enjoy networking on their other favorite social media sites.
The micro-blogging site Twitter has nevertheless managed to attract an élite user group with its sparkling custom and traditions of tweet, retweets and viral nature. But the average person fails to grasp its usage, hence very few of them are active on Twitter or have created a Twitter account – which has poorly reflected social login share of the 140 character firm. Other niche social login options like PayPal, Amazon, Instagram and others are rising in social login options due to their increasing popularity. Amazon has totally stormed the E-commerce arena at a global level and is preferred by a significant share of web users as social login for other websites. Instagram with its picturesque images has amassed over 150 million users and is one of the fastest growing social media sites, which has clearly reflected its share as a social login choice. PayPal, the leading payment gateway is also being adopted as a social login option by certain web users.
Source: Janrain