San Francisco based 140 character firm, Twitter Inc. (NYSE:TWTR) has topped the social media news section in second half of 2013, with its historic IPO debut. Its growth potential was the most talked about and investors had showed confidence in it. Twitter, with its unique customs and traditions like Retweets, Favoriting, Following and viral nature has enacted as a  prolific information network which a majority of brands fail to realise. Brand firms using Twitter smartly are gaining significant returns. It is vital for brand marketers to get acquainted with tricks and tactics of Twitter marketing and use the platform to gain maximum benefits.
Leading  social service provider InsightPool had conducted a study based on Fortune 500 firms' Twitter activities in an Infographic. Few interesting findings are listed below –
Social currency is defined as garnering of returns in terms of brand visibility, brand perception and brand affinity garnered by a Twitter brand account via engagement formats such as Retweets, Favoriting, Following and a lot more.
Nearly 83.6% of Fortune 500 firms have Twitter accounts which is the highest compared to the adoption of any other social media site by Fortune 500 firms.
Social touchpoints such as Follows, Favorites and Retweets which generate social currency and lead to an increase in brand affinity and brand perception is adopted by very few of the Fortune 500 firms on Twitter.
Nearly 71% are following less than 1000 accounts and about 88% of them favorite less than 30 times a month. The engagement must be higher such that the firm's Followers get a feel of person-to-person interaction.
Hardly 83% are Retweeting less than 30 times a month. More engagement in the form of Retweet, Favoriting and Following is important as the followers are less doubtful about impersonation of the firm's social media account.
Well-known American entertainment company Live Nation Inc. (NYSE:LYV) was ranked number one in terms of social currency rankings in Q4 of 2013. These rankings were given based on the firm's Twitter engagement rate in the form of Retweets, Follows and Favoriting.
Master Card (Fortune 348 firm) was the second highest ranked amongst top social currency index firms. The Home Depot, UPS, FedEx Corporation, StarBucks Coffee, ALCOA, Marriot and Tyson were other prominent firms with significant social currency indexes in ranking order as listed above.
Whole Foods Inc. (NASDAQ:WFM), the world's largest U.S based retail store providing natural and organic food was ranked number one (in terms of fan base) with 545,726 follows.
Jet Blue was next in line with 107,247 follows, Star Bucks was ranked 3rd as it had more than 83,395 followers or Twitter users. Coco Cola (67,884 follows) and StarWood (59,758 follows) were 4th and 5th respectively.
Top 5 companies based on Retweets are Monsanto with 451 Retweets, Time Warner with 369, Yahoo! with 348, Lilly with 307 and CA with 260 retweets. Twitter users were quite excited and had a positive impact (in favor of the brand) when their tweets were Retweeted by the firm's Twitter accounts.
Top 5 amongst Fortune 500 firms, based on Favoriting activity of users/followers' Tweets by the brand on Twitter are JCPenney with 1608 Favorites, Star Bucks with 815 favorites, Marriott with 798 Favorites and Liberty Mutual with 770 favorites.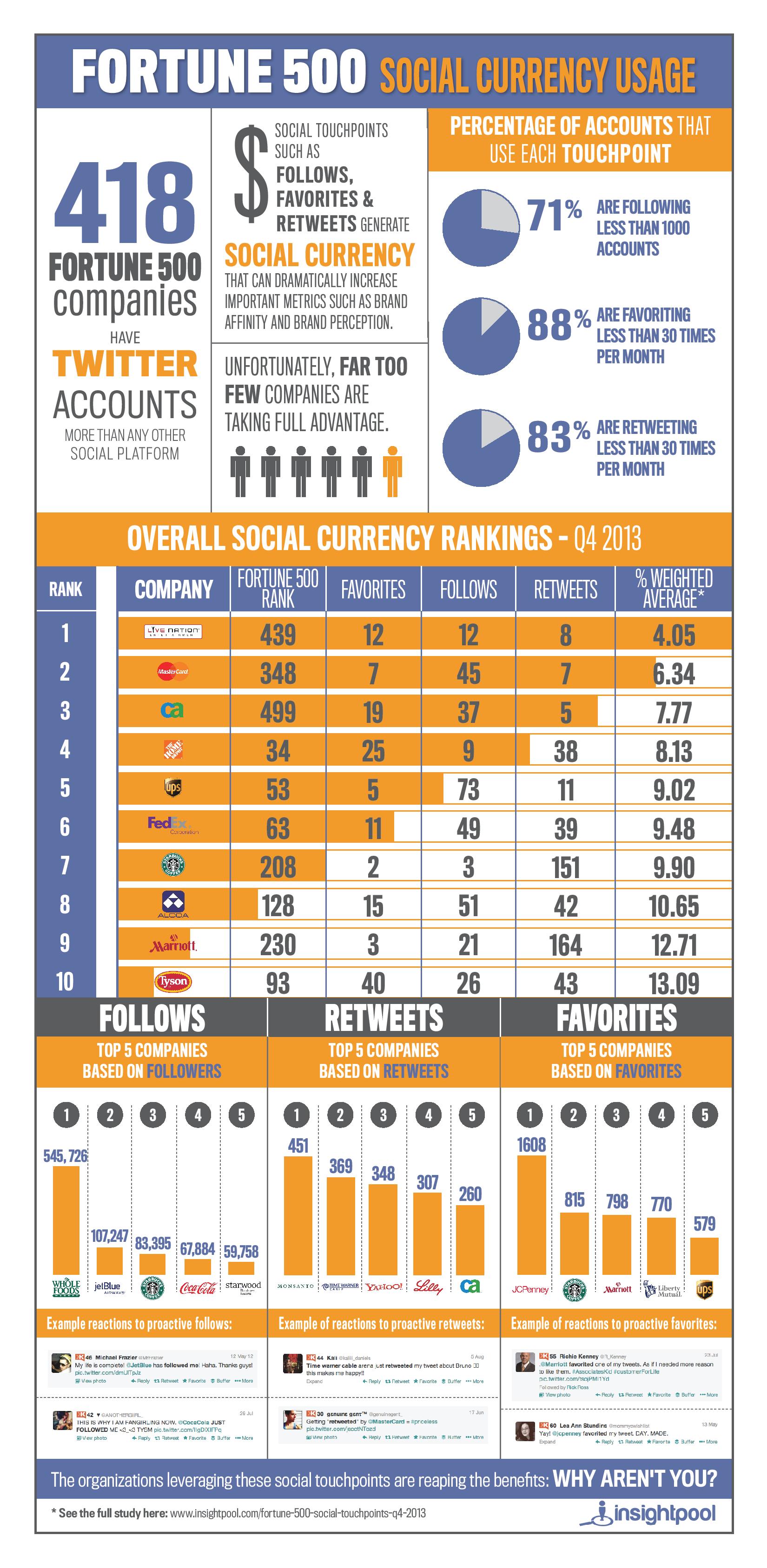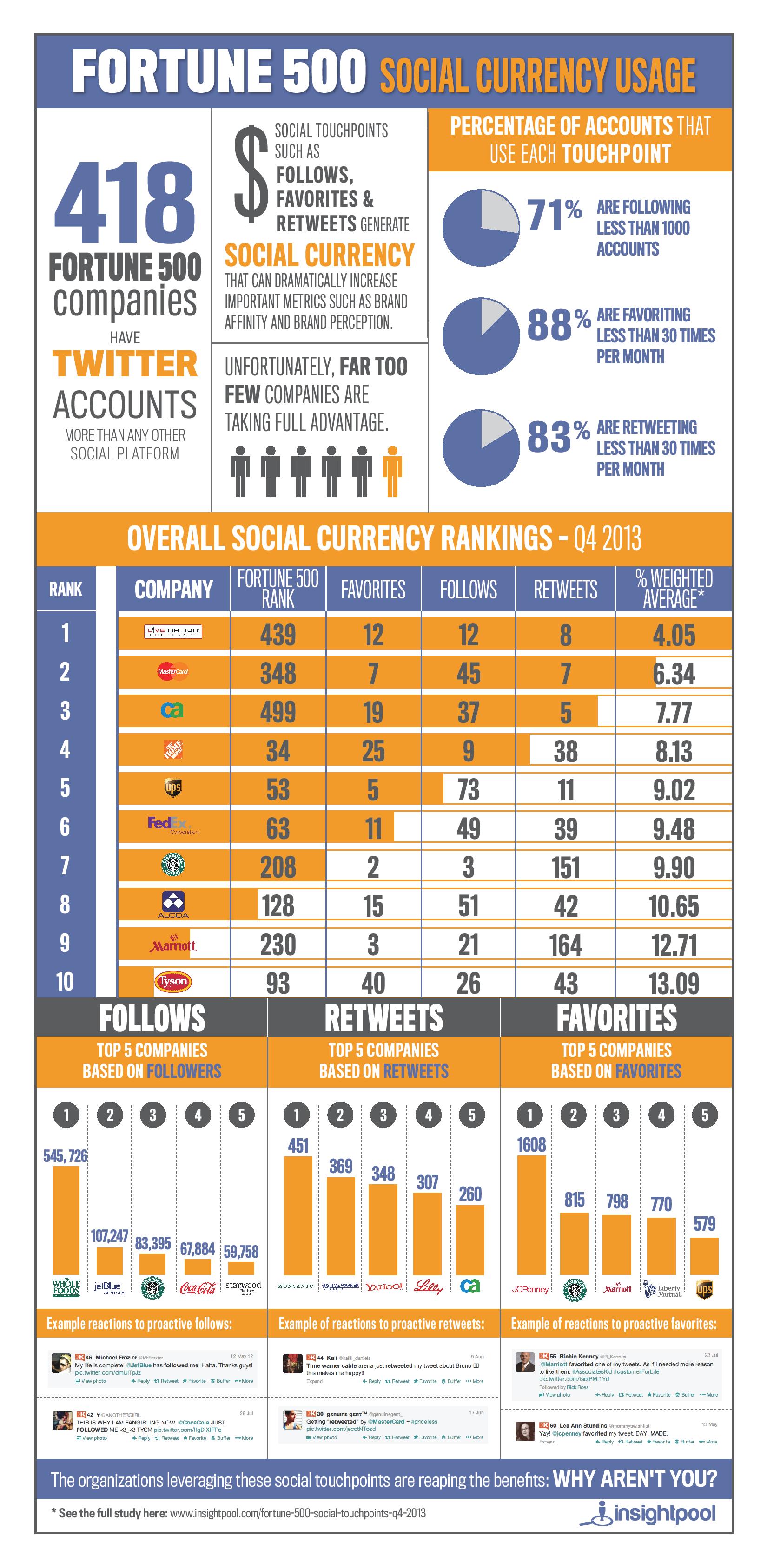 Source: Insight Pool