Social media adoption is on a steady rise amongst online adults. More than 73% of adults have adopted a social media site of some kind and about 42% of online adults have adopted multiple social networking sites. A majority of adults are creeping into sites like Facebook Inc. (NASDAQ:FB), Twitter Inc. (NYSE:TWTR), Linked Corp (NYSE:LNKD), Pinterest, Google Plus and Instagram. Facebook is far ahead when it come to social media adoption amongst online adults. According to an article by eMarketer which analyzed social media adoption trends amongst online adults in the U.K, more number of online adults preferred Facebook for networking. YouTube was adopted by 35% of adults, Twitter by 26%, Google Plus by 19% and 18% preferred LinkedIn.
Facebook Dominates With 56% Of Adults Using The Site!
If we closely observe the graph below, on an average 86.5% of users in the age group of 18-34 prefer Facebook, whereas the percentage drops to 61 amongst adults between 35-54 years of age. In case of micro-blogging site Twitter, 52.5% of users in the age group 18-34 preferred tweeting or browsing through others' tweets, and in the next higher group (35-54) hardly 25% opted for Twitter.
Facebook's higher adoption rate could be attributed to attractive features, photos and mutual high engagement levels pertaining to the site. As discussed in an earlier article, adults take time to adopt to the latest trends and hence most of the adults not just in the U.K but across the entire globe prefer Facebook. At a global level nearly 71% of online adults prefer Facebook. Twitter is more exciting for teens compared to adults, as nearly 32% of teens actively browse the platform. Whereas in case of adults very few bother to break their head and accommodate their emotions or expressions within 140 char.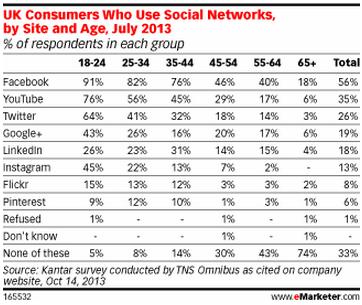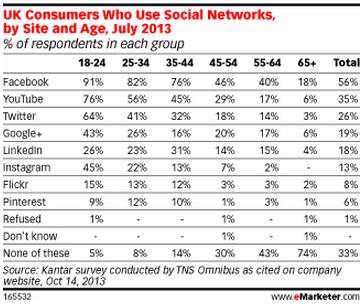 Leading video content site YouTube has been adopted by 66% of adult online users (age group 18-34). This number is likely to rise as worldwide information seekers (not just the U.K) are seeking for information in a video format. It won't be much of a surprise if the world's 2nd largest search engine, YouTube surpasses in future and attains top most position.
Search Giant's social media wing, Google Plus was opted by 43% of users amongst the age group of 18-24, and 26% in 25-34 years category. Dynamic GIF images of Google Plus have managed attract a handful of users to share and comment on various images, videos and stories shared on G+ platform, whereas a majority of usage is likely to be credited to smart moves by the search giant to force users to join G+ for commenting on YouTube videos, or to sign up for placing reviews in Google City Expert Program and a lot more.
Instagram was opted by 45% of users in the age group of (18-24) and 22% in the next higher category group of (25-34 years). Soothing images with vintage looks have grabbed the attention of a majority of photo lovers amongst online adults of different age groups. Flickr, Pinterest and LinkedIn were the other major sites opted by a less significant group of users.
According to eMarketer's forecast, Facebook usage amongst adults in the U.K might surge even further in the next 2-3 years due to its popularity and ease-to-use, compared to other networking sites like Twitter, which requires a certain amount of effort to smartly fill in short 140 char space.
Twitter user-growth is likely to increase by a smaller margin in the future which is going to be less significant compared to Facebook. It would definitely take a longer time for online adults to catch up with prevailing timeline of social media usage. Nearly 14% of the U.K adults used Twitter in 2013, which has provided an index of 45.2 by eMarketer, this figure is expected to rise to 57.5 by 2017. Facebook's penetration index on the other hand is estimated to climb up to 95.2 by 2017.