Social networking fever has gripped the world. The social media titan Facebook Inc. (NASDAQ:FB) from the past 3-4 years has proven to be a stiff challenge for other networking majors like V Kontakte, Odnoklassniki (of Russia), Hyves (Denmark), Orkut, QZone (created by Tencent) and others. Facebook with its lucrative features and a massive 1.189 billion worldwide user-base has attracted networking enthusiasts across the globe. About 15.8% of all internet minutes spent by web users are on Facebook. Leading web information and free website analytics provider firm Alexa had released worldwide traffic data which denotes top social networking sites in all major countries worldwide.
Facebook Dominates In 127 Out Of 137 Countries Under Survey!
Rate of adoption of Facebook has outgrown the rate of internet penetration, people are increasingly adopting Facebook for a major part of their networking activities in developing countries. Nearly 73.5% of the total user-base which is about 874 million access the website through mobiles. The technology powering mobile Facebook has evolved and can now cope up with fast-growing Smartphone and tablet adoption. On an average Facebook mobile users login at least 13.8 times a day, highlighting just how addicted the users are to Facebook.
If we analyze the world map below, Facebook is a leading network in about 92.7% of countries analyzed under the survey. In about 127 out of 137 countries this social media titan dominates. A few other important findings from the report are – Facebook outplaying Maktoob, an Arabic social network from Syria, this could be attributed to the fast adoption of Syrians to Facebook due to the availability of a larger user-base in highlighting the current political and civil situation in the Syria crisis/revolution. In Kyrgyzstan, Facebook lost the battle to Odnoklassniki – Russia based networking site. 
In Russia, local players like V Kontakte with 228 million users and Odnoklassniki with 148 million users are dominant. In China, Qzone has outplayed the rest with a massive 623.3 million users. Facebook has a mere 0.7 million users in China and 8.2 million in Russia. Persian social networking site, Cloob was dominated Iran and neighboring states with over 1 million members and over 100 million page views per month. Facebook is less dominant in countries like China, Russia, Iran and others, mainly due to the restrictions imposed upon them by government authorities (in the above countries) to aid local players in the same field.
If we analyze the social media map of 2009 with the latest one mentioned above, Facebook has paced itself beautifully and emerged as the number one networking site in all major countries surpassing other minor players like Hyves, Zing, Orkut, Maktoob, One, Friendster, Wretch and lot more. Orkut with 33 million users, was dominant in India (27.1% of Orkut users) and Brazil (59.1% of Orkut users), Hi5 with over 46.1 million global and 2.7 million U.S visitors was a well-known social networking site in Mexico, Mongolia and certain regions of South America.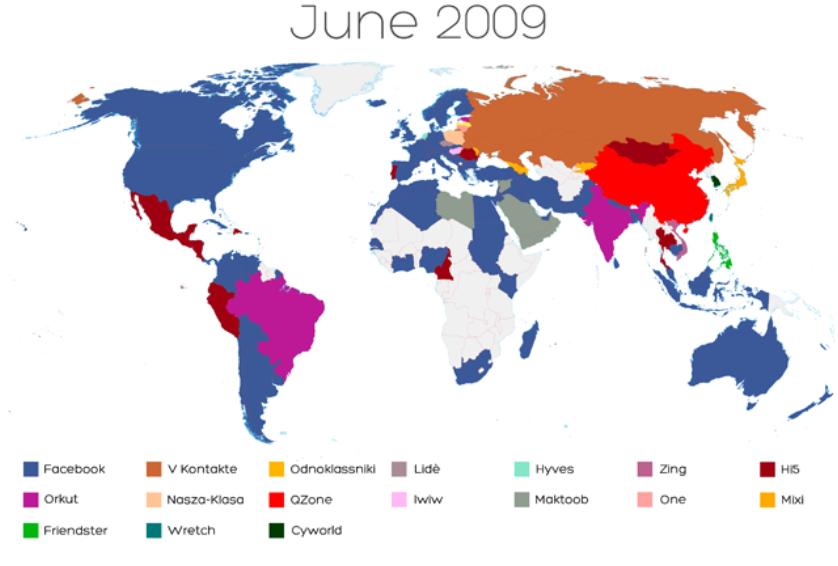 People find Facebook as a easy-to-use network with quality features and more importantly a large user-base to interact with and get connected to any corner of the world. In One Internet minute, nearly 6 million Facebook views are registered and more than 277,000 logins occur. Although, Facebook's growth rate is slowing down, its overall user-base stands at a massive 1.189 billion and it is the leading networking giant now. It has over 351 million monthly active users in Asia, 276 million in Europe, 197.2 million in the US & Canada, 362 million in remaining countries. (As per Facebook's Q3 earnings report). Usurping Facebook's top-most position will not be an easy task for any other social networking giant.
Via Vincos Blog