Content sharing on various social media networks like Facebook Inc. (NASDAQ:FB), Twitter Inc. (NYSE:TWTR), LinkedIn Corp. (NYSE:LNKD) and Pinterest is one of the most happening and continuously rising trends amongst social media users worldwide. Average items shared per day on various social media websites is expected to rise to 32 billion in 2014, which is a whopping 700% rise when compared to 2011 content sharing tally of 4 billion items per day. The social media titan Facebook accounts for 26% of overall social sharing across different networks (social media, e-mail, address bar, print) and 41% of content sharing amongst social media sites. Facebook has proven itself as the leading content sharing website from developing nations across the Asia-Pacific, South America, Europe and Middle East Africa.
Facebook Accounts For 67% Of Content Sharing In South America And 60% In Asia-Pacific Nations.
A Facebook Preferred Marketing Developer Gigya, had conducted a survey in Q3 between July and September, on the social sharing behavior across various social media networks in different demographic regions and reported that Facebook has continued its dominance accounting for 67% of content sharing by users in South America, 60% amongst countries of Asia-Pacific and 47% in Europe.
The micro-blogging site Twitter was next in line with 28% of South-Americans actively networking on the site, 33% of Asia-Pacific social media users too sneaked in from their mobile and desktop devices to tweet or browse for others' tweets. Nearly 2% of social media users focusing on the pertaining business related discussions and professional networking in South America preferred LinkedIn for content sharing, similar was the case amongst 1% in Asia-Pacific and 2% in Europe.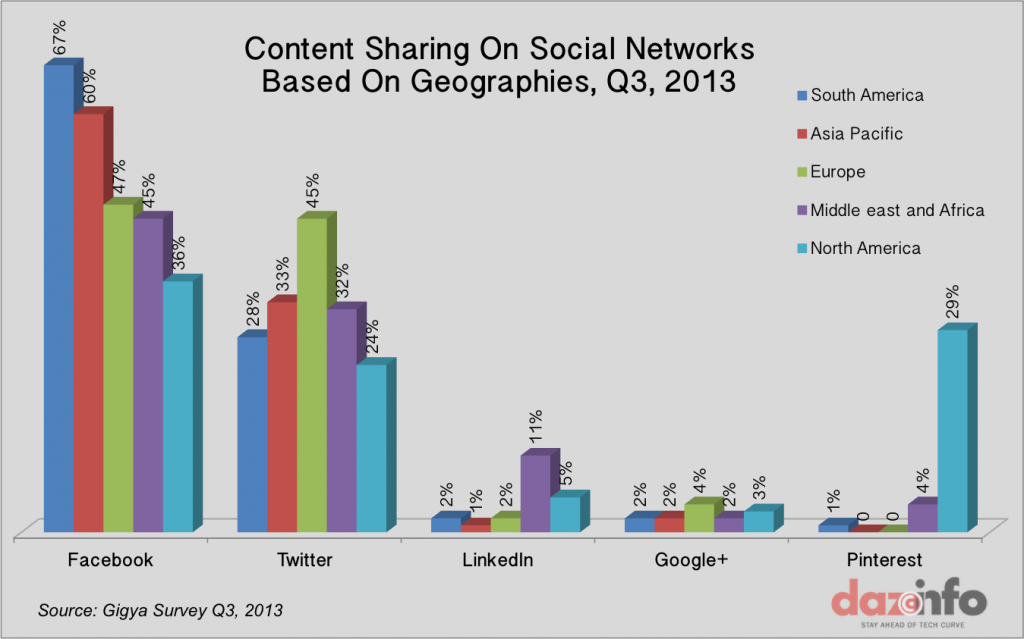 If we closely look at the graph above, Facebook usage is dominant in continents with a majority of developing economies. Whereas in developed states of North America, hardly 36% preferred using Facebook for content sharing. About 24% of North Americans were active on Twitter for tweeting and browsing for tweets from their favorite personalities and friends. Nearly 5% were active on LinkedIn and 3% on Google Plus (In North America). Although, Facebook accounts for 41% of overall content sharing on social media sites, the figure dropped by 9% compared to Q2, 2013 (50%).
Niche Sites Expected To Shine With A Steady Growth Rate! Google Inc. (GOOG) Forcing Users To Adopt The G+ Platform!
Dominance of Facebook in content sharing amongst social media users from developing nations of Asia, South America and Europe could be attributed to the fact that the timeline of social media usage in these countries is lagging behind compared to developed nations. Facebook is no doubt attractive to the common man at first due to its lucrative features, in fact a conglomeration of various features (photos, videos, job postings, news consumption, content sharing, Hashtag, brand engagement and lot more) of different networking sites and ease-to-use. But over a period of time many find it boring and users tend to leave the platform due to privacy and other issues. In developed states, teens are fleeing away from Facebook due to older generation (parents and relatives) creeping into the site and evading their privacy. Teens prefer information network like Twitter, LinkedIn and blogging platform of Tumblr over Facebook due to its exciting and more focused niche interest user group.
LinkedIn was also preferred by a focused group of professionals looking to widespread their business connections, acquire information through influencer's and channel programs. LinkedIn is one of those niche social media networks who have focused their main aim of providing a platform for business related discussions and professional networking over the years and haven't diverted their attention to other user-attractive services. Search giant's social media arm Google Plus gained marginally higher share than LinkedIn. This could be attributed to the wicked idea of Google Inc. (NASDAQ:GOOG) to force web users across the globe to sign up for Google Plus in order to gain access to a vast variety of products of Google like Google City expert program, commenting on YouTube. The default Google Plus profile for gmail users and to place opinions and reviews on +post ads.
Social media adoption is on a steady rise by web users across the globe for content sharing, content viewing and other purposes. Websites are increasingly drawing traffic from various social media sites. According to a report by shareaholic, social traffic has increased by 110% whereas organic search traffic decreased by 6% in the last 1 year. LinkedIn Corp is known to drive 64% of referral traffic to corporate websites. Facebook has also skyrocketed by over 170% in referral traffic in the last 1 year. Fierce competition amongst various Social media sites especially those who are focused on a niche user group is expected to rise and drive more traffic to other websites. The networking site with continuous growth (CHANGE) based on the users' demand is bound to dominate in future.
via eMarketer