The social media titan Facebook Inc. (NASDAQ:FB) with its massive 1.189 billion user base has done pretty well as a connector between brands and their followers. People widely engage with their favorite brands in a vivid manner, due to the large number of brand fans available on the platform to discuss and share opinions. Although, more than 42% of Facebook brand followers like brand pages expect coupons or discounts, but their loyalty factor is still quite significant as they actively exchange views, place opinions, take part in contests and remain updated with upcoming products and gather information about other products from a large pool of views posted by users of the largest social media network. Brand advertisers are increasingly using the custom audience feature to re-target (on Facebook) the existing customer base due to the higher possibility of driving further business from them.
Custom Audience With Ad Creative Increases Conversion Rate By 3.87X Than Category Based Ad-Targeting!
Facebook has rolled out numerous ad options in the form of dark posts, custom audience, cookie based advertising and a whole lot more to make the brand engagement experience worthwhile for users and more promising for advertisers. According to a survey of over 100 clients managing Facebook programs with active campaigns tracking impressions, clicks, conversions and revenue between April 1 and October 31, 2013 across advertisers and agencies representing the retail, travel, B2B, Technology, Finance and Healthcare verticals by Marin software, reported a number of advertisers using the Custom Audience feature increased by 82% from Q2 to Q3, 2013.
Custom Audience is one of the most effective tools used by advertisers whenever they are looking to launch any new product or promotional offer, deals to existing customer base. Advertisers must design effective content with rich media and other ad creative strategies to gain traction of existing customers via Custom Audience and convert them into repeat customers. In the graph below we can see that Custom Audience with ad creative strategies had conversion rates 3.87X higher than category based targeting (with ad creative). Custom Audience targeting has a 14% lower CPC (cost-per-click) and 64% lower CPC (cost-per-conversion). These figures must be assimilated and utilized to re-target audiences as 49% of Facebook fans (in the U.S) like big brands out of loyalty (According to a study by Syncapse).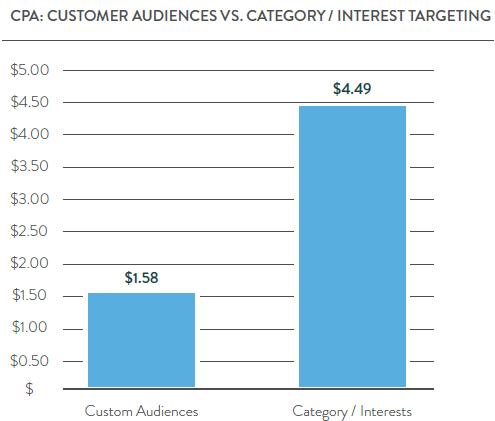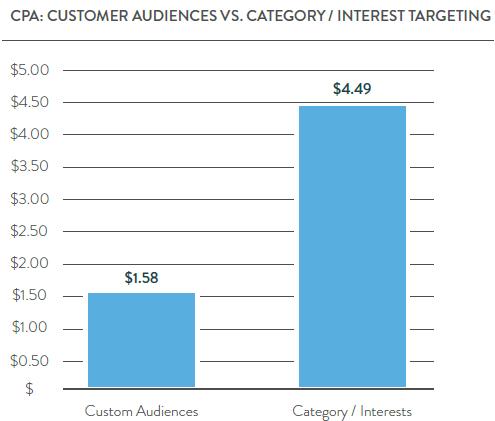 "Facebook advertising has become less about targeting a specific type of person and more about targeting a specific type of buyer. Custom Audiences has allowed us to retarget website visitors and customers with amazing efficiency and accuracy." Chase Wells, Director of Performance Marketing at Webtrends, Open Universities
Dark Posts Followed By Custom Audience (With Ad Creative) Can Boost Sales Through Existing Customers!
Advertisers must wisely use the ideal combination of various ad options by Facebook to optimize investments on ads and drive more returns. Once the customers buy certain products, brand advertisers must focus on collecting their feedback or drive an ad campaign to check satisfaction levels via Dark Posts or unpublished posts, based on the results of the unpublished posts, proper ad creative strategies could be designed and an appropriate audience must be targeted via the Custom Audience feature.
If a newbie buyer at Flipkart orders items from 4-5 different categories, Dark Posts must be sent to check on which category item was most satisfactory to the customer. Based on the result, the customer's contact id must be included while launching the Custom Audience ad-campaign for that particular category. This will help in optimizing the ad spent and produce better returns for advertisers. More than 50% of the AdAge 100 use Custom Audiences in their campaigns to re-target their existing customers as they are well acquainted with brand names and other features, and might opt to engage again with the brand.
Users who have totally stopped visiting the website after the first visit can be tracked using the cookie based ad-targeting method, FBX and they can be consistently reminded via the Custom Audience ad campaigns. Advertisers must effectively frame plans to utilize the user data gathered to target their friends and close peers as there are likely chances of communication pertaining to brand experience between customers and their friend circles.
Source: Marin Software