Social media staffing is one of the most important aspects for any progressive business firm. More than 1357% increment was observed in the demand for social media professionals in the last 3 years. Companies are increasingly investing on social media activities and hiring expertise to provide prolific online coverage across various dominant networking sites to their fan base. Close to 45% of 1 billion+ companies have 50+ employees for monitoring social media activities. Lack of know-how (infancy stage), fast-changing trends/results on social networking sites/ad campaigns and lack of highly knowledgeable social media experts are increasingly preventing business firms from achieving desired results. More than 85% of marketing professionals claim to have learnt the latest digital marketing techniques by on-job experience.
Nearly 27% Of Surveyed Companies Have 50+ Employees Managing Social Media Activities!
Google Inc. (NASDAQ:GOOG) owned Wild Fire partnered with Ad Age and conducted the largest survey of its kind in which more than 500 enterprise marketing managers and executives were asked about their approach to social marketing and discovered certain key facts and figures. More than 27% of respondents reported that they have engaged more than 50 employees to manage their social media activities. Businesses are increasingly showcasing their presence on various social media websites as their user base or followers are likely to pertain discussions or expect brand updates on various networking sites (both famous and lesser-known ones).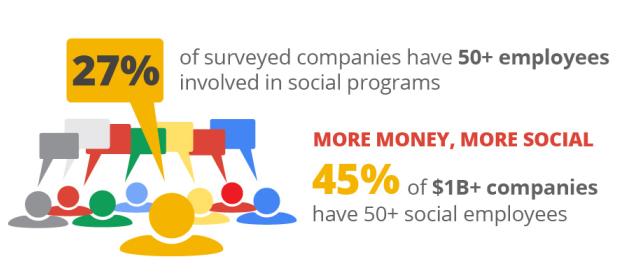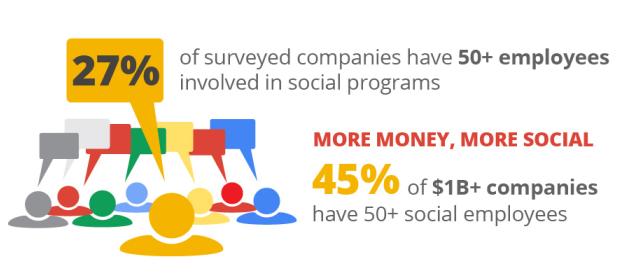 About 45% of companies with over $1 billion+ valuation have engaged over 50 employees for their social programs. Social media activities require a fair amount of investment in hiring professionals with better acquaintance and decision-making skills. Social media is a highly fluctuating marketing method and its frequency of change is not easy to grasp. Most of the social media professionals are unable to decide the amount of time, investment and possible ROI from a networking site's certain advertising options/methods while running ad campaigns.
Involvement Of Marketing And PR Departments Is Crucial!
Although, firms are stressing on dedicated social media teams to meet and greet their customers in an innovative way through various ad formats or activities on different social media sites, but the involvement of other teams like marketing, PR, customer service, sales, legal and production management in aiding the social media teams with data and suggestions is a must. Nearly 98% of retail companies use PR and marketing to shape social media programs of their firm. Marketing and PR team are more aware of various online and traditional marketing strategies. Hence, their suggestions and data points can prove to be crucial for social media teams in framing their advertising activities.
About 48% of tech companies stress on the involvement of the sales teams for designing social media programs, as they have a better idea of how consumers react to a sales pitch on a different platform. They can assist social media teams in framing informative and engaging content, according to the type of users on a particular networking site. Analysis of sales, report/data on a periodic basis via different networking platforms can help social media teams in allotting their marketing investment for different social media platforms.
Customer service support is quite vital, as most of the users these days prefer raising queries and complaints on social media platforms. Nearly 53% of Twitter Inc. (NYSE:TWTR) users expect response within 1Hr for brand queries.  About 38.1% of companies involved customer service departments for framing social media strategies for efficient management of followers. This figure is likely to rise as users are increasingly placing queries on a brand's page or account, due to better chances of receiving quick response as many followers view the same. Legal teams must also be involved to evoke any warnings or alert messages pertaining to copyrights, patents and other issues on social media sites.
About 50.6% of all companies use in-house and external agencies for managing their social media activities. Close to 65.5% of $1 billion+ companies use external agencies and in-house resources for managing social media brand accounts. Social media is at an infancy stage and very few external agencies that have dug in deep-rooted facts, related to it are specialized and able to manage social media activities. External agency support is required for a growing business firm until their own dedicated team is able to catch up with the changing trends and make key decisions to drive anticipated results.
CPG (Consumer Packaged Goods) Firms Have The Highest Social Media Marketing Budgets! Tech Firms Invest Less On Social Media Activities.
Nearly 45% of Consumer Packaged Goods Firms (CPG) invest more than 5% of their marketing budget on social media programs. Businesses which are of B2C type are observed to have spent more on social media marketing, as it is the place where their customers are. Comparatively, firms of B2B type, invest less on social media marketing, 80% of tech firms invest less than 5% of their marketing budget on social media programs.
If we compare the retail section, about 58.3% invest 1-5% of their marketing budgets on social media and about 16.7% invest 5-10% on interacting with customers on networking sites. In media and entertainment sections, close to 53.2% of respondents were found to invest 1-5% of marketing investments on social media and 20.7% invested about 6-10%.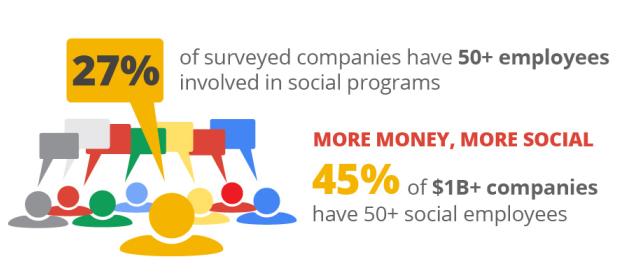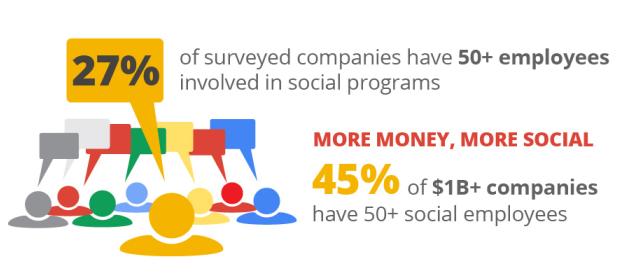 Social media engagement is quite vital and bound to increase in future, as consumers are spending more and more time on various social media platforms. Social media sites like Facebook Inc. (NASDAQ:FB), Twitter, LinkedIn Corp. (NYSE:LNKD) and Pinterest are driving a significant percentage of referral traffic to social media sites.
Facebook's share of referral traffic to brand websites skyrocketed by 170% recently, and it drove about 60% of shopping traffic to retail brands during the holiday shopping season. Pinterest, with more than 80% of shared content by 70 million active users on the site, has taken the e-commerce arena by storm and drives an AOV (Average value order per session) of $199.16. LinkedIn drives about 64% of referral traffic to corporate websites.
Source: Wildfire app