Search engine optimisation is the first step that any online business like to adopt and search engine industry titan Google has got Google search optimisation guide for beginners. However, as a number of businesses going online is increasing, Google Inc. (NASDAQ:GOOG) has started making Google search optimisation task more complex. Initially Google had started to flip all searches to encrypted searches, for users who are signed-into Google services but now the search giant has started encrypting over 80% of its total search queries. That means there would be no scope for eavesdropping on search strings used by your website visitors and Google justifies this step as an initiative to protect the privacy of users. After NSA surveillance over Google and Yahoo data centers that disclosed millions of user confidential data, Google has brought SSL encryption to its search. However, what exactly is Google encrypted search? In this article, I will explain the encryption and the reason behind 'not provided' search keywords in your traffic tracking tools.
Google Search Optimisation: SSL Encryption?
Before going into the depth of Google search optimisation process, we should think about SSL encryption. SSL is a security protocol that works on data encryption, which means that whenever data passes between a user's browser and the company server, it converts that data into code so that outsiders or snoopers can not recognize it. This technology is called SSL Encryption, which Google, by default, uses for all its searches. SSL works on HTTPS (Hypertext Transfer Protocol Secure) instead of HTTP.
According to Google statement published by SearchEngineLand, "We want to provide SSL protection to as many users as we can, in as many regions as we can — we added non-signed-in Chrome omnibox searches earlier this year, and more recently other users who aren't signed in. We're going to continue expanding our use of SSL in our services because we believe it's a good thing for users….The motivation here is not to drive the ads side — it's for our search users."
What is Google Secure Search?
By encrypting search, Google is now protecting to expose traffic-driving keyword data to websites which makes it impossible to track users by their keyword, resulting on more complex process of Google search optimisation. Therefore, many website owners will fail to segment users by keyword data with any web-analytics tool or software including even Google Analytics (GA). There is no way to track down encrypted traffic-driving keywords through which user arrives on a website, but only Google knows the path. For example, below are two images of the keyword "Smartphone market" that show the difference between regular keyword search string and encrypted keyword search string.
http://​www​.google​.com/​u​r​l​?​s​a​=​t​&​a​m​p​;​r​c​t=j&q=Smartphone%20market&esrc=s&source=web…

https://​www​.google​.com/​u​r​l​?​s​a​=​t​&​a​m​p​;​r​c​t=j&q=&esrc=s&source=web…
If you observe these two search queries, you can easily find a red marked encrypted query, which misses the value for search terms. Unfortunately, there is no other way to retrieve these keyword terms.
Exception to Secure Search:
The search terms will be available when the user clicks on Google Ads.
People who pay money for ads on Google will still obtain the referrer data
Many SEOs believe that Google is promoting Google Ads and thus Google search optimisation is poised to become more difficult. However, this is a discussion for another day, as it concerns those who will be affected by this Google search update.
History of Google Secure Search:
What Google has decided on organic search and how it started encrypted search is depicted under. According to Not Provided Count – a website that uses live GA data of 60 websites and tracks "not provided" keywords count share – Google is constantly making keyword tracking more complex, resulting in higher percentage of traffic coming to websites through undisclosed keywords.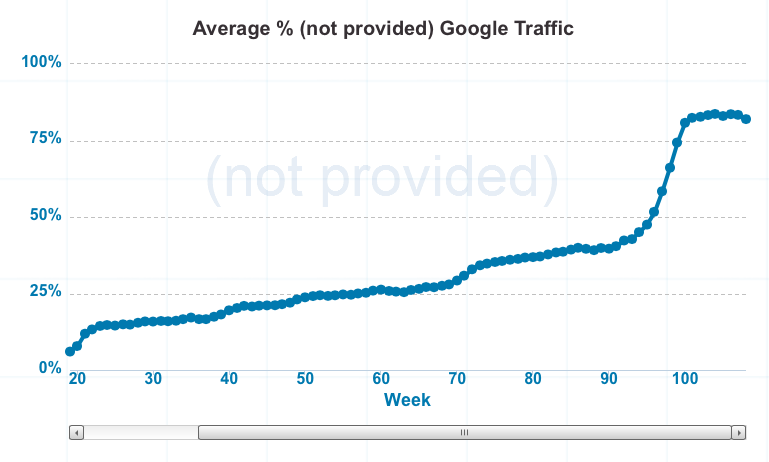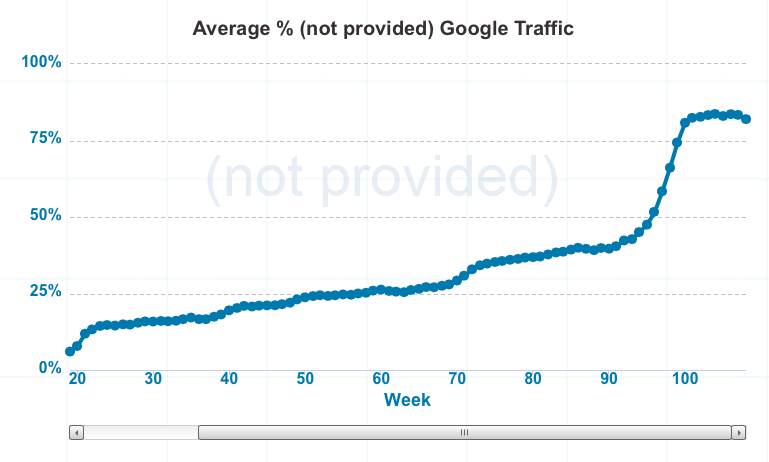 In October 2011
Google begins to encrypt search
It only influenced people who were signed into Google
There were less than 1% of queries encrypted.
In March 2012
There was a 13% hike in encrypted search.
From April 2012 – August 2013
The hike increased from 13% to 48% of searches not provided.
In September 2013
Encrypted search carried out for users who are not signed into Google.
The number of searches not provided reached 77%.
In Q4 2013 (Expected)
Complete (100%) encrypted search
How It Will Affect Keyword Analytics:
Because of Google Secure Search, every website will be influenced as well keyword analytics will be unable to produce in depth keyword reports. Four questions make online marketing wonder :
Enhanced performance of organic search of pages
Integrate traffic growth to ranking improvements
How searchers will comprehend your brand and content?
Alternate ways to encrypted search
However below are some impacts that could make organic keyword search harsh.
74% of search terms are encrypted with SSL, that shows rise in inability to provide organic data that makes the task of search engine optimization difficult.
More users will turn to Google products, which also lessens organic data ratio.
There will be organic keyword tools that work on other search engines that still provide natural keywords like Yahoo and Bing.
User and keyword segmentation and breakdown will be useful due to reducing organic keyword data.
It is expected that in Q4 of 2013, there will be no organic data reported from Google search.
Keyword level analysis will be replaced by page-level performance analysis.
Third party tools can help SEOs to fill the gap between organic search and encrypted search.
What is Next?
This is a very difficult situation to handle for online marketing companies as well SEOs. However, we have tried to find out some strategies that can bring relief to your organic search as discussed below.
You should integrate Google Webmaster with Google Analytics as it can provide you impression, clicks, position, and Click Through Rate (CTR).
In Google Adwords, observe keywords that drive traffic and conversations as it could give you an insight into search terms.
Through page-data analysis you can target page traffic, bounce rate, time spend, conversion path, and keyword ranking for page.
Google Trend can help you a lot by correlating an increase in brand search volumes with search traffic so you can assess whether traffic is going down or up.
Keep group lists of long tail, short tail, branded and non-branded keywords and measure them with page performance for which they are targeted. This will give you an idea of group keyword performance.
Use keyword suggestion tool like SEMRush, Google Suggest, which will give you a better keyword idea targeting your product.
Finally, we can say that this is a difficult time for online marketing companies, as keyword search will be replaced by page level data. It is time to consider whole website performance rather than concentrating on keyword search to be largely dependent on Google search optimisation and traffic-driven keywords optimisation.