Social media site adoption is on the rise and it is indirectly increasing concerns over a users' privacy on various leading networking sites like Facebook Inc. (NASDAQ:FB), Twitter Inc. (NYSE:TWTR) and LinkedIn Corp. (NYSE:LNKD). Teens are increasingly switching to different platforms due to privacy concerns on top social media sites like Facebook, where more than 600,000 logins are compromised daily. Although, it is the duty of social media sites to stir up a bit and provide better privacy to their users, it is also vital for users themselves to be updated with various privacy related changes and adopt latest settings rolled out to keep themselves away from being victimized.
About 50% Of Respondents Have Not Yet Used The 'View As' Feature! Users Need Be Extra Cautious And Updated!
Social media sites have rolled out numerous features to protect its users' privacy. But most of the users are unaware or rather ignore such important changes/ settings made to prevent their profiles from being invaded by hackers. According to a recent study by NextAdvisor.com, 50% of Facebook users surveyed are yet to use the 'view as' feature when checking their Facebook privacy settings.
Further findings from the study revealed that about 25% of respondents said that most of their posts are public, 28% said that only some of their posts are public. It is important for active users to take care of the privacy settings for their posts, so as to limit the post-access or engagement to audiences of their choice. Often users post any information or update with the intention of sharing it only with their friends or certain selective groups, but they forget or ignore to change the settings for post-viewing to the desired group. Users must avoid sharing important details pertaining to bank accounts or other identity details, more than 4.9 billion consumer bank accounts were stolen by spammers in 2012. Facebook is favorite for spammers and hosts maximum number of phishing attacks and personally identifiable information.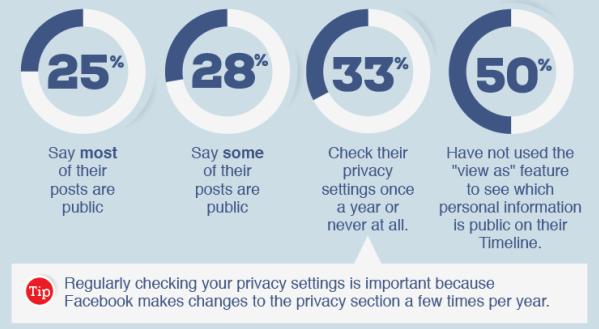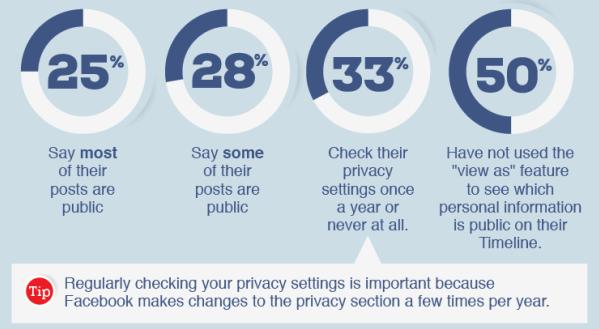 Users must edit settings for every post to avoid compromising their personal or sensitive information to hackers, leading to identity thefts, impersonations and other hazards. More than 55% of teens have given their personal information to strangers on Facebook and about 24% of teens have had compromising information made public without permission. More than 10% of children (below 18 yrs) are victims of cyber bullying and about 33% of respondents check privacy settings once a year. Users should acquaint themselves with privacy settings from time to time and protect themselves from cyber criminals who are actively waiting for any personal data of users.
Personal Information Publicly Posted On Facebook!
Users unknowingly end up posting many personal details within the posts or updates which they share with their friends or public. About 43% of respondents said that they use their legal name, 15% include their full birthday, 17% include high school and lastly 25% of them include hometown.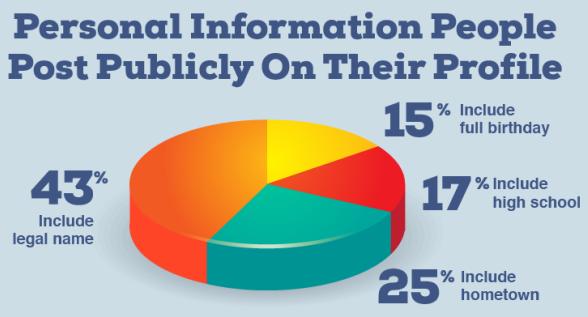 It is vital for Facebook users to be extra careful while including any personal information on their profiles. Inclusion of important information like name, place, birth date is required and well within the danger limit, but certain sensitive data like past job designations, personal picture in the wrong sense and personal email identities must be avoided or must be made visible, only to friends' circle, as hackers and spammers are likely to use this data for impersonation and to generate fake reviews for brand pages and a whole lot more.
Nearly 39% Hardly Review Their Photos Or Posts They're Tagged Before Approving And Allowing Them On Their Timelines!
Users must update their Facebook privacy settings page and follow certain norms to avoid being duped or fall for any traps set by cyber criminals. It is important for users to avoid revealing their locations. About 25% of them are clueless about their location being tracked by Facebook. If users find any updates related to their current-locations posted by Facebook on their timeline, such posts must be brought down immediately.
In case of passwords, about 29% of them don't use strong passwords. As mentioned earlier, according to BestComputerScienceSchools.net, about 600,000 odd Facebook accounts are compromised and according to another firm, MarketWatch, more than 2 million internet accounts were hit by hackers due to dumb passwords. These figures are indeed shocking and signify a word of caution for users to have strong passwords containing at least 6 letters with variations between alphabets, numbers and special characters.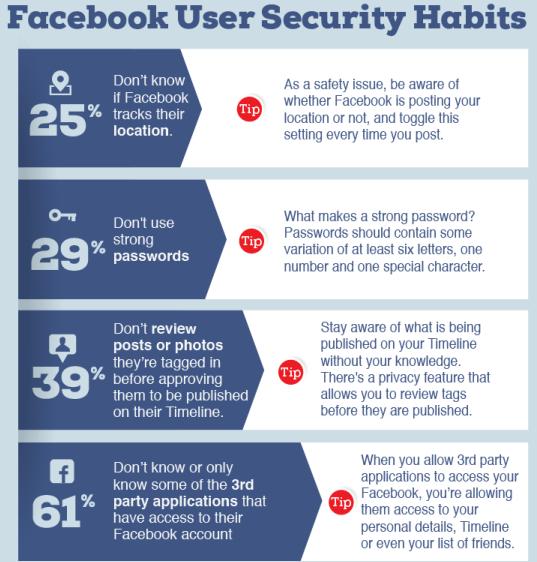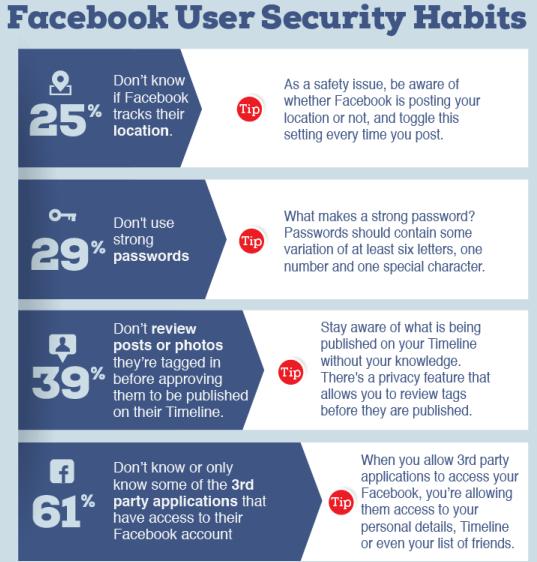 Nearly 39% of people ignore reviewing posts or photos they were tagged in for approving them, to be published on their timelines. Facebook privacy feature which allows users to keep a check on photos and posts which they are tagged, can edit settings such that without user approval, post or photo tags are not published on their timelines. Sometimes unknowingly, users are tagged into various posts and photos by friends which they do not wish to be associated with, in such cases, the above mentioned settings can prove to be useful and must be adopted by every user.
About 61% of users are unaware of third party apps that have access to their personal information. Usually, whenever a user clicks to use any of the apps on Facebook, a request box pops up which asks for permission to access personal information of users. Most of them feel that it is some sort of irrelevant official formality and might not create any issues. But when a user allows a third party app to use their personal information, they can not only get all your personal details, your interests or browsing habits but also access to their timelines and friend lists as well. This can prove to be costly for users at some stage as, third party apps are likely to misuse this data and victimize users and their friends to create Facebook havoc.
Source: Nextadvisor.com