2013 can clearly be classified as a Year Of Social Sharing, even though the year lacked Olympics, elections, Football or Cricket WC, still social sharing saw an emphatic rise by over 32%. Over 1.5 billion unique users across 14 million websites shared or engaged with the content across various networks like e-mail, print, websites, social media sites like Facebook Inc. (NASDAQ:FB), Twitter Inc. (NYSE:TWTR), Pinterest, LinkedIn Corp (NYSE:LNKD) and StumbleUpon.
Social Media Sites Account For 57% Of Overall Sharing!
The social media titan Facebook accounted for 26% of overall social sharing across various networks. People often check their miniature devices whenever they are free and post updates, check-ins, share stories and a lot more. Facebook's well-known engagement feature – Like accounted for about 16% of social sharing and was third best amongst services which help in social sharing. People are increasingly engaging with news articles, brand pages, status updates and other stories via Like. Number of likes on Facebook, has gone up from 2.7 billion likes per day in May 2012 to 4.5 billion in May 2013, an increase of 67%.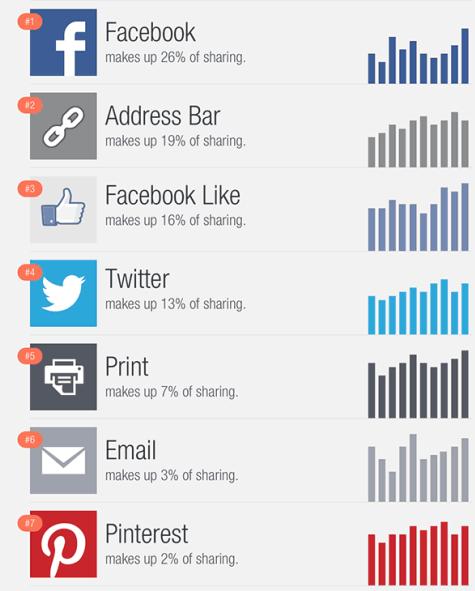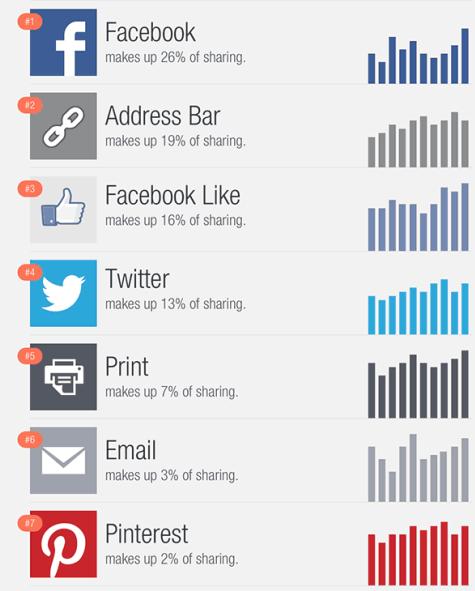 Address bar sharing was the second highest with 19% of overall social sharing, after Facebook. Address bar sharing refers to – when a user copies the URL from the address bar in the browser and pastes it somewhere within a chat client, an e-mail, SMS, website or a social media site. It is basically adopted as providing all the information or the entire depiction of message is not possible within a mail or SMS so, web users often prefer sharing a URL, which upon clicking, takes the user to the destination site, providing a better picture of the message to be conveyed.
Address bar sharing is bound to rise in future as web users have less time to go through long messages, instead, they prefer short message details with hyperlinks or URLs which provide more information if user wishes to know. Moreover, all networks like Facebook, Twitter, e-mail contribute to address bar sharing. Hence, its overall share is bound to see a growth in the future.
The micro-blogging site Twitter was 4th in line, accounting for 13% of overall social sharing. The micro-blogging site with its viral nature has attracted worldwide users especially teens and eminent personalities to use the platform for sharing messages, information and latest news. Print media accounted for 7% of social sharing, followed by e-mail with 3% and lastly pin board style sharing website Pinterest with 2%.
E-mail sharing is bound to rise, as it is more like a private mode of communication, one on one interaction between the sender and destination user. In 2013, more than 507 billion emails per day are expected to be sent by over 2.9 billion email user accounts. Although Pinterest has a mere 70 million users, nearly 80% of the content is re-pins, which makes it one of the most successful networking sites, as it suffices the main essence of a social media site – sharing.
Windows Tops, Accounting For 70% Of Social Sharing, Chrome Accounts For 48% Of Sharing On Mobile And Desktop Platforms!
Windows powered desktops accounted for 70% of social sharing, as a majority of laptops and desktops across the globe use Windows. Chrome accounted for 48% of overall social sharing on the mobile as well as desktop, as it is the most widely used browser. Chrome is faster compared to other browsers, it has better features which provide better browsing experience, it accounts for 34.68% of browser market share. It is available in more than 50 languages and users who find bugs in the browser are paid, hence, there is periodic monitoring of bugs and other issues.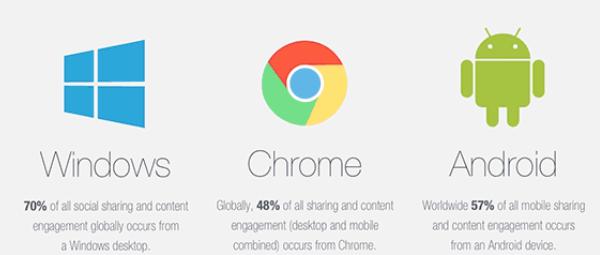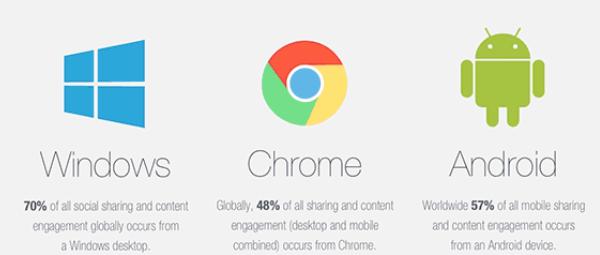 Android, since its emergence, has stormed the tablet and Smartphone market due to its attractive features and affordable price points. Its open source feature was to be adopted by a top hardware manufacturer like Samsung Electronics Co. Ltd (KRX:005935), HTC Corp. (TPE:2498) and others. It accounts for 81.9% of total Smartphone sales, outpacing the iOS and the rest. Even in case of tablets, Android won over iOS which lost more than 35% of its global tablet market share.
Source: Addthis