Demand for online video content is increasing at a rapid pace. Users often throng online video content properties from Google Inc. (NASDAQ:GOOG), AOL Inc. (NYSE:AOL), Facebook Inc. (NASDAQ:FB), Hulu and a lot more. Nearly 87.1% of the U.S internet audience viewed online video, with an average of 4.7 minutes per video content. People are moving away from traditional method of watching TV and subscribing for online video streaming services like Netflix Inc. (NASDAQ:NFLX) and YouTube which accounts for 50% of downstream traffic in the U.S. According to a study by a leading evaluator of digital trends, comScore Inc. (NASDAQ:SCOR), 189.2 million Americans watched 47.1 billion of online content in November 2013.
Google Owned Video Content Sites Topped With 163.5 Million Unique Viewers!
Google owned video content sites (mainly YouTube) were undoubtedly leading with more than 14.7 billion views followed by AOL with 1.3 billion video content views. The social media titan Facebook was 3rd in line with 1.2 billion video views, followed by NDN (576,699), Yahoo Inc. (NASDAQ:YHOO) Sites (343,751) and VEVO (649,705).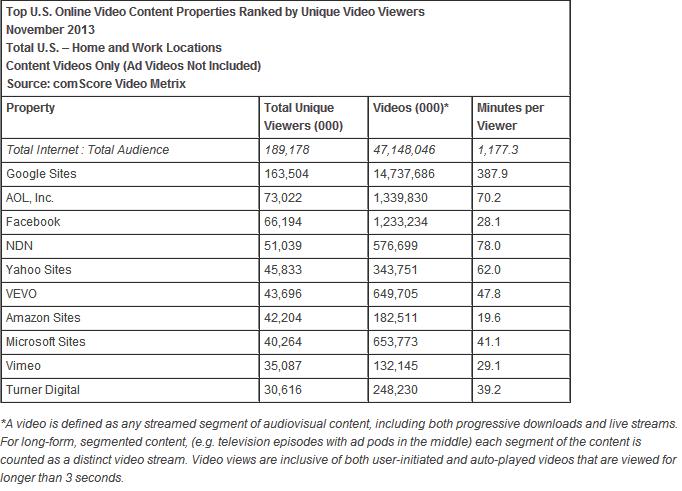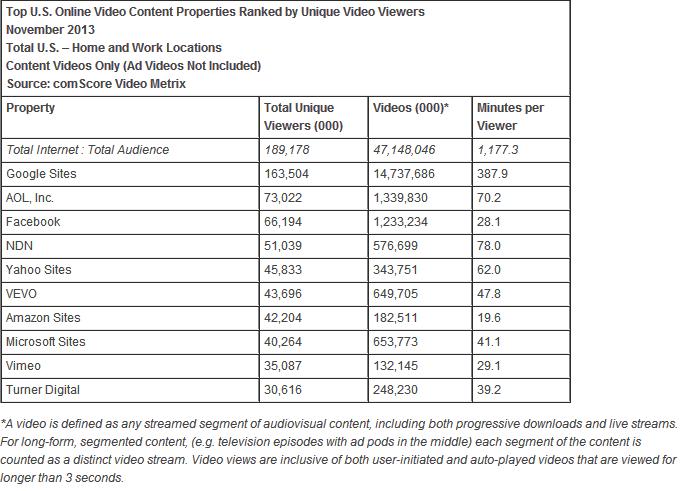 More than 163.5 million unique viewers visited Google sites, most of it attributes to YouTube which attracts unique visitors across the globe. With over 3 billion search queries per month, YouTube is second largest search engine after Google, and contributes the most significant share of Google Sites' unique viewers count, which accounts for 86% of overall unique viewers to all online content video sites mentioned in the table above. AOL was second in line with 73 million total unique viewers, Facebook drew about 66 million and NDN close to 51 million.
Nearly 26.8 Billion Video Ads Amounting To 10.2 Billion Minutes Were Viewed In November 2013! AOL Tops With 4 Billion Ad Impressions!
In November 2013, Americans viewed close to 26.8 billion videos ads which marks an overall ad viewing of 10.2 billion minutes. AOL was leading with over 4 billion ad impressions, followed by Google with 3.6 billion ads, LiveRail.com recorded 3.1 billion, BrightRoll Platform with 2.7 billion and SpotXchange video ad market place with 2.4 billion. Video Ads accounted for 36.2% of all videos viewed and 4.4% of all minutes spent on viewing videos online. Average duration of video ad viewed was 0.4 minutes.
The overall time spent watching video ads was 10.2 billion minutes, AOL was leading with 1.8 billion minutes, followed by LiveRail.com with 1.2 billion minutes, and far behind was by Google with 365 million minutes. SpotXchange (804 million minutes), Specific Media (882 million minutes) and TubeMogul (642 million minutes) were other prominent networks with significant video ad minutes. Hulu delivered the highest frequency of video ads to its viewers with an average of 89, AOL recorded an average of 25 and Google 32.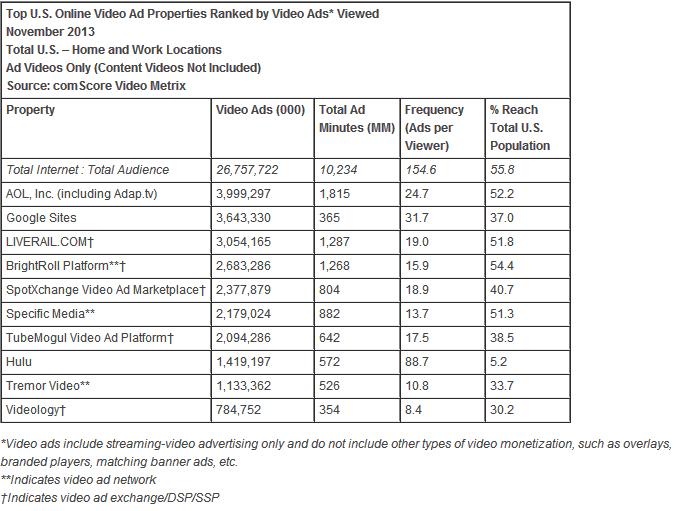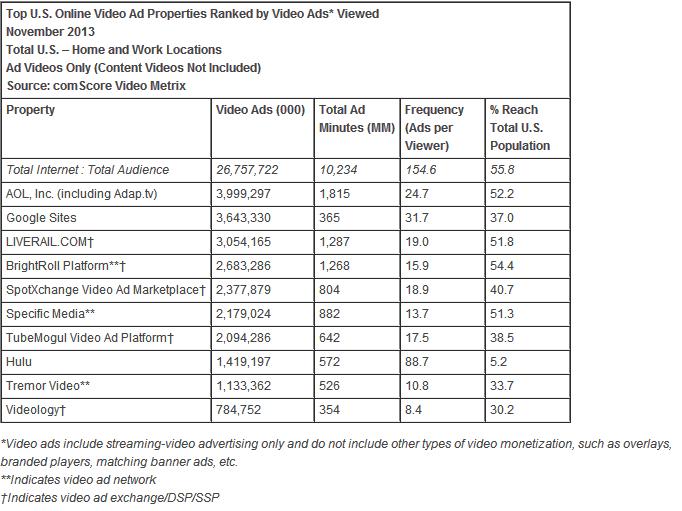 Online video viewing is likely to surge higher in future, as information seekers are increasingly browsing for video content on their mobile devices and desktops. On YouTube alone, more than 3 billion search queries are processed per month, and more than 4 billion hours of video viewing takes places every month. More than 800,000 TV episodes and 350,000 movies are downloaded per day from the Apple Store.