The social media titan, Facebook Inc. (NASDAQ:FB) has paced itself very well in 2013, especially when it came to fast changing demands of its users, advertisers, increasing challenges in mobile space and tough competition from rival networking sites. It has evolved a number of features in the last 12 months to tackle the problems ahead and provide an experience they can cherish, for its users & brands. More than 1.189 billion users have actively shared their memories, life time events and celebrated the historic events together with their friends, close peers and family members on the world's largest social networking site.
Facebook In A Nutshell In 2013
Most Talked About Topics Across The Globe: Top trends or personalities spoken about on Facebook in 2013 in order of their magnitude were – Pope Francis, Election, Royal Baby, Typhoon, Margaret Thatcher, Harlem Shake, Miley Cyrus, Boston Marathon, Tour de France and Nelson Mandela.
Most Talked About Topics In India In 2013: Number one spot in most talked about topics on Facebook in India went to BJP's Prime Ministerial candidate for 2014 Lok Sabha elections – Narendra Modi, next in line was Cricketer Sachin Tendulkar, the iPhone 5s, newly elected RBI chief Raghuram Rajan and India's historic Mars orbiter space mission Mangalyaan also made it to the list.
Most Talked About Topics On Facebook In The U.S In 2013: List was topped by Super Bowl, followed by Government Shutdown, Boston Marathon, Syria Crisis and Harlem Shake. Pope Francis, George Zimmerman, Royal Baby, Nelson Mandela, and Presidential Inauguration were other topics which dominated Facebook gossip in 2013.
Most Talked About Topics In The U.K In 2013: Tennis star Andy Murray gained top spot followed by Margaret Thatcher, UEFA champions league final, Prince George, Sir Alex Ferguson, Call of Duty Ghosts and England retain Ashes in Cricket. X-Factor, The Bedroom Tax and Grand Theft Auto 5 were the other most talked about topics on Facebook in the U.K.
Top 10 Life Events: Amongst the most shared milestones on Facebook, few notable ones, in order of their magnitude of sharing were – added a relationship, got engaged or got married attained top spot, Traveled was 2nd most shared event, followed by Ended a relationship, First met a friend, added a family member or expected/had a baby, Got a pet, Lost a loved one.
Top 10 Check-Ins Across The Globe: Disney Land of Anaheim gained number one spot amongst top check-in spots across the globe, followed by The O2 of London, Parque Ibirapuera of Sao Paulo, Golden Temple of Amritsar, Tokyo Disney land and Melbourne Cricket Ground of Australia.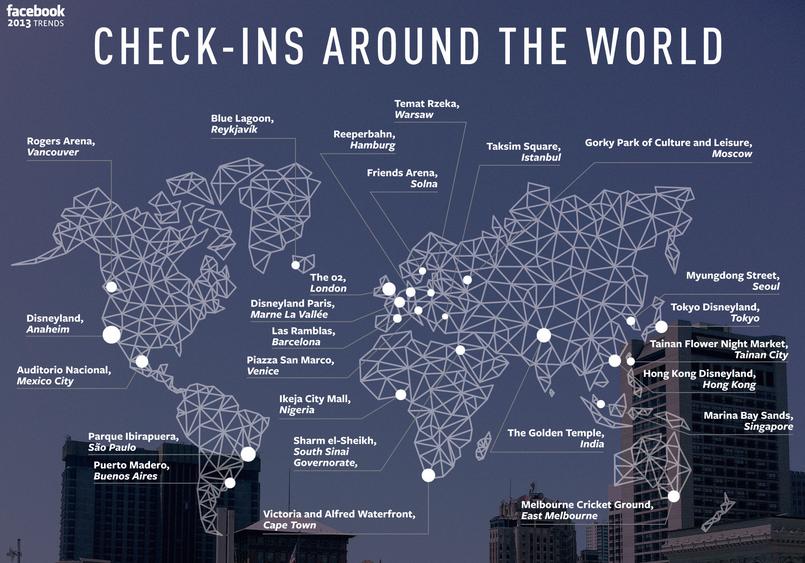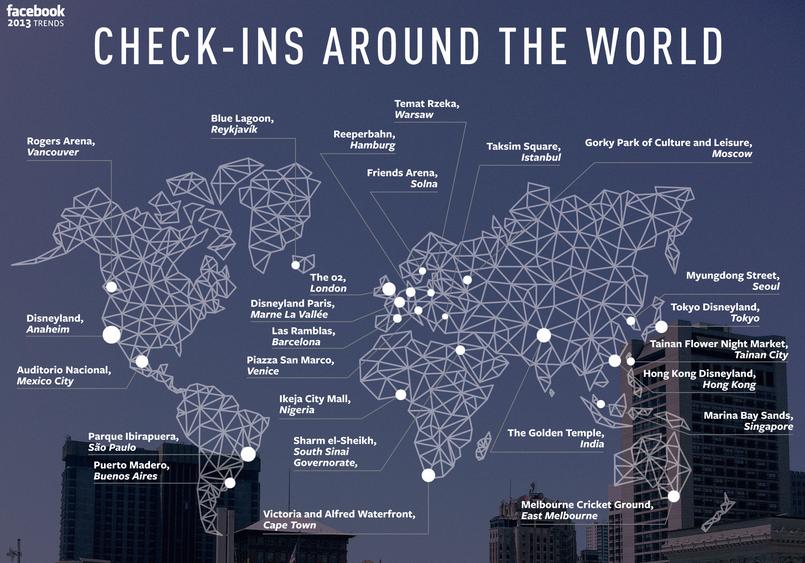 Facebook Revenue Traced A Glorious Path Breaking All Past Records:
The social media titan released its Q1 report on March 31, 2013 recording revenue figures of $1.46 billion, up by 38% from Q1, 2012. This figure just went higher in Q2 attaining 1.8 billion mark and crossed historic 2 billion in Q3, 2013 which marked an increment by a whopping 60% compared to $1.26 billion in Q3, 2012.
Facebook's revenue share from its newly undiscovered infant mobile product (Facebook Mobile) surged from 23% to 30% in Q1 of 2013. The Facebook mobile powering technology further advanced to promote kick-ass branding for advertisers on miniature devices resulting in mobile revenue share further soaring up to 41% of total revenue in Q2 and 49% in Q3, 2013.
Facebook Monthly Active Users Growth Increased At A Decent Pace: Facebook rolled out numerous features throughout the year to improve browsing experience for users. It's MAUs in Q1, 2013 was around 1.11 billion, up by 23% Y-O-Y basis. In quarter 2 of 2013, MAUs increased to 1.15 billion, and in Q3 figure rested at 1.189 billion, an increment by 17.2% compared to the same quarter a year ago.
Facebook Mobile User Base Grew Beyond Expectations: Extensive usage of Smartphone and tablets led to an increase in the user-base of Facebook via mobile. In Q1, 2013 nearly 751 million Facebook users were active on a monthly basis on mobile, followed by 819 million in Q2, 2013 and 874 million in Q3, 2013. This figure is expected to soar higher with Smartphone and tablet market growing further.
Browsing Features Innovated For Users In  2013:
Facebook unveiled a significant amount of changes to make the browsing experience for users more better and attractive. Facebook recently revamped its Like and Share button to make them more attractive, hoping to increase engagement by users who view them more than 22 billion times a day across 7.5 million websites
Facebook revamped its news feed algorithm to provide more relevant news to users based on their browsing activities. Updates from media publishers' websites are promoted higher due to an increasing demand for news pertaining to latest trends.
Facebook, listed as top Smartphone app with an average of 103,420,00 unique users, stole Twitter Inc. (NYSE:TWTR)'s most precious discovery tool Hashtag and introduced them on Facebook, although it hasn't proven to be much successful, but is expected to perform well if users utilize it wisely.
Facebook revised its news feed design to provide better browsing experience to users and help them in personalizing their content streams. 
To compete with messenger apps and help users overcome traditional methods of paying per SMS to message friends and close peers, it revised its messenger app by which users can message faster and at an economical price.
Thumbnail images were made wider and bigger thereby saving users' efforts of clicking the image and traversing to different browsing page for a magnified view.
Edit feature was introduced by which users can change the text, image, link or any content of the post anytime after the post is up. This helped users in correcting their statements if written wrongly earlier, also, in case of controversial updates, changes can be made to avoid other users protesting against it and reporting the posted status.
Link Share Preview were made available in full size using which users can know exactly what they have shared. Sometimes users get confused with different links and might end up posting the wrong one, in such cases, the preview feature helps the users by posting the link details below the post before updating it on Facebook.
Revolution In Advertising Arena By Facebook – Inside Story!
Source: Facebook