Social media networks like Facebook Inc. (NASDAQ:FB), Twitter Inc. (NYSE:TWTR) and LinkedIn Corp. (NYSE:LNKD) have provided immense opportunity for web users to express themselves, share their stories , opinions, discuss topics that interest them with their friends and families. The amount of engagement has increased significantly over the last few years. Teens largely engage with close peers on Facebook and other social media networks and talk about their common areas of interest. It is vital for social media network users to think wisely before sharing any posts as some of the posts which users share without knowledge can bring about hazardous effects. It might hurt sentiments of a few of them or might victimize the other users' friends who engage with the shared post.
Engagement In Social Networks is Increasing At An Explosive Rate!
People these days are using the web for browsing information related to daily news, trends, sports, favorite brands, entertainment and other general news. Social media networks like Facebook are transforming themselves into an information network due to an increasing demand for news and latest articles.  More than 30% of the U.S adults consume news on Facebook. Micro-blogging site Twitter which was born as an information network serves as a platform for breaking news and updates, and spreads the same at wild-fire pace. Till date more than 300 billion tweets have been tweeted with an average of 5700 tweets per second.
If we consider engagement on Facebook, the number of likes has gone up from 2.7 billion likes per day in May 2012 to 4.5 billion in May 2013, an increase of 67%. Number of shares on Facebook was about 2.45 billion as per August 2012, and it increased to 4.75 billion in May 2013, an increment of a whopping 94%. People love engaging with interesting news articles or posts related to their topics of interest, they prefer sharing them with their friends, initiate a discussion and exchange views and opinions. On Pinterest, 80% of the content posted is shared content.
Think Before You Share! Facebook Is A Major Center Of Attraction For Spammers!
Social media networks, especially Facebook have been major centers of attraction for spammers. Social media spam has increased by 355% in the 1st half of 2013. About 600,000 Facebook logins are compromised per day, due to an increasing attack from spammers to  capture users' personal data. Majority of these spams are propagated through shared content by a chain of users. Spammers are successfully able to dupe users by attractive posts and can often persuade them to share. Ratio of spam on Facebook and YouTube compared to other social media sites is 100:1.
The picture above is the best example on how spammers tend to make users share the post and collect user data. The attractive news or video links are posted and users are asked to share the post first, in order to view the video, and once it is shared the video is never played, meaning the content is successfully spammed to other friends of the users. By this spammers have gained access and can send malware links to users' friends and also like or share pages on the users' behalf.
Sharing of information or knowledge is good, but if one is not sure exactly what is being shared than it might hurt other users or even put other viewers of post into trouble. Users must check their privacy settings for every post and decide their target audiences clearly. Friends must be encircled into various groups like relatives, family, college mates, and school friends and for each post, the audience selector tool must be used to select the desired audience. Passwords are not something to be shared with anyone irrespective of your relation with the person. More than 2 million Facebook and Google accounts have been compromised, of which Facebook accounts for 57%,  according to Fox news.
Users must check with their close peers before sharing any of their images or tagging them. Friends often share photos, videos and other personal details, they could be fine with it being circulated amongst the friend's group, but might not be very comfortable with public sharing of the same on Facebook. Hence it is important for users to seek prior permission before sharing any images or photos publicly on Facebook.
Spammers love spreading false rumours as a plenty of users are likely to go about looking for information on the same subject. It allows spammers to persuades users to share their personal data and gain access to the desired rumored news. This data can be used to access bank A/Cs and other details. In 2012, $4.9 billion was stolen from consumer banking accounts through malware takeovers, according to a 2013 report by Javelin Strategy & Research. Users who have unknowingly shared some spam posts must make sure that they inform their friends and close peers not to share or pass it on to others. If a Facebook user is not comfortable confronting someone, there is a Social reporting tool with messages which users can use to inform their friends about the ill effects of their photo being shared.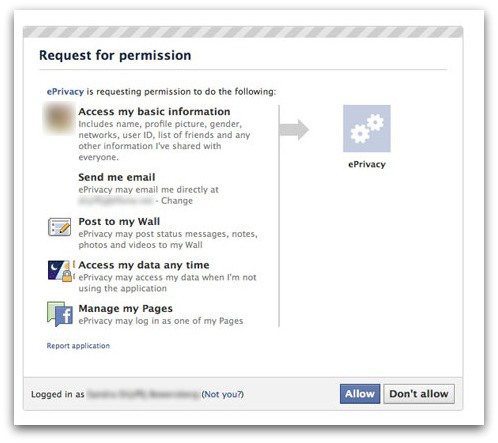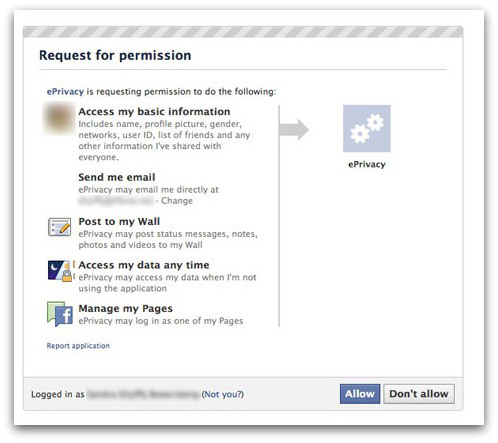 Source : Facebook