A third largest country by the number of internet users and the second largest by mobile subscribers, India is gracefully marking its presence on the global online business forum. With 164 million internet users, by September 2013 that caused 96 billion display ad impressions in Q3, 2013, India is one of the most lucrative online markets now. The trend depicts a promising growth in online advertisement, especially in Retail and Finance sectors in the future.
According to the latest Ad Matrix report from ComScore, more than 3900 advertisers ran online ad campaigns in September 2013.  On an average, this resulted in 395 ads viewed by each active internet user in India. The report exposes a few really astounding data points and statistics crucial in understanding India's online display ad market:
Top Online Display Advertisers In India By Industry
30.2 billion online display ads were served in September alone. Retail, online media and computers remained the top category advertisers came from.
Top Online Display Ads Publishers By Industry
Social media, portals and services together generated about 68% of the total online display ads impressions generated in India in September 2013. Nearly 2 out of every 5 impressions were generated on social media networks alone.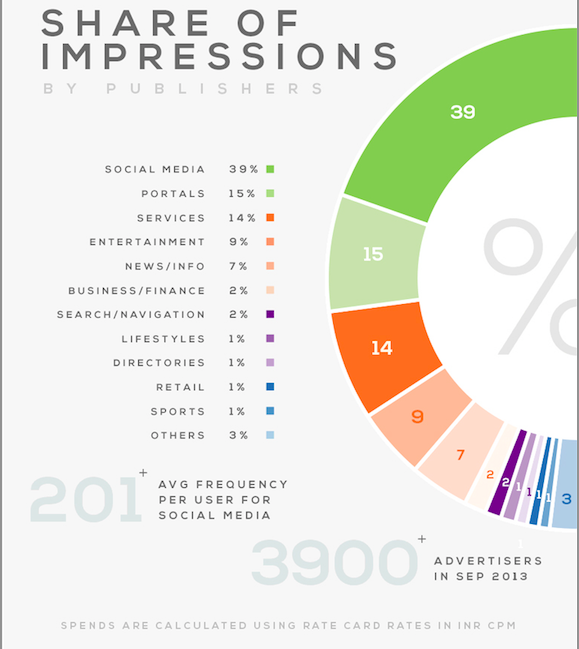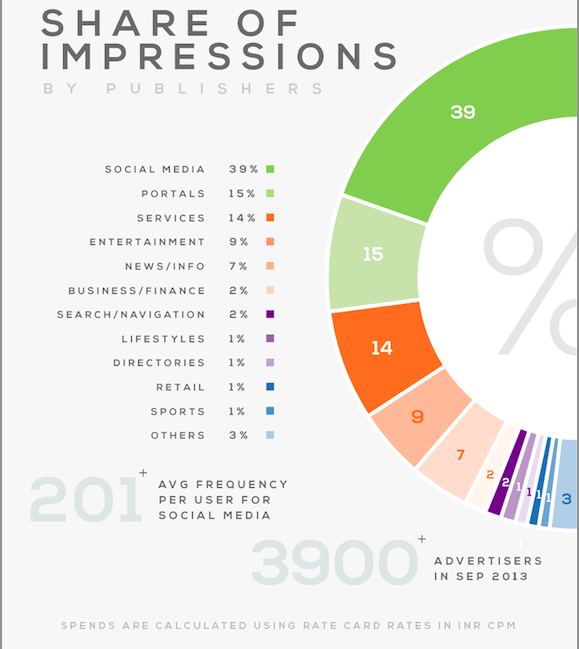 Top Online Display Ads Category In India
Retail and Finance industries have contributed the maximum in online display ad market in India in the last few months. Between June and September 2013, the Retail industry saw nearly 6% surge in number of total ad impressions by all advertisers from the industry, reaching 3.97 billion impressions in September. However, the Finance industry in India has presented a better show in the last few months as the number of ad impressions increased nearly 30% during the time reached to 1.19 billion.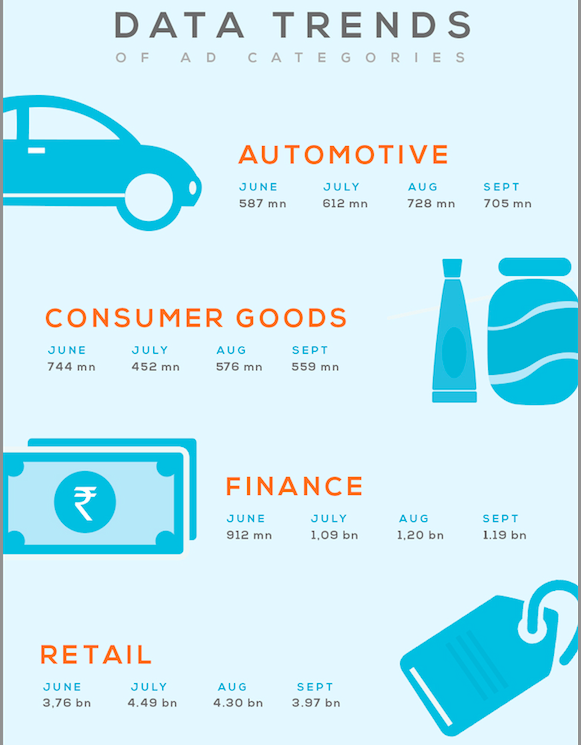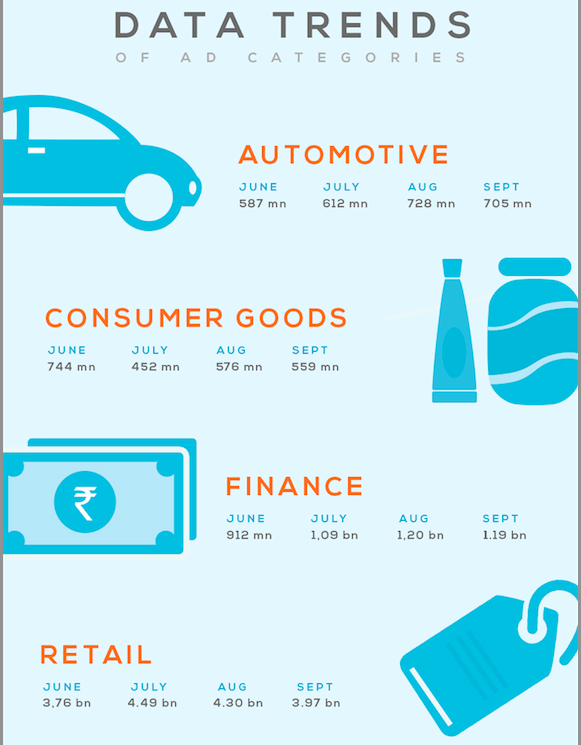 Top Online Display Advertisers In India
A comparatively lesser known and free-to-use business model OLX.in leapfrogged other online majors in India, including Flipkart, Amazon and Myntra, in number of Display Ad Impressions (DAI) and Display Ad Spending (DAS) by a distinct margin. In September 2013, OLX.in emerged as the top advertiser that marketed 1.38 billion impressions, followed by Amazon, Google and Jabong with 493 million, 431 million and 427 million impressions, respectively.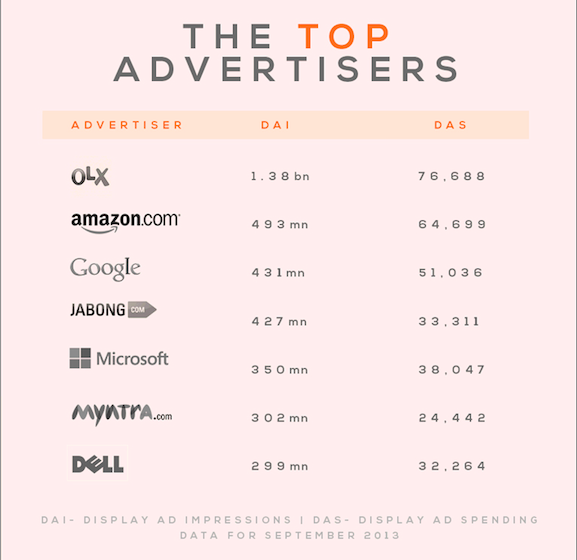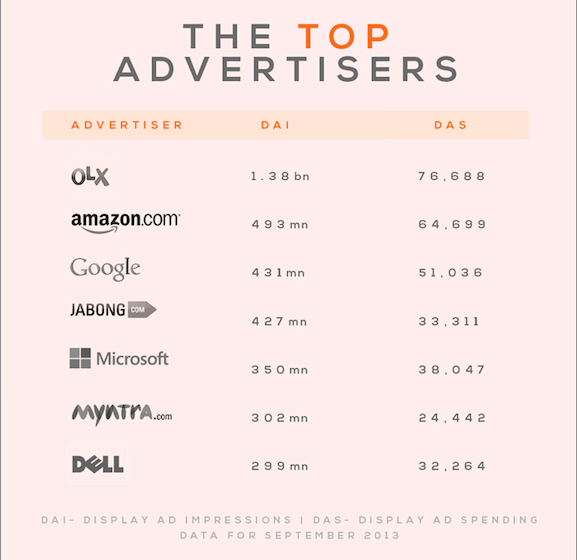 Top Online Display Ad Sizes In India
The biggest surprise came in the form of Display Ad Sizes. While a majority of ad networks and publishers have pre-defined standard ad sizes based upon the best performing metrics, non-standard size ads performed the best. In September, 47.1% ads were inline to non-standard sizes, followed by the most popular 300px X 250px with 19.4% and the leader-board with 16%. Though the study doesn't address specific details about non-standard size ads but it's not too difficult to assume that in-post ads, static image ads, full-page landing ads were the ones that come under this umbrella.
This also showcases that advertisers, publishers and visitors are distancing themselves from a growing culture of traffic monetization with standard ads. While visitors are reportedly trying to enjoy 100% ad-free internet, publishers and advertisers are making every possible effort to ditch such screening by adopting unconventional styles of advertising, which has apparently been showing good results.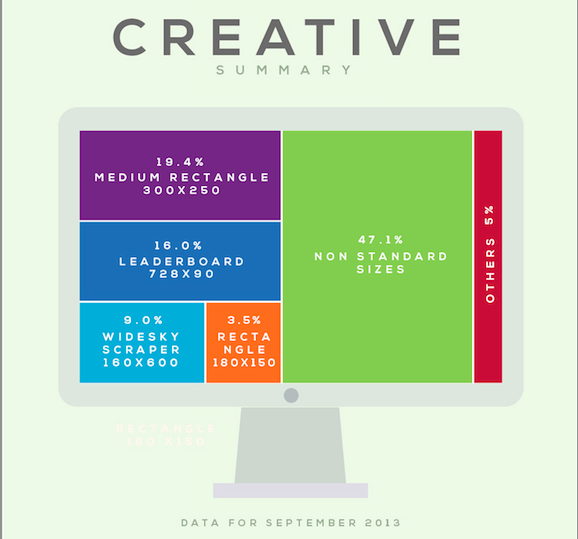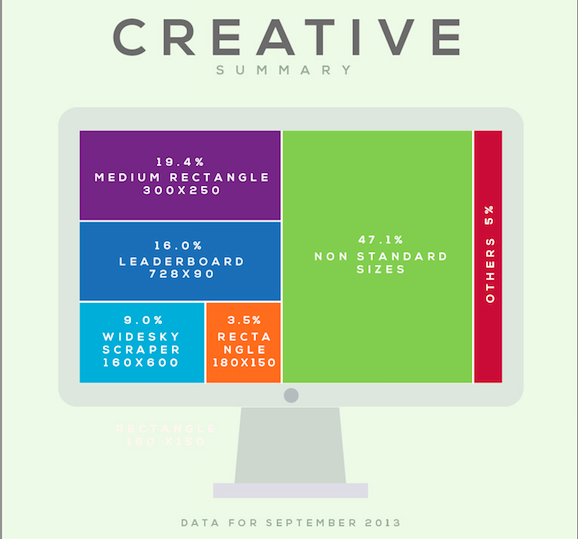 Source: ComScore