The world's fastest growing photo sharing app, Instagram is increasingly being adopted by top brands and firms for marketing purposes. Facebook Inc. (NASDAQ:FB) owned Instagram is growing at a fast pace and has crossed 150 million users, and is now the hottest platform for brand advertisers to attract customers through vintage looking images of brand themes and products. Nearly 123 out of Fortune 500, which is 22.4% of top 500, have adopted the Instagram platform for promoting their brands. Advertisers of various brands are actively posting images and videos to initiate engagement through brand followers in the form of likes and comments. Brands using the social discovery platform of Instagram, must use various hashtags to make the search easy for their followers.
The Rate Of Adoption For The Instagram Platform Is Increasing At A Galloping Pace!
Trackmaven, a leading competitive analysis provider for digital marketers, tracked 2013 fortune 500 companies' lists and analyzed their activity on the photo sharing app, Instagram, throughout September. Out of the top 500, about 123 showcased their presence on Instagram, accounting for about 19,009 pictures and 243 videos, and interactions in the form of likes and comments. If we consider brands all over the world (not only fortune 500), nearly 65% of them have taken to the Instagram platform for branding purposes.
If we consider the adoption rate for other social media networks, 387 of the Fortune 500 have Twitter accounts and 348 out of the Fortune 500 have Facebook pages, comparatively Instagram within 3 years of its inception has attracted 123 brands and is likely to surge at a faster rate in the near future.
If we analyze the graph above, there is a continuous increase in the adoption rate of the Instagram platform. From a mere  10 or less of the Fortune 500 firms adopting the Instagram platform in December, 2010 to a whopping 123 (of Fortune 500) in 2013. In December 2010, Starbucks became the first among the Fortune 500 to adopt Instagram, in the following year, 14 more of the Fortune 500 joined Instagram. It is vital for firms to be active on the platform and post images and engage their audiences on a regular basis.
If we analyze active Instagram accounts of Fortune 500 firms, out of the 123 Fortune 500 companies that have registered Instagram accounts, 91% (112 companies) have made at least one post on Instagram and 17% (85 companies) have posted at least one picture or video to Instagram in the last one month (September).
Merely showcasing presence on Instagram is not sufficient, brands must actively post images and videos on a regular basis and try engaging their fan base. Images convey messages in a much better manner compared to text. Short video ads which are entertaining and smartly embedded within brand theme or messages must be uploaded on a periodic basis.
Out of the Fortune 500 companies, 22.4% have active accounts, amongst the first 100 Fortune 500 firms, 25% have active Instagram accounts. The henceforth rankings from 101-200 reveal that 15% are active whereas between 201-200, 23% are active. It is vital for firms to update regularly and measure engagement levels for images and videos amongst the fan base.
Depiction of any particular brand message/theme via text messages or words might misguide users at times if the message is unclear or it might make them think too much in trying to understand it, which often leads to offsetting the mood of brand followers, whereas images provide a better picture and the perfect 'feel' to users as it's more appealing and attractive. Advertisers must effectively use Instagram tools and its filters to provide the best possible look for images and promote brands through creative representation of images with a convincing story appeal.
Although, video content is generally more effective, a majority of respondents in the survey opined that images promote a better engagement rate than videos. Images were considered about 13-16% more effective than videos. One prime reason for this could be that – images convey messages instantly, whereas users might have to wait until an Instagram video is loaded. On the mobile platform, video buffering might consume marginally more data when compared to images, hence users find images more engaging. Brands must focus equally on videos and images, the rate of adoption for images must be higher than videos.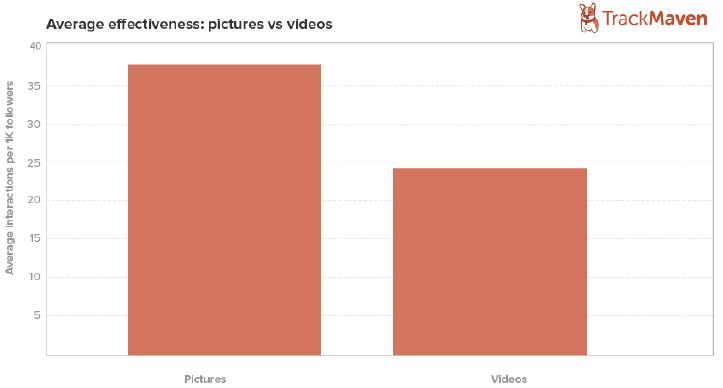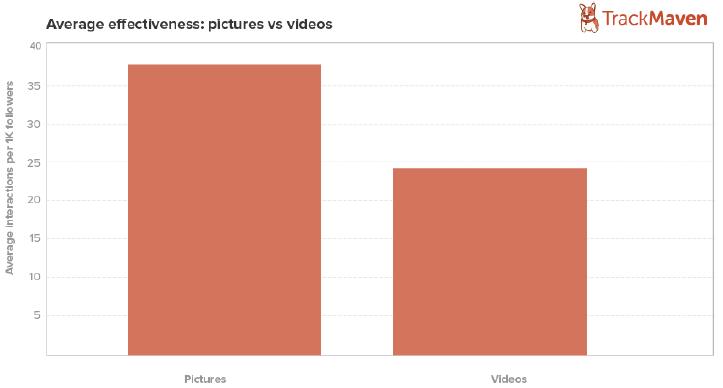 Brand advertisers must also make sure that they avoid spamming pics or videos which might hinder the user experience. Proper analysis must be done of engagement by audience, on different days of the week and frequency of updating the Instagram feed must be influenced by the result of the analysis. In the last one month (September 2013), 1,792 photos and a mere 74 videos were posted by Fortune 500 Instagram accounts. In the graph, effectiveness is equal to total likes and comments. The average engagement rate for images was 37 interactions per 1,000 followers whereas the videos had just 24 interactions per 1,000 followers. Brand advertisers must effectively use the platform to connect to the users' personal lives and provide them a nostalgic feel when they view the image, along with the conveyed brand message.