The new iPad Air, launched by Apple Inc. (NASDAQ:AAPL), about a month back, is sweeping the market with distinction. A recent study on iPad Air market share by December 2013 from Fiksu – a company that keeps a track of the overall active iOS devices worldwide – shows that adoption of the iPad Air is much faster than any of its predecessors. The iPad Air now controls 3.5% of the total iPad market in just 37 days since launch while, after the same number of days, the iPad 4 had managed to control only 1.76% of the total iPad market.  The results could have a significant impact on holiday season sales, but such a huge gap clearly depicts how the market is responding to Apple's latest offering in the tablet arena.
This gap is apparently widening as Apple has just introduced the iPad Air in India. To lure Indian consumers, Apple has priced it at an affordable price but still the eventual price tag could prove a little heavy on the buyers' pocket. While the 16 GB WiFi variants of the iPad Air has been price tagged with Rs. 35,900/-, its cellular version, a 16 GB variant asks buyers to shell out Rs. 44,900/-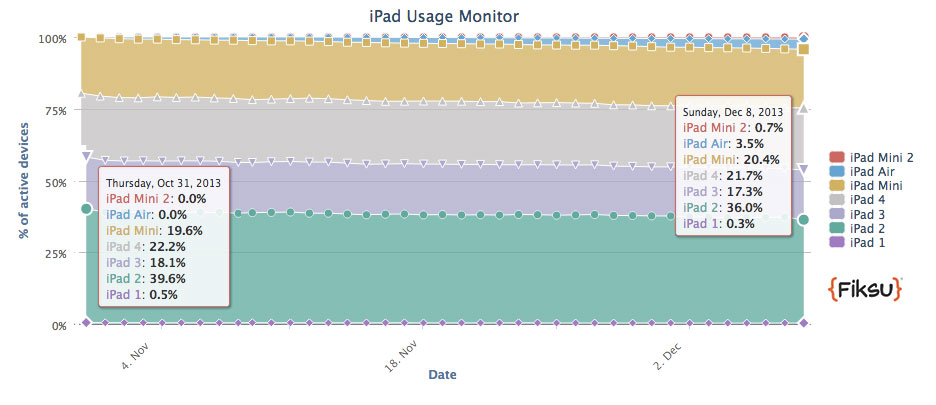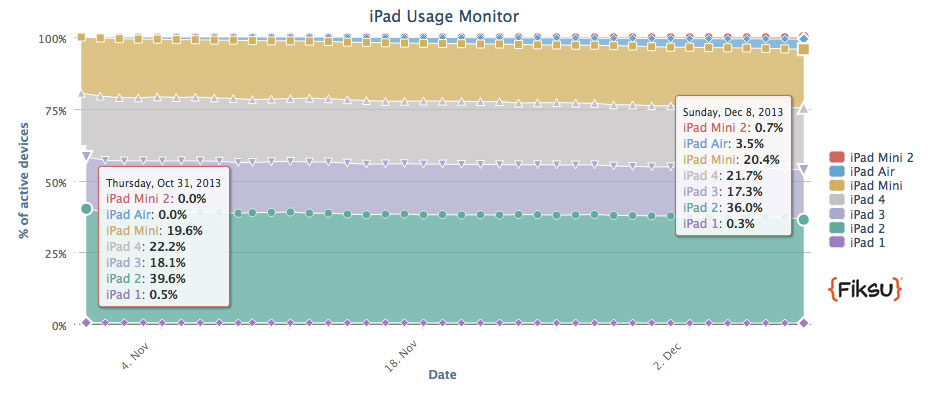 Overall, Apple iPad 2 is by far the most popular generation of iPads as on December 8, 2013. The new iPad Air could be gaining ground pretty fast but more than 36% of iPad users are still using the iPad 2, against 17.2% iPad 3 users and 21.6% of those using the iPad 4. Interestingly, Apple iPad Mini is also enjoying a sizable market share (20.3%).
However, since October 31, 2013 – a week before the iPad Air was launched – it were the iPad 2 owners who had migrated to the new iPad Air most. Between October 31 and December 8, the iPad 2 lost nearly 3.3% of its market. While the iPad 3 and the iPad 4 lost close to 1% share, the iPad Mini saw a slight increase in market share for the same period.
Unfortunately, despite such a terrific response to its latest debutant, Apple iPad's market share is estimated to shrink to 30% of the global tablet market by 2017, with Android taking a big lead by grabbing almost 58.8% market share. It would be interesting to see whether the global reach of the new iPad Air can tilt the estimation in Apple's favor or whether Apple disappoints further.
Source: Fiksu