Pin-board style photo sharing website, Pinterest with more than 70 million users since its inception, is rolling out vast features to attract worldwide users and firms. A large number of brands are likely to adopt the Pinterest platform for effective marketing of their brands and boost their sales during the upcoming holiday shopping days (Cyber Monday, Small Business Saturday, Christmas). Pinterest has been rolling out various features like – related pins, holiday gift guide and a lot more to attract both users and advertisers to adopt the platform for effective brand engagement.
A Whopping 786% Increment Was Seen In Visits To The Pinterest Website In The Last 1 Year!
Images are a more convincing form of communication compared to text messages and Pinterest by its very nature of visual medium, attracts most of the users across the globe who love discussing and sharing messages pictorially. According to a survey which interviewed 7,431 online buyers from August 9-August 17 (2012), more and more online consumers agreed that Pinterest is a place to get inspiration on what to buy and help keep track of or collect things a user likes. This has greatly contributed to the website traffic of Pinterest which rose up from 901,761 in September 2011 to 7,985,316 in September 2012 (from the U.K only), an increase of 786%, making it one of the fastest growing websites on the planet. The U.S saw a 15 fold increase to 139 million visits in September 2012, compared to 9.2 million about a year prior to it.
Pinterest Introduces Holiday Gift Guide! Brand Sales Likely To Skyrocket In The Holiday Shopping Season!
Pinterest is a website that most of the users get totally immersed in, and end up spending hours together enjoying the soothing effect of images via pins. Marketers of various brands should be active on the Pinterest platform as more than 80% of content on the website consists of Re-pins, which means chances of getting free publicity by active participation of users are high. More than 70% of brand engagement on Pinterest is generated by users themselves without any promotion by brand owners. Pinterest recently introduced the holiday giving guide and holiday gifts feed to assist consumers in providing suggestions or guidance for buying gifts for their friends and peers in the prevailing shopping frenzy season.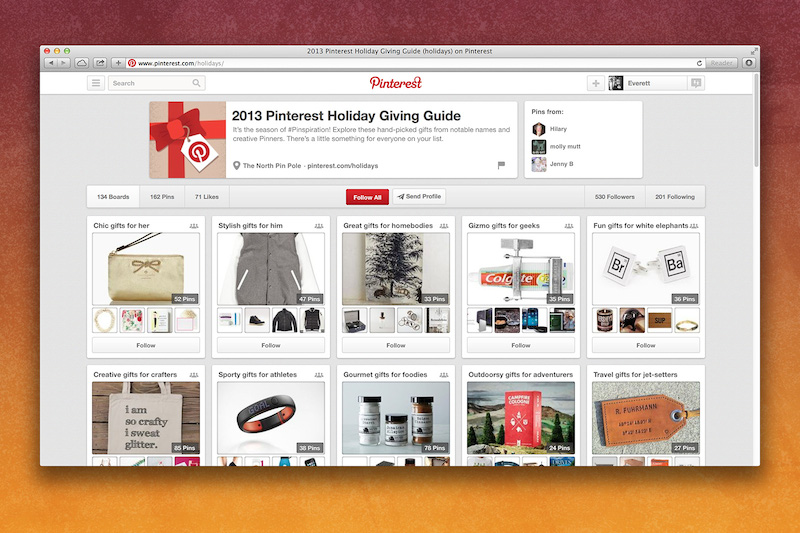 This feature is likely to benefit those who find it difficult to shop for gift items, users can find more than 100 boards filled with ideas for those who wish to gift. Pinterest has also selected a handful of celebrities and notable Pinners to create holiday boards based on their area of expertise/knowledge. (Example – "Gourmet gifts for foodies" by Andrew Zimmern of Travel Channel's Bizarre Foods, and "Gizmo gifts for geeks" by tech author and investor Guy Kawasaki). Users can also shop for specific items of retail brands via the gifts feed feature, in which users can sort the feed and browse products with filters like "Gifts for kids", "Gifts for him" and "Gifts for her". Pinterest has also entered into partnership with Wallmart, Zappos, Disney and other retail brands, who now provide a fun browsing experience to their visitors by showcasing their visual content in a pin-board style.
Pinterest's head of community marketing, Katie Garlinghouse, wrote in a blog post Wednesday – "In the spirit of the season of Pinspiration, we're unveiling our first-ever Holiday Giving Guide. We asked some creative Pinners to share their favorite gift ideas to help you find the most imaginative gifts for every type of person on your list."
According to a study by Convertro, Pinterest has taken the e-commerce arena by surprise, accounting for 17.64% of e-commerce revenue (in the U.S, April 2012) from social media sites. Pinterest shoppers in the U.S spend on an average $140-$180 whereas Facebook Inc. (NASDAQ:FB) and Twitter Inc. (NYSE:TWTR) shoppers spend $60-$80. Pinterest is known to drive 15% of shopping traffic to retail websites. Pinterest's related pins are likely to act as an extra aid to drive referral traffic for e-commerce sites. According  to a report by Shareholic, Pinterest has scaled up by 66.52% in referral traffic rate for websites, in last one year itself.
Pinterest's viral nature can be best used by marketers to advertise their brands. Boards should be designed such that there is an optimum mixture of photographs, graphics and texts. Online shopping brands should pin images of their own products to their board, whenever users click on an image they will be directed to the brand's website and this may lead to a purchase or engagement of some sort.
In Pinterest, marketers can explore through various boards, measure engagement across different product categories and promote offers and deals according to the engagement by users on a particular product category. Brands should design boards such that they are not purely self publicizing but are also informative and offer guidance on how all kinds of creative or practical things are done, smartly amalgamated with products or services of brands. User experience can be enhanced by cleverly binding the main theme of the brand's product along with some attractive, entertaining content such that users feel like engaging and sharing with others. Rich Pins, Price alerts, Promoted pins can be best used for promotion or launch of a new product or event.
Source : Econsultancy blog