Marketers across the globe now have access to an infinite number of options for advertising their brands to the masses. The online advertising industry is growing at a faster rate than ever before. A majority of advertising techniques are driving significant returns to brands provided they have properly analyzed their market potential and have a set of clearly defined target audiences. Social ads, exchanges, networks and portal ads are increasingly used by marketers but it is vital for marketers to have a clear picture about cross-channel visibility, actionable insights and real-time information across various platforms mentioned above so that they can target, engage and measure all aspects of their online media campaigns.
Social Networks Have More Outreach Than Ad exchanges! Portal Ads Record The Lowest Visibility Rate!
According to the Neustar Aggregate Knowledge Global Media Intelligence Report, which conducted a detailed analysis across 140 billion ad events, 60 billion impressions, and 32 million conversions in Q3, 2013, it was found that social networks were 58% more efficient than ad exchanges and delivered quality users who can drive business to brands. Exchange ads were next in line with an outreach index in the range of 100-150, followed by network ads with an outreach index in the 50-100 range and lastly portal ads with lowest audience reach index.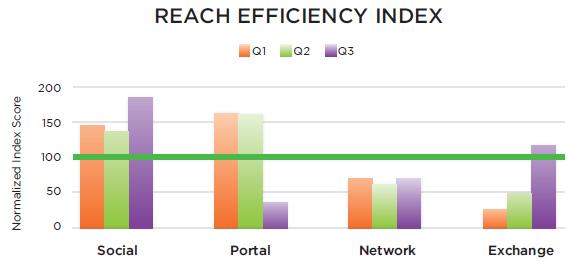 Marketers looking to advertise their brands and attract new customers should focus on allocating a major share of advertising investment on social networks like Facebook Inc. (NASDAQ:FB), Twitter Inc. (NYSE:TWTR) and LinkedIn Corp (NYSELNKD). A majority of brands have realized that it is important to showcase their presence on social networks as it is the place where a majority of customers reside online. Facebook has over 1.189 billion monthly active users, Twitter has about 232 million active user and LinkedIn over 259 million users, brands should focus on making best use of such a massive active user base of these social media giants. As a result, portal ads are losing importance. The majority of time spent by web users on desktop or mobiles is on social networking sites or messaging apps.
Marketers should go by the prevailing trend and spend more time on performing cross-channel analysis and invest marketing budget accordingly. Social media advertising is the go-to option for marketers of various brands, they should focus on utilizing various channels available and market their well designed attractive content (with rich media) effectively to customers. An equal attention must be paid to designing effective content, discover various content marketing channels, analyze returns from different advertising techniques available, allotting the marketing budget based on research analysis performed prior to investment, conduct periodic assessment of ad-performance and the modify strategy if required.
Neustar Vice President of Marketing Solutions David Jakubowski said, "The report demonstrates the huge opportunities that exist for marketers and brands across several verticals. The value marketers are getting from defining target audiences and reaching them with the right message is driving huge increases in campaign effectiveness and return on marketing investment, which hasn't been possible before."
Social Networks Lead In Driving High-Quality Users To Marketers!
There are various modes of advertising which can drive countless ad impressions and persuade more than thousands of users to visit a brand's website. But it is hardly of any use if the heavy traffic achieved through various ad-campaigns is not converted into sales. It is vital for any marketer to drive useful traffic to his or her brand's website. They should adopt platforms which are known to drive quality users who can, in turn, drive business for the firm through the engagement of the required form (sales, shop, sign-ups). Delivering quality users should be the next important focus for marketers after improving the out-reach efficiency.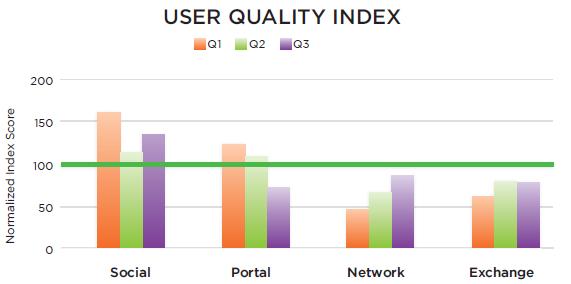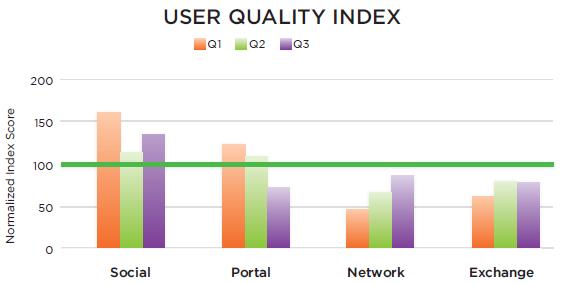 According to the graph above, social networks emerged as the top most platform in driving high quality users with above average user-quality index in Q3 of 2013. Networks ads, Exchange ads and Portal ads were next in line but all of them performed below the expected average user-quality index.
Social networking giants have adjusted pretty well to the sophisticated demands of marketers and evolved themselves effectively to innovate more specific ad-campaigns which can help derive maximum ROI for brands. Facebook recently introduced gender based ad targeting for brands with products which are specific to a particular sex. They have also introduced a location-based ad-targeting and Custom audience feature for local firms or SMBs whose services are limited to a certain geography. There has been over 75% increment in usage for the custom audience feature as more than 50% of the AdAge 100, use Custom Audiences in their campaigns to re-target their existing customers as they are well acquainted with brand names and other features and might opt to engage again with the brand.
People love engaging with brands on social networking sites. On an average a Facebook user likes 80 brand pages. People love discussing with their friends and like-minded folks about their favorite brands and share their experiences with them. Facebook also drives a majority of referral traffic to retail sites. Social networking sites have also adjusted well to the increasing usage of their services on the mobile platform. Users are increasingly browsing social networking sites like Facebook and Twitter though smartphone and tablets. These sites have evolved significantly to provide a uniform experience to users who wish to engage with their favorite brands on mobile phones and tablets.