Social media sites have revolutionized the communication format followed by top firms and SMBs to interact with their customers or clients. Earlier a majority of SMBs were against the idea of using social media networks as they hardly derived significant ROI through social media activities. But continuous introduction of advertiser friendly changes brought about by Facebook Inc. (NASDAQ:FB), Twitter Inc. (NYSE:TWTR), LinkedIn Corp. (NYSE:LNKD) and Google Plus has compelled quite a significant number of SMBs to switch to the social media platform in order to interact with customers and also for branding purposes. Social media can provide SMBs with an immediate and interactive connection with their customers. Nearly 72% of SMBs now use the social media platform to interact, advertise, brand and discuss business.
66% Of SMBs Claim To Be Very Engaged With Customers On Social Media Platforms
According to BIA/Kelsey's annual Local Commerce Monitor (LCM) survey on advertising and marketing of small and medium businesses (SMBs), nearly 66% of respondents claimed to be "extremely engaged" with customers on social media. Nearly 52.1% of respondents were found to own a Facebook page for advertising and promotion purposes, while the LinkedIn platform was preferred by 28% of them, followed by video on websites by 26.1%, Google Plus by 25% and Twitter by 24.3%.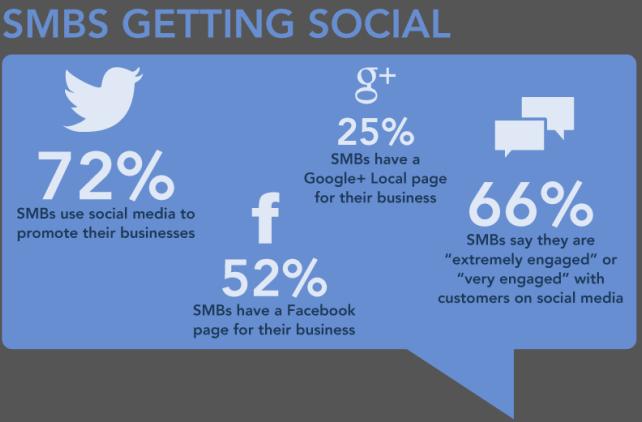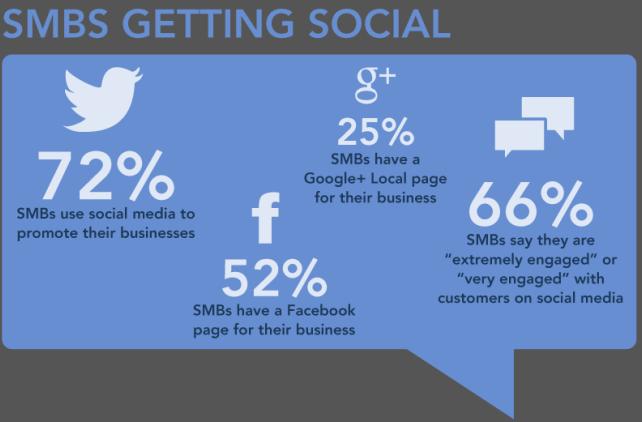 Due to continuous innovations in the field of advertising for local brands and small firms, SMBs are increasingly focusing towards Facebook, Google Plus and other networking sites. Few initiatives which are bound to prove effective for SMBs and local firms are summarized below.
Social Media Initiatives For SMBs and Local Markets!
Facebook recently introduced the custom audience feature, which is best suited to small and medium size businesses, as their customer base is very niche and concentrated over certain coverage areas. Owners of small scale firms or brands have their services limited to certain geographies, hence they prefer advertising to only those customers within an area limit who have had done business with them before. By using the custom audience feature, owners can place Ads or send promotional offers and deals only to those customers (through their phone numbers, email identities or Facebook identities) who were associated with the firm before. This is because they are likely to welcome the deals on offer. Usage of custom audiences has increased by 75% between Q2 and Q3,2013. Thousands of advertisers and more than 50% of the AdAge 100, use Custom Audiences in their campaigns as chances of engagement are higher from the existing customer base whenever a new product is launched.
Facebook had recently introduced the reviews feature, which is similar to the City expert program by search giant, Google Inc. (NASDAQ:GOOG), to help local businesses, as the reviews provided by people could be viewed by other users on the web and it acts as good publicity for high rated pages. Low rated pages can learn from the detailed reviews provided by consumers and modify their business strategy to compete with rival brands. Facebook had also introduced location-based Ad targeting which is likely to benefit small and medium scale firms who are focusing on customers of a particular demography. The Preferred Marketing Developers program (PMD) is yet another move where developer and marketers of SMBs can work together and devise a strategy to attract customers of their liking.
SMBs belonging to the B2B arena, can use the LinkedIn platform effectively as it is known to drive a majority of traffic to B2B websites. B2C firms can rely more on Facebook as the platform helps them acquire more than 77% new customers. Google's humming bird update is likely to boost search rankings for small and medium scale firms who didn't show great results for generic terms earlier. Firms should update their website content and try inculcating key words within the content, which users generally use while searching. It is vital for SMBs to prioritize content writing as one of the main business objectives.
Small And Medium Businesses To Adopt The Go-Mobile Strategy
The fast-growing mobile and internet sector has changed the way small and medium business firms operate. With the increasing usage of Smartphone and tablets, business firms are forced to revise their websites to ensure that they are well-suited both for mobile and tablet screens, so that customer-experience is remains uniform all along. Online stores which come under SMBs (if their coverage area is limited to a particular region or state) should adopt the mobile first strategy so that consumers are able to browse through products comfortably and shop online. Currently, more than 40% of SMBs accept payment at the point of sale with a mobile credit card reader attached to a Smartphone or a tablet. Additionally, 16% of SMBs are planning to add this feature in next one year.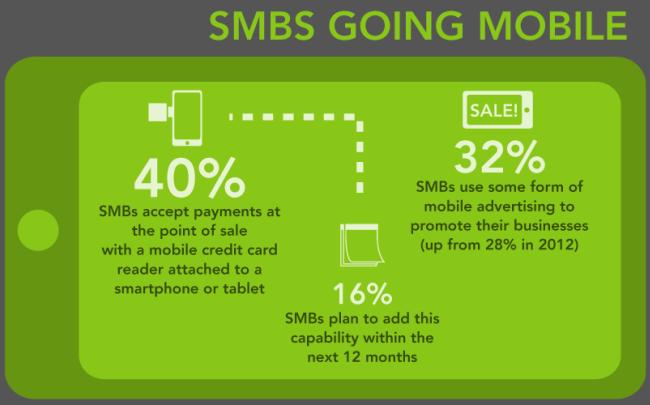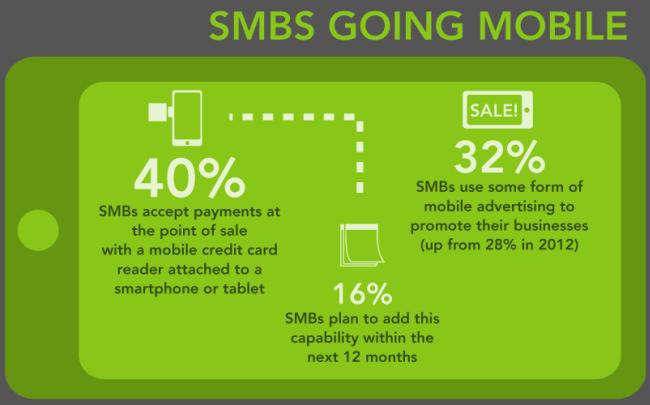 Nearly 32% of SMBs use some form of mobile advertising to promote their businesses. The mobile strategy is the major channel for commerce in the future. Mobile adoption is quite decisive for a firm's success as the users across the globe are consuming a majority of digital content through mobile devices.
If we compare social media, Facebook recorded 253% surge in mobile referral rate to websites, hence SMBs using the Facebook platform can expect a whole lot of benefit by adopting the mobile first strategy. Micro-blogging site Twitter which is best suited for mobile screens can act as a powerful tool for small and medium scale firms when it comes to branding.