The world's largest micro-blogging site Twitter Inc. (NYSE:TWTR) made a sparkling start at silicon-valley's most awaited IPO in years, converting a majority of investors into millionaires overnight. The original share price of $26, rose up by a whopping 73% on the opening day and rested at $44.10 (with a peak price of $50 during the course of the day) on day one. Currently, Twitter is being treated like an ever-growing stock even though its share price has dropped to $40.18, hardly any investors are worried due to its rich potential for growth in the next couple of years.
Nearly 1600 Employees Turned Into Instant Millionaires!
Micro-blogging site, Twitter is a small company when compared to social media titan Facebook Inc. (NASDAQ:FB), but the amount of cash pumped into it and the hype surrounding its growth has reached an all new level. A majority of investors are excited about the San Francisco based firm, which has turned some 1,600 odd Twitter employees into millionaires or better. The social buzz around Twitter's IPO was much higher and if we compared the same with Facebook's IPO, figures are somewhat similar.
Twitter's monthly active user base is a mere 232 million when compared to Facebook's 1.189 billion monthly active users. In spite of that the discussion surrounding the Twitter IPO was pretty chaotic, to say the least. Twitter's IPO garnered 182,263 mentions on the internet, 94% of which were on its own platform, whereas Facebook IPO had seen around 183,853 mentions on its IPO day (May 18, 2012), interestingly 89% of them were recorded on the Twitter platform. This shows how the 140 character powered service has revolutionized the way people communicate.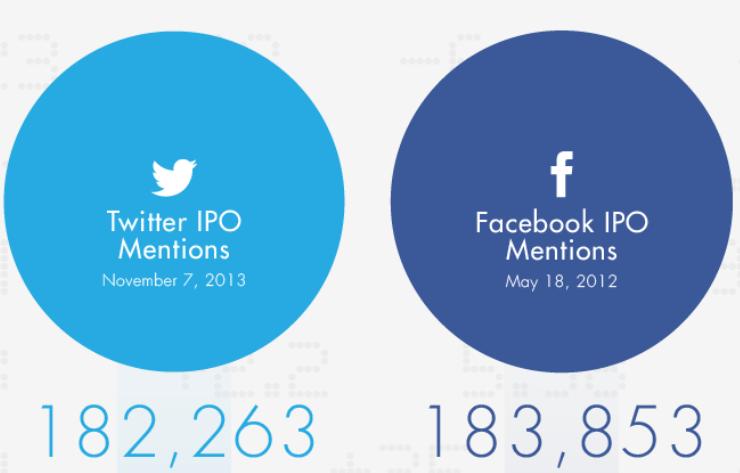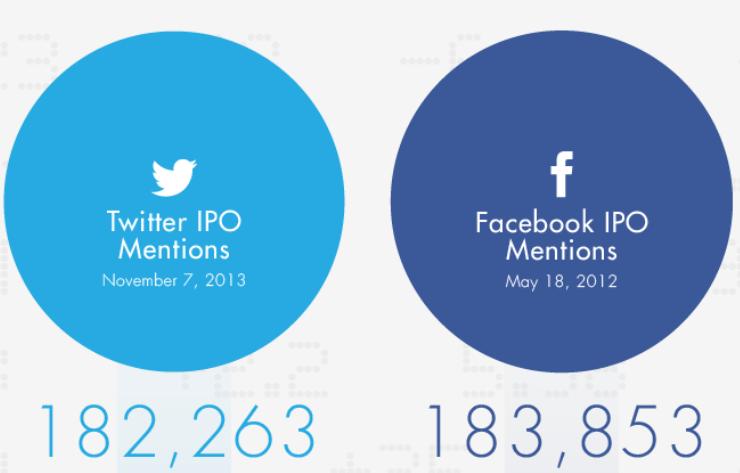 A couple of reasons which can be attributed to the hype around Twitter's growth potential are – an increasing usage of Smartphone, accelerating internet penetration rate, the mobile first strategy of Twitter, an ever-growing revenue and various initiatives taken to attract advertisers. With a growing demand for rich media content, Twitter revised its timeline by allowing images and videos to be displayed right below the tweet, visual tweets drive 150% more re-tweets and benefit brands. Twitter is trying to invest more on developing new initiatives and the R&D part, as their main focus is to attract more retail companies.
 Twitter's Share Price Expected To Dive In The Next 6 Months!
Twitter received a blistering start at the New York Stock Exchange. Although there are numerous discussions pertaining to the IPO on the internet, but more than 51% of them are negative are sceptical of Twitter's growth potential when compared to the hype it has generated.
According to a recent poll by Bloomberg, which interviewed 750 customers and discovered that more than two-thirds (68%) were sceptical about Twitter' growth in the next 6 months and predicted a possibility of the stock price falling well below the $44.90 per share mark. Hardly 12% of ambitious voters predicted that the share price will increase beyond $44.90 and another 12% were clueless about the future trend. About 82% of respondents thought the Internet and social-networking stocks were either in a bubble or nearing one.
Some analysts have rated Twitter as a sell-out, citing concerns that user growth maybe limited when compared with rival social networks like Facebook or LinkedIn Corp (NYSE:LNKD). Investors who are well acquainted with share market also challenged that TWTR shares will fall below $28 by June.
Everyone is aware of the fact that Twitter is not yet profitable, its loss rate is on the rise with each passing quarter. Twitter had earlier revealed a net loss in Q2, 2013 of 42 million, which rose up by 153.8% in Q3,2013, recording an epic loss of 64.6 million. Twitter has 2,300 employees and the investment in providing them with a competitive pay and R&D is exceedingly high. Close to $30 million is being spent in stock offerings to its employees. Although Twitter has its own enriched customs and traditions, hardly 15.4% of Twitter's registered users bother to tweet regularly. A majority of them register and end up joining a set of passive, non-tweeting users who account for 764.784 million of the total registered user base. Its arch rival, Facebook, which is booming with hefty revenues, is proving tough competition for Twitter right now.
It would be too early to say that the share prices might dive or rise on a long-term basis as there are mixed opinions regarding its growth potential. We might not get to see huge boom (for the next few months) in share prices, like it was after the IPO launch. A safe conclusion to arrive at would be that share prices might not go beyond $44.90 in the next 6 months. But one might be more interested in knowing the value of the TWTR share about 12-18 months from now.